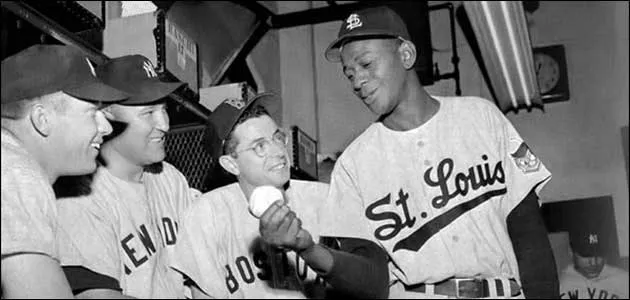 Satchel Paige is remembered with fondness as one of the greatest pitchers to ever play the game. His life was obscured by the fact that he was unable to play in the Major Leagues during his prime.
Leroy Robert "Satchel" Paige was born on July 7, 1906 in Mobile, Alabama, the son of John and Lula Page. His mother changed the spelling of the family's last name around the time of the death of John, adding an "i" because she felt the name "page" was too boring. The background on his nickname has been debated. Some say he carried so many bags one day, tied to a pole, that a friend said that he looked "like a walking satchel tree." Another story was that he was given the nickname after he was caught trying to steal a bag.
Satchel loved to play baseball. He was introduced to the sport by first playing a game called "top ball" which substituted bottle caps and sticks for baseballs and bats. Lula said that her son would rather  "play baseball than eat. It was always baseball, baseball." He also seemed to spend as much time getting into trouble as he did playing. Just before his 13th birthday, he was arrested for shoplifting after repeated run-ins with the law. This time, he was committed to the state reform school at the Industrial School for Negro Children in Mount Meigs, Alabama. He spent almost five years in the school, but spent much of it improving his baseball skills under the tutelage of Edward Byrd (Byrd was given credit for teaching Paige to kick his leg high to intimidate and fool the batter).
After his release from reform school in December 1923, he immediately began playing baseball for a series of semi-pro teams in the Mobile, Alabama area. He teamed with his brother Wilson who was also a pitcher for the Mobile Tigers. A few years later he hooked up with an old friend from Mobile named Alex Herman who was the player/manager for the Chattanooga White Sox of the Negro Southern League. He signed Leroy for $250 per month which was negotiated by Lula. From the start it was evident that Satchel was going to be a special player for Chattanooga as he evidenced his skill as a strikeout artist, but in 1927 his contract was purchased by the Birmingham Black Barons of the Negro National League.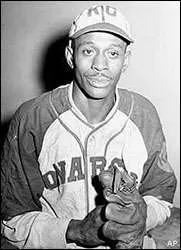 Now facing top-flight Black competition, Satchel struggled against the more experienced, veteran players. While he displayed great speed on his pitches, he struggled with his control. He improved over time as he was mentored by veteran teammates Sam Streeter and Harry Salmon, and his manager, Bill Gatewood. He finished his first Negro League season with a 7-1 record, with 69 strikeouts and 26 walks in 891⁄3 innings. The next season he finished 12-5 and then 10-9 in 1929 with an incredible 176 strikeouts. In one game against the Cuban Stars he was able to strike out 17 batters and then a week later racked up 18 strikeouts against the Nashville Elite Giants. He was becoming a star, so much so that the Barons owner often "loaned/rented" Paige out to clubs in need of an attendance boost.
After spending the winter in Cuba playing for Santa Clara (he struggled at 6-5), he returned to the United States and split time between the Barons, The Baltimore Black Sox and the Chicago American Giants. After spending part of 1930 playing for the Cleveland Cubs, he moved on to play for Gus Greenlee's Crawford Colored Giants in Pittsburgh. In September 1931 he joined the Philadelphia Giants in the California Winter League. The Giants were something of a Negro all-star team which challenged some of the better Major and minor league baseball teams. Playing against the white players, Paige pitched 58 innings, tossed 70 strikeouts and compiled a record of 6-0. Back with the Greenlee's Pittsburgh Crawfords in 1932, Paige was joined by some of the greatest stars in Negro League history – Josh Gibson, Oscar Charleston and Ted "Double Duty" Radcliffe. By the end of the season Greenlee had also signed Cool Papa Bell,  Ted Page, and Judy Johnson amongst others, creating one of the greatest lineups in baseball history (Paige, Gibson, Charleston, Bell and Johnson were elected to the Major League Baseball Hall of Fame). After Greenlee helped to create the Negro National League, Paige jumped from his team to join the North Dakota Bismarks for one month in return for $400.00 and an automobile. This would mark his first opportunity to play on an integrated team. He later returned to the Crawfords but found a cool reception as his fellow players refused to name him to the league's first All-Star game.
In 1934, Paige enjoyed what many felt was his best season as he compiled a record of 14-2, with 144 strikeouts, only 26 walks and a puny 2.16 ERA.He also threw a no-hitter on the Fourth of July against the might Homestead Grays, striking out 17 batters. Later in the year the Denver Post had the novel idea of conducting a tournament of semi-pro and independent professional teams from across the United States. Paige was leased out to play for the Colored House of David team. Satchel was phenomenal  winning three games, including the championship, surrendering only one run and striking out 14, 18 and 12 batters. This marked the first time that the major press in the nation bore witness to his immense talents. He would go on to play in the East-West All-Star game for the first time, winning in relief, 1-0. Another highlight of the year was Satchel's head-to-head battle against the great Dizzy Dean. Dean was a perennial Major League star and had won 30 games that year plus two more in the world series. In one game with Dean playing with minor leaguers, Satchel won the game in Cleveland 4-1, striking out 13. Later, in front of 18,000 fans in Los Angeles, Paige defeated Dean's California Winter League team with a 1-0 shutout. The two stars would battle against each other in barnstorming match ups for years and Dean would later proclaim that Paige was Paige "the pitcher with the greatest stuff I ever saw."
In 1935, Satchel was engaged in a salary dispute with Gus Greenlee and thus jumped to return to the Bismark team. Unfortunately, when he tried to return in September, he found he was banned by the Negro National League for his jump to Bismark. Instead, he was able to sign a game by game contact with the then independent Kansas City Monarchs.
The next season began on a more interesting note. A California promoter named Johnny Burton convinced Satchel to be the headliner for a team he would call the "Satchel Paige All-Stars" who would compete in an exhibition game against a white All-Star team. The white team would sport major leaguers Ernie Lombardi, Augie Galan, Cookie Lavagetto, and Gus Suhr, as well as future star Joe DiMaggio. Paige held his own, pitching through nine innings tied 1-1. In the tenth with two out he gave up an infield single to DiMaggio to lose 2-1. DiMaggio would later acknowledge that Satchel was the finest pitcher he ever faced. Satchel finally returned to Pittsburgh where Greenlee raised his salary to $600 per month, by far the highest in the league. Paige pitched well, striking out  out 47 batters in 47⅔ innings. A Negro National League all-star team was created to compete in the Denver Post seven game tournament and it was headlined by  Paige. Along with all-time greats  Josh Gibson, Cool Papa Bell, Leroy Matlock, and Buck Leonard, the team mowed down its competition in seven games straight to win the tournament and the $5,000.00 prize. Satchel won three of the games, including the title game where he struck out 18 batters in a 7-0 shutout.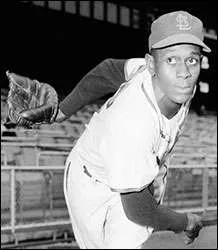 As always with Paige, 1937 started of in controversy as Satchel was recruited to play in the Dominican Republic. He was recruited by Dr. José Enrique Aybar, who among other things was a government official who also ran the "Los Dragones" baseball team that was owned by the Dominican dictator Rafael Trujillo. Aybar provided Satchel with upwards of $30,000.00 to use to recruit top flight Negro stars to play for Los Dragones. Satchel brought in several players, including Josh Gibson, Cool Papa Bell and Sam Bankhead. Greenlee and the Negro National League teams banned all of the players for their desertion. The players were treated as stars in the Dominican Republic and were provided with bodyguards to accompany them wherever they went but the players became concerned that the guards were there to exact retribution on behalf of Trujillo in case the players lost the championship. Other players jumped from he NNL and played for teams facing Los Dragones. Paige and his team won the championship and Paige led the league with an 8-2 mark. Upon returning to the United States, the players found that the NNL ban was in full effect, so they formed what would become known as the "Satchel Paige All-Stars" barnstorming team and faced a series of match ups against the great "House of David" team.
1938 began the way 1937 had, with Greenlee unable to sign Paige to a contract. He traded his rights away to the Newark Eagles, but Paige refused to sign with them either, instead traveling south to play in the Mexican League. Jorge Pasquel was a Mexican baseball  businessman and he and his brothers wanted to develop a league to compete with Major League Baseball. Recognizing the enormous talent pool of Black players that were prohibited by the Major Leagues, the Pasquels believed that if they signed the best Black players, they could raid the Major League teams and create the best integrated teams and thus the best baseball in existence. As usual, this new league turned to Satchel to round up talent. As difficult as he was to work with (from a management point of view), players knew that where Satchel went, money followed and management knew as well that where Satchel went, players often followed. Satchel was paid an astonishing $2,000.00 per month to pitch for Club Agrario of Mexico City. Unfortunately, for the first time in his life, he suffered through a major injury. Having aggravated his arm while pitching in Venezuela, the injury flared in Mexico, leaving him almost unable to lift it above his waist. He was told by one doctor that he would never pitch again. He returned to the United States facing a possible end to his career. Adding to that, Greenlee was so angered by his bolting to Mexico that he declared Paige permanently banned from the Negro National League.
Paige tried to find other jobs in baseball while he rested his arm but the best he could do was play for the Kansas City Monarchs minor league team, which they renamed the "Satchel Paige All-Stars." He would pitch a few innings when he could, and play first base when he couldn't. His repertoire was now limited to off-speed pitches including bloopers, "Alley Oopers" and underhanded offerings, an abrupt change for one of the greatest fastball pitchers ever. It is believed that Paige was suffering from what we now recognize as a partially-torn rotator cuff injury and he rehabbed it with massages, ointments and mostly rest.
The treatment worked and Paige found himself healthy and ready to pitch. He moved on to Puerto Rico in 1939, playing for the  Brujos de Guayama (the Guayama Witch Doctors). He finished with a 19-3 record that season, striking out 208 batters in 205 innings, with a 1.93 ERA. He did this despite being unnerved by the his discomfort with many of the religious and spiritual practices observed by the fans. On one occasion, he surprised everyone in the park when he walked off of the mound and into the dugout after noticing a ghost standing next to him.
In 1940, Satchel moved to the Kansas City Monarch, debuting in September with a five inning, 10 strikeout game against the American Giants. Because they were late in the season, a number of clubs looked to boost their short-term attendance by "leasing" Satchel for a game of two. Satchel and Monarch owner J.L. Wilkinson profited immensely, sometimes receiving a percentage of the "leasing" team's gate receipts. All told, Satchel was soon earning several times the average major league salary.
In 1941, Paige opened the season with a 5-3 victory in front of 20,000 fans in Yankee Stadium. In striking out eight batters, he set the stage for himself as the ace of the Monarchs staff and as the best pitcher in the Negro American League. Teaming with fellow Hall of Famer Buck O'Neil, Paige led the Monarchs to their third straight NAL championship. In 1942, Dizzy Dean came out of retirement to lead a team of white major and minor leaguers to face Negro teams. In the two games that Paige faced Dean's team he won, 3-1 with the Monarchs in front of almost 30,000 fans in Wrigley Field and 8-1 for the Homestead Grays win Washington, D.C.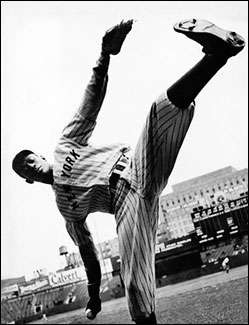 After winning the Negro American League pennant again in 1942, the Monarchs faced the Negro National League champion Homestead Grays in the Colored World Series. The first game ended with Paige winning with five shutout innings. The second game is one the would become a part of folklore. The factual details are that Paige gave up three singles to load the bases where he would face Josh Gibson. Josh weakly fouled of the first two pitches, then swung and missed for the third strike to end the inning. The story that Satchel, and later Buck O'Neil, told was a little more dramatic. In this story, with two outs Satchel gave up a triple to

"Satchel Paige always thought he was the greatest pitcher in the world, and Josh Gibson thought he was the greatest hitter in the world and we did too. And Satchel and Josh in this World Series ballgame. Satchel's pitching, and we got a ballgame won — the Kansas City Monarchs. With two out in the ninth inning, the first-place hitter, he tripled off Satchel. We got two outs, so that didn't bother us at all. So, Satchel called me, said, Hey, Nancy, come here. I said, What do you want, Satchel? He said, Let me tell you what I'm fixing to do. I said, What are you fixing to do? He said, I'm going to walk Howard Easterling, I'm going to walk Buck Leonard, I'm going to pitch to Josh Gibson. I said, Man, don't be facetious. He said, That's what I'm going to do. I said, Time! I called the ump, I called the manager, who was Frank Duncan — great ballplayer himself — I said, Frank, you got to listen to what Satchel said. And so Satchel told him what was going to happen. And so, in walking Easterling and walking Buck Leonard to fill the bases — now, when he was walking Buck, Josh was in the circle, you know, and he's talking to Josh all the time, said, Josh, do you remember the day when we were playing on the same team and I told you that one day we were gonna meet and see who was the best? He said, Yeah, I know what you're talking about. Satchel said, All right, said, Now is the time to prove this thing. So when Josh comes up to the bat — listen, let me tell you what this man did. He said, Time! He called the trainer. Our trainer was Jew-Baby Floyd — and I don't know why they called him Jew-Baby, 'cause he was black as me — but anyway, when Jew-Baby comes out with his, you know, like the smock that the doctor would wear, and he's got a concoction in a glass. He's got a glass, he's got some water, and he puts this — I guess Alka-Seltzer or something — he pours this in that water and it fizzes and Satchel drinks it down. He lets out a belch — I can hear it, but nobody else heard it. And so, he said, Now I'm ready. So, the fans, now they know what's happening now, everybody — we got to have 40,000 people — they're standing, and here comes Satchel. Satchel said, You know, Josh, I'm going to throw you some fastballs. I'm going to throw you a fastball belt-high. Boom! Strike one. Josh didn't move the bat. He said, Now, I'm going to throw you another fastball, but this is going to be faster than the other fastball. Boom! Strike two. He said, Now, Josh, I've got you two strikes and no balls. You know, in this situation I'm supposed to knock you down, you know, brush you back, he said, but, uh-uh, I'm not gonna throw any smoke at your yoke, I'm gonna throw a pea at your knee. Boom! Strike three. And when he struck him out — you know, Satchel must be 6′ 5″ — Satchel stretched out, looked like he was 7 feet tall, and he walked off the field and walked by me and said, You know what, Nancy? Nobody hits Satchel. That was the end of that story." – Buck O'Neil.
The Monarchs added three runs to win the second game 8-4. The Monarchs won the third game and in the fourth Paige entered the game in the fourth inning. He had arrived at the park only moments before having been delayed when he was arrested for speeding. He struck out six Grays and gave up no hits or runs and the Monarchs came back to win the game 9-5 and then series 4-0. Paige won three of the games but more significantly built on his legend.
Over the next few years, Negro League baseball suffered as many players volunteered for service during World War II. Surprisingly, Paige, who was classified as unfit for service, struggled against the weaker competition. In 1946, Bob Feller organized a barnstorming tour with most of the games pitting a group of Major League all-stars against a group of Negro all-stars organized by Satchel. Feller scheduled 35 games in 31 cities to be played in 27 days. Feller and Paige were to pitch as often as possible and their stats showed both pitched well. Feller pitched 54 innings against Paige's team, giving up 15 runs while Paige pitched 42 innings and gave up 18 runs.
In 1946, Paige married Lahoma Brown and the couple had seven children together as well as Lahoma's daughter from an earlier marriage.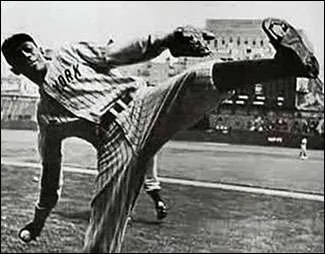 When it was announced that Branch Rickey had signed Paige's former teammate Jackie Robinson to break the color barrier in Major League Baseball, Paige couldn't help feeling overlooked. "Signing Jackie like they did still hurt me deep down. I'd been the guy who'd started all that big talk about letting us in the big time. I'd been the one who'd opened up the major league parks to colored teams. I'd been the one who the white boys wanted to go barnstorming against," he said with dismay. Nevertheless, he praised Robinson as a player and felt that he represented Black baseball players well. On July 7, 1948, Paige was signed as the first Black pitcher in the American League, signing with the Cleveland Indians where he became a teammate of Larry Doby. He debuted two days later and as usual, controversy surrounded him. He was brought in in the bottom of the fourth inning against the St. Louis Browns, down 4-1.  When he walked on the field, he was, at 42 years old, the oldest player to ever debut in the Major Leagues. Unfortunately, because he was so new to the team, Paige was not familiar with the pitching signs, so he was very modest with his assortment of pitches and the Browns took advantage, Paige gave up a line drive single to Chuck Stevens who was subsequently bunted over to second base. Paige then got tough and threw two strikes to Whitey Platt. On his third pitch, her threw his "hesitation pitch," a change-up in which he delayed releasing the ball until after his front pitch had hit the ground. Platt was so fooled on the pitched that he accidentally threw the bat more than 40 feet down the third base line. The Browns protested that Paige had balked but the umpire let the pitch stand. Chicago Cubs broadcaster Jack Brickhouse would later say that Paige "threw a lot of pitches that were not quite 'legal' and not quite 'illegal'" and American League President Will Harridge eventually agreed, stating that the hesitation pitch was illegal and would result in a balk. Paige would gain his first Major League victory on on July 15, 1948 against the Philadelphia Athletics. On August 20, 1948, Satchel threw a shutout against the Cleveland Indians in front of a Major League night game record of 78,382 fans. In his debut season, Paige was incredible, compiling a 6–1 record with a 2.48 ERA, 2 shutouts, 43 strikeouts, 22 walks and 61 base hits allowed in 722⁄3 innings. He struggled in 1949 as his record fell to 4-7 and he was released by the Indians after the season.
Paige returned to the Major Leagues in 1950 when he signed with the St. Louis Browns. He went 3-4 on the year with an ERA of 4.79. In 1952, however, he regained his stride finishing the year 12-10 with an ERA of 3.07 and was named to the American League All-Star team by Yankees manager Casey Stengel. After being released the next year after a poor season, Paige signed on to both the baseball and basketball versions of Abe Saperstein's Harlem Globetrotters. He then signed on to the Miami Marlins, a triple-A farm team of the Philadelphia Phillies. The manager of the team, Don Osborn said that he didn't want Paige on the team. Bill Veeck, who now owned the Marlins challenged Osborn to pick his best ten players and have them face Paige. Veeck offered to pay ten dollars to any of them who could get a hit off of Paige. Satchel retired all of them and Osborn added him to the roster. He finished the season with a record of 11-4, with an ERA of 1.86 and 79 strikeouts against International League competition.
After a few more years in the minor leagues and barnstorming, he was signed by Charles O. Finley to the Kansas City Athletics in 1965. He would only play one game, pitching three shutout innings against the Boston Red Sox. He left the game at the top of the fourth inning with the fans singing "The Old Gray Mare" in tribute to him. At 59 years of age, he was the oldest player to ever play in a Major League game. He played a few minor league games in 1966 and 1967 before finally retiring from the game.
After retiring as a player, Paige tinkered with different occupations. In 1957, he appeared as Sgt. Tobe Sutton, a Union army cavalry sergeant in movie The Wonderful Country, alongside Robert Mitchum and Julie London. His autobiography was published by Doubleday in 1962 and in 1966 he was named Deputy Sheriff in Kansas City, Missouri and then ran unsuccessfully for the Missouri State Assembly. In 1968, Satchel was signed by the Atlanta Braves as a pitcher/pitching coach. This was done mostly as a gesture by Braves owner William Bartholomay, enabling Satchel to gain the necessary time of service to be eligible for a Major League pension. Finally on August 9, 1971, Paige was elected to the Baseball Hall of Fame.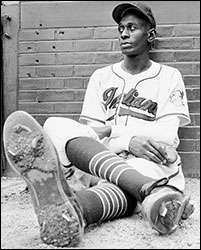 Paige died of a heart attack at his home on June 8, 1982 in Kansas City and was buried on Paige Island in the Forest Hill Memorial Park Cemetery in Kansas City.
Because he was denied the opportunity to pitch against Major League competition until he was well beyond his prime, it is almost impossible to really assess how great a pitcher he was. Thus, much of the discussion about Paige borders on folklore. What is undeniable is that most Negro League players and many Major League players state he was the best they ever faced. In his 2010 Sports Illustrated article, Joe Posnanski named Paige as the hardest thrower in the history of baseball. He quoted all-time great players to back up his conjecture: "Joe DiMaggio would say that Paige was the best he ever faced. Bob Feller would say that Paige was the best he ever saw. Hack Wilson would say that the ball looked like a marble when it crossed the plate. Dizzy Dean would say that Paige's fastball made his own look like a changeup." He was ranked Number 19 on Sporting News' list of the 100 Greatest Baseball Players in 1999. Finally, a statue in his likeness was unveiled in Cooperstown, NY on July 28, 2006.
Satchel Paige was a giant on the mound and in the minds of baseball fans, whether they saw him in person or only shared in stories about him with other fans. His bigger than life persona stemmed from his herculean deeds and his enormous self-confidence. Perhaps most of all, he is remembered so fondly because he is symbolic of the many Negro Leaguers who never really got a chance to display their greatness at the highest level. He is therefore a Great Black Hero to baseball fans across the world.
Satchel: The Life and Times of an American Legend by Larry Tye
Sources:
Search for info about Satchel Paige
https://greatblackheroes.com/wp-content/uploads/2013/01/satchelpaige03-1.jpg
300
630
Gaius Chamberlain
https://greatblackheroes.com/wp-content/uploads/2018/04/gbh-logo152x65.png
Gaius Chamberlain
2013-01-16 23:00:35
2020-12-10 21:05:01
Satchel Paige