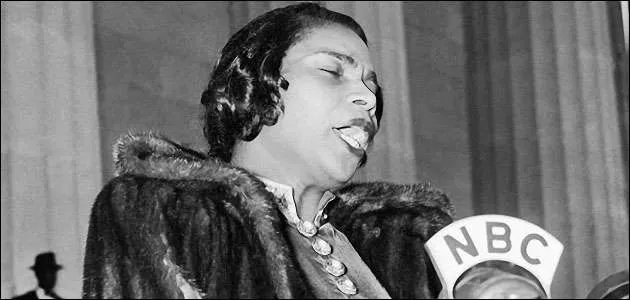 Marian Anderson was one of the greatest singers of the 20th Century, but it was her dignity in the face of racial prejudice which confirmed her legacy in the United States.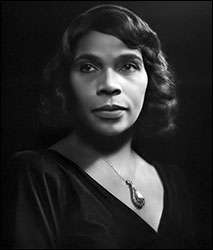 Marian Anderson was born on February 27, 1897, in Philadelphia, Pennsylvania, the daughter of John Berkley Anderson and Annie Delilah Anderson. John was a loader at the Reading Terminal Market and sold ice and coal in Philadelphia. Before they were married, Annie attended the Virginia Seminary and College in Lynchburg, Virginia and later worked as a school teacher. She was unable to teach in Philadelphia due to a law that applied only to Blacks, requiring them to have a degree in order to teach. Marian was the eldest of the children, all daughters and all of whom would become singers.
The family was quite active in the Union Baptist Church in Philadelphia and Marian's Aunt Mary coaxed her to join the junior church choir when she was six years old. Marian was allowed to sing solos in the choir and often sang sets with her aunt. Her nickname among her fans was "The Baby Contralto." Mary took Marian to concerts around the city and often found opportunities for Marian to sing at events, earning up to 50 cents. As she grew older, she became more serious about her singing and earned more and more money for her efforts.
In 1909, John Anderson was struck on the head accidentally while at work. Her died of heart failure in January 1910. The family moved in with John's parents, Benjamin and Isabella Anderson. Benjamin, a former slave, died a year later.
Marian attended Stanton Grammar School but upon graduation, the family was unable to pay for her to attend high school. She remained active in the church and continued performing and learning from anyone who would teach her to sing. She was a member of Baptists' Young People's Union, the Camp Fire Girls , and the People's Chorus. Members of the church joined together to raise money to pay for singing lessons for her and for her to attend high school. She attended William Penn High School and then South Philadelphia High School and graduated in 1921. At the same time she began studying under her singing teacher Mary S. Patterson.
Having graduated from high school, Marian applied to the all-white Philadelphia Music Academy (now known as the University of the Arts). Despite her talent, she was denied admission because of her race, told "we don't take colored" by the admission clerk. Marian was undeterred and with the continued help of her church and community began taking private lessons from Giuseppe Boghetti and Agnes Reifsnyder, famous voice teachers in Philadelphia.
On April 23, 1924, she held a concert at New York's Town Hall. Unfortunately, attendance for the event was poor and reviews were mixed with some critics finding her voice to be "lacking." In 1925, Marian took the brave step of entering a singer competition sponsored by the prestigious New York Philharmonic. She surprised everyone by winning the first prize and then singing with orchestra on August 26, 1925. This opened a number of doors for her, exposing her to critical acclaim as well as giving her more opportunities to sing in public. She now gained the attention of Frank LaForge, a pianist and composer who helped to train her, and Arthur Judson, manager of both the New York Philharmonic and the Philadelphia Orchestra. Judson signed on to become her manager, arranging for a number of concert performances across the United States, eventually debuting at Carnegie Hall on December 30, 1928. A critic of the New York times opined that "A true mezzo-soprano, she encompassed both ranges with full power, expressive feeling, dynamic contrast, and utmost delicacy." Unfortunately, she was unable to escape racial prejudice and made the decision to travel to Europe. In Europe, she studied under noted singer Sara Charles-Cahier before engaging in a large singing tour of the continent. She had received a scholarship to study in Britain from the National Association of Negro Musicians.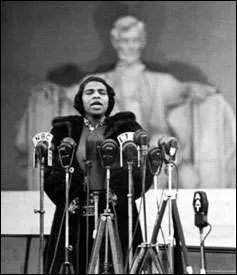 She debuted in 1930 at the Wigmore Hall in London and enjoyed her spring tour. She was not hampered by the racism that she constantly encountered in the United States. She continued touring, moving to Scandinavia in the summer of 1930, accompanied by pianist Kosti Vehanen. Vehanen was a Finnish pianist and composer who also accompanied many of the greatest singers of the time. He also served as her vocal coach for a number of years. Through Vehanen, she became acquainted with Jean Sibelius, one of the greatest composers in Finland. He was struck by her passion and the two would develop professional partnership with Sibelius writing or altering compositions for Anderson to sing. Sibelius was so moved by her performance that he dedicated his song "Solitude" to her, and proclaimed "the roof of my house is too low for your voice."
In 1935 Arthur Rubenstein introduced Marian to Sol Hurok. Hurok managed some of the greatest performers of the 20th century and he persuaded Anderson to allow him to become her new manager. He convinced her to return to the United States and  she held a recital at Town Hall in New York and won rave reviews and for the next four years she alternated between Europe and the United States. She performed a number of opera arias in studio but declined to performed on stage due to her lack of experience. She continued on to Europe and then traveled to Eastern Europe and Russia. In 1935 the great Italian conductor Arturo Toscanini heard her sing and told her she had a voice "heard once in a hundred years."
Despite her fame, success and stature, Anderson still suffered the outrageous prejudice in existence at the time in the United States. She was denied service at restaurants and lodging in major hotels, but the most hurtful was the denial of her as a singer. In 1939, the Daughters of the American Revolution organization (DAR) refused to give Anderson permission to sing for an integrated crowd in Constitution Hall in Washington, D.C. The manager of Constitution Hall told Hurok "No Negro will ever appear in this hall while I am manager." Outraged, many prominent members of the DAR, including First Lady Eleanor Roosevelt resigned from the organization. President Franklin Roosevelt along with Anderson manager, Sol Hurok and NAACP President Walter White persuaded Secretary of the Interior Harold Ickes to permit a concert at the Lincoln Memorial. It took place on Easter Sunday, April 9, 1939. Accompanied by Kosti Vehanen Anderson sang a number of songs including "My Country 'Tis of Thee" before a crowd of 75,000 and a nationwide radio broadcast to an audience of millions. Four years later she was invited by the DAR to sing at Constitution Hall in front of an integrated audience. She described her performance, saying "When I finally walked onto the stage of Constitution Hall, I felt no different than I had in other halls. There was no sense of triumph. I felt that it was a beautiful concert hall and I was very happy to sing there." Unfortunately her triumph was mitigated by the fact that the District of Columbia Board of Education continued to deny her from singing in a high school auditorium in Washington, DC.
The concert at the National Mall proved to be a seminal moment for the country. In this situation, America was faced with watching an educated, well-mannered, dignified and attractive woman seeking to sing classic patriotic songs and yet still be denied. With other artists it seemed that there was always some excuse besides racism but in this case it was exposed to its core and plain on its face. Thus, with her free concert, she was able to demonstrate for the masses that there was not a Black and white issue at all. She was simply one of the greatest singers in the world and should be seen as the pride of her nation. A few weeks later she gave a private concert at the White House for President Franklin D. Roosevelt and his guests King George VI and Queen Elizabeth of Britain.
On July 17, 1943, Anderson married architect Orpheus H. Fisher in Bethel, Connecticut. The two had been friends since their youths and Fisher had asked her to marry him when they were teenagers. The couple settled onto a 100 acre farm in Danbury, Connecticut after an exhaustive search complicated by a number of landowners refusing to sell to a Black family. They called the property Marianna Farm and it would become Marian's home for the next 50 years.
Another milestone moment occurred on On January 7, 1955, when Maria Anderson became the first African-American to perform with the Metropolitan Opera in New York. She sang the part of Ulrica in Giuseppe Verdi's Un ballo in maschera  at the invitation of director Rudolf Bing. Although it was her only experience performing with the company, she was named a permanent member of the Metropolitan Opera company. In 1957 she was invited to sing for Dwight D. Eisenhower's presidential inauguration. She was later sent by the U.S. State Department and the American National Theater and Academy on a tour of India and the Far East as a goodwill ambassadress. Traveling over 35,000 miles in three months she performed 24 concerts. After being elected a Fellow of the American Academy of Arts and Sciences she was officially designated a delegate to the United Nations in 1958, a role she had played previously at the behest of President Eisenhower. In 1961 she repeated her performance at the Presidential inauguration for John F. Kennedy and the next year performed personally for the President and his guest in the East room of the White house before launching a tour of Australia.
With the arrival of the Civil Rights Movement, Marian took part in the movement, joining the NAACP and the Congress of Racial Equality. In one of the most fitting moments for the nation, she sang at the National Mall at the March on Washington led by Dr. Martin Luther King, Jr. On December 6, 1963. Marian was one of 31 members of the inaugural class of recipients of the Presidential Medal of Freedom. After so many achievements and activities on the national and international stage, Anderson decided to retire from the performing stage. She launched her farewell tour starting on October 24, 1964 at Constitution Hall concluding at Carnegie Hall in New York City on April 18, 1965.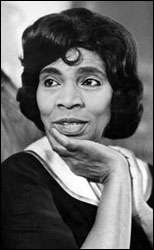 After 43 years of marriage, Anderson's husband Orpheus Fisher died in 1986. Marian remained on her farm until 1992 (the farm was sold to developers but the studio which Fisher had built for her on it was relocated by the Danbury Museum and Historical Society and later opened to the public. On April 8, 1993, Marian Anderson died of congestive heart failure in Portland, Oregon, one month after suffering a stroke. She was buried in Collingdale, Pennsylvania.
Marian Anderson shone, not only as a wonderful singer but also as a model for the changing face of America. Although she was often denied basic courtesies during her early years, she was inundated with awards and recognition in her later years. After being awarded the NAACP Spingarn Medal in 1939, she was presented with the United Nations Peace Prize and the Congressional Gold Medal in 1977, the Kennedy Center Honors in 1978, the George Peabody Medal in 1984, the National Medal of Arts in 1986 and in 1991 and a Grammy Award for Lifetime Achievement. In 1980, the United States Treasury Department coined a half-ounce gold commemorative medal with her likeness, and she was the first recipient of the Eleanor Roosevelt Human Rights Award in 1984. In addition, she was awarded honorary doctoral degrees from Howard University, Temple University and Smith College. This adulation demonstrated that the world had finally recognized that she was a Great Black Heroine.
Marian Anderson, 1950
Sources:
Search for info about Marian Anderson
https://greatblackheroes.com/wp-content/uploads/2013/01/mariananderson01.jpg
300
630
Gaius Chamberlain
https://greatblackheroes.com/wp-content/uploads/2018/04/gbh-logo152x65.png
Gaius Chamberlain
2013-01-06 15:27:17
2020-12-10 21:05:01
Marian Anderson