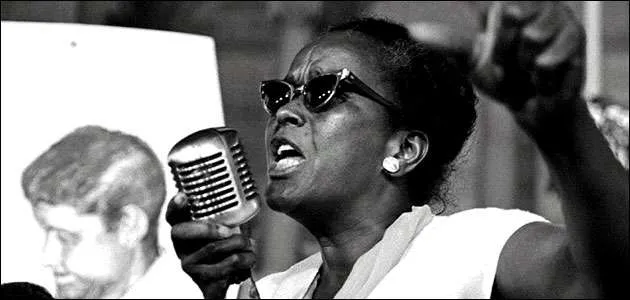 Ella Baker is one of the most significant pioneers of the civil rights era but was cast behind the scenes as women were often forced to take a backseat to men, even when fighting for common rights.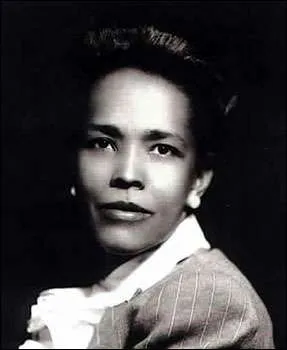 Ella Jo Baker was born on December 13, 1903 in Norfolk, Virginia, the daughter of Georgiana and Blake Baker. In 1921, her family moved to Littleton, North Carolina, where she was regaled with stories about her ancestors and other Blacks who rebelled against slavery. Her grandmother, Josephine Elizabeth "Bet" Ross, was born a slave, but when her owner arranged for her to be married, she refused, and as a result was whipped severely. These lessons in civil disobedience set the stage for young Ella, pointing her on her path of standing in defiance against unfairness and injustice in society.
She was an excellent student and attended Shaw University, the oldest historically Black university, located in Raleigh, North Carolina. She was active with student groups and in protests against University policies with which she disagreed but was very disciplined with her studies, graduating as the class valedictorian in 1927.
In her book, "Ella Baker and the Black Freedom Movement," Barbara Ransby explained how Ella's background and upbringing would shape her path in life. Baker, she explained, was "nurtured, educated and challenged by a community of strong, hard-working, deeply religious people—most of them women—who celebrated their accomplishments and recognized their class advantage, but who also pledged themselves to serve and uplift those less fortunate." With a focus on helping those less fortunate, Ella would leave the comforts and security of her hometown in order to bring change to the lives of the masses.
After graduation she moved to New York City and demonstrated her inclination towards working to develop group cohesiveness. In 1931, she joined the Young Negroes Cooperative League, a group founded by George Schuyler that pooled their individual economic resources in order to collectively obtain better pricing. She would soon serve as the organization's national director. She served as the publicity director and a board member of the Harlem's Own Cooperative, a consumer cooperative which specialized in grocery goods and dairy products. A cooperative (often called a co-op) is an autonomous association of persons united voluntarily to meet their common economic, social, and cultural needs and aspirations through a jointly owned and democratically controlled enterprise. Baker saw that through the collective bargaining position that the co-op possessed, the individuals who were a part of it gained and maintained economic and political power. For the rest of her life, Baker would fight to empower people on an individual level by spurring them to be a vocal part of the group effort. She also came to believe that the true power to make change lay within the power of the individual fighting to determine their future rather than be led along by the nose by those who labeled themselves as the "leaders of the masses."
"Until the killing of black men, black mothers' sons, becomes as important to the rest of the country as the killing of a white mother's son, we who believe in freedom cannot rest until this happens." – Ella Baker
While in New York, she worked under the Works Progress Administration, the New Deal agency created by President Franklin Roosevelt, teaching a variety of subjects including history and consumer education. She rallied around major social and political causes, including the campaign to free the Scottsboro Boys, a group of Black youths arrested in Alabama and convicted of raping two white women. She protested the invasion and military occupation of Ethiopia by Italy in 1935 and wrote social and political commentary pieces as part of the editorial staff for two newspapers, the American West Indian News and the Negro National News. She founded the Negro History Club at the Harlem Library and was a part of the Harlem Renaissance, the cultural, social and artistic movement that empowered Black thought and dialogue from 1918 through the mid-1930's. All of these experiences helped to shape her belief in working at the grassroots levels of the Black community in order to affect social change.
Baker had observed that Black churches and especially Black church leaders had traditionally been looked upon as the leaders of the Black community, speaking for the community and making decisions for their collective well-being. She also noticed that most of the real leadership and decision-making roles were held by men. She vehemently resented this type of power structure, not only because it was sexist in nature, but also because the "leaders" sought to make decisions for the masses without first gathering their input. She saw this as patronizing and saw them as having little respect for a commonality with their constituents. Ella felt that they looked down upon them and talked down to them and she determined to approach the masses in a different manner.
Baker could be described as a radical or a revolutionary, especially when one considers that with her background and education, she could have served society as a teacher, a missionary or through any number of traditional, respectable endeavors. Instead, she determined to make a broad impact on society, starting at the grassroots level, working with individuals, but ultimately on the national level.
NAACP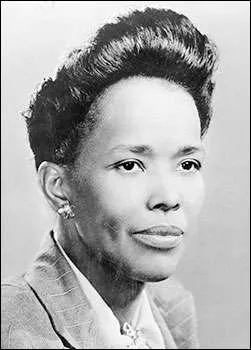 In 1938, Baker began working with the National Association for the Advancement of Colored People (NAACP). She was hired as a field secretary in 1940 and she travelled throughout the south, organizing campaigns, recruiting members and doing fundraising. She was so successful that in 1943 she was named "Director of Branches." In only five years she had risen to become the highest ranked woman in arguably the most power Black organization in the United States. Her ascension, however, did not come easy, nor did it make her popular throughout the organization. She was very vocal about her belief in the need to decentralize the leadership of the organization and the need to place more emphasis in empowering members at a local grassroots level. She believed that an organization should be built from the bottom up and not from the top down and that the true strength came not from the polished words of its leaders but rather from the hard work, actions and decision-making of its rank and file membership. She particularly pointed out the need for participation by women and by youth within the organization, two groups that she would advocate time and time again.
As stated, Ella's determination did not make her a favorite of many within the NAACP, particularly Walter White, the Executive Secretary of the organization. Her work, however, did make her believed and trusted by the members of the communities that she visited. As she travelled through the south, she stayed in the homes of the families with whom she visited, ate at their dinner tables and worshipped at their churches. She gained their trust and was able to recruit them into political action committees, just as the civil rights movement was ready to begin. Despite her education and background, she had an innate ability to speak to her fellow man rather and talk down to them. She spoke their language and treated them with respect and was able to organize them effectively.
In 1946 she left her position with the national chapter of the  NAACP and returned to New York to look after an ailing niece. She continued to volunteer with the local chapter, however, and joined the New York branch to fight against police brutality and school segregation. In 1952 she became the president of the New York chapter, but she continued to butt heads with members of the national bureaucracy and let the organization in 1953 to mount an unsuccessful campaign to run for a New York City Council seat.

SCLC
The success of the Montgomery Bus Boycott led Ella to journey to Atlanta, Georgia in 1957 to attend a conference aimed at creating an organization to carry out other boycotts and protest actions.This conference eventually led to the development of the Southern Christian Leadership Conference. The organization was originally planned as a coalition of southern ministers with Martin Luther King, Jr. as its first President and it preached non-violence as the means to protest Jim Crow segregation and racial prejudice, particularly that in the south. Baker served as the organization's secretary, the first staff member for the group.
The SCLC worked as an alliance of affiliated churches and community organizations. This structure led to early problems in gaining members and support, as individual churches and organizations were often afraid to outwardly protest and take on racial issues, for fear of economic as well as violent reprisal from the police and racist organizations such as the Ku Klux Klan and the White Citizens Council.
The first major event organized by the SCLC was the Prayer and Pilgrimage for Freedom, a nonviolent demonstration in Washington, DC on May 17, 1957. This was followed by the Crusade for Citizenship, an ambitious program aimed at registering two million black voters in time for the 1960 presidential election. Baker was instrumental in organizing both of these events and she was highly respected for her ability to mobilize participants and to organize and arrange these type of events.
On April 3, 1959, John Tilley, the executive director of the SCLC was asked to step down from his position by Dr. King. King and the administrative committee were concerned that the  efforts of the organization had not progressed as quickly as hoped. Because of her organizational skills and her general effectiveness within the civil rights movements she was asked to serve as the interim executive director and  did so for more than a year until Watt Tee Walker was appointed to the permanent position.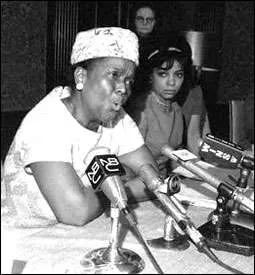 SNCC
Over time, many believe that Baker should have been appointed permanently to the position, but her relationship with the organization was nebulous and frustrating. She strongly believed that real change would be led by grassroots efforts which empowered individual members to work on local levels instead of just relying on regional or national leaders to determine the course of the national movement. Furthermore, she was frustrated by the limited role of women in the movement. She felt that the organization was being tailored around a small number of Black male pastors, helping them to emerge as the faces of the civil rights movements with no clear roles for women to achieve the same leadership opportunities. Others would later acknowledge her feelings, including former Atlanta Mayor Andrew Young who said "the Baptist church had no tradition of women in independent leadership roles, and the result was dissatisfaction all around." Finally, Baker felt that the organization was not utilizing Black youths enough and believed in the direct action that youths were taking in conducting sit-ins throughout the south. Several Black students had engaged in sit-ins at "white-only" lunch counters throughout the south, bringing attention to segregation laws and gaining the attention of the American press. Baker, thus, urged the SCLC to invite southern college students to the Southern Youth Leadership conference at Shaw University in April of 1960. In this meeting, the students were able to meet with other likeminded youths to discuss their experiences, assess various strategies and formulate possible directions for the future. During the events, the Student Non-Violent Coordinating Committee (SNCC) was formed. Baker subsequently resigned from the SCLC and began a long relationship with SNCC.
Ella found that SNCC was relatively progressive and open to the contributions of women and she was held in high esteem by SNCC members, with many considering her the "Godmother of SNCC." Under her direction, the organization created two wings, one to take direct action (such as sit-ins and freedom rides) and the other to promote voter registration throughout the south. She again expressed her belief that the best way to change the plight of Blacks in America was to empower them on an individual level to empower themselves, rather than have them follow designated Black leaders who would make decisions on their behalf. "Strong people don't need strong leaders," she argued, again, butting up against the notion that Dr. King and Reverend Ralph Abernathy should be elevated to the position of the leaders of the social revolution. Instead of continuing to butt heads with the male leadership of the SCLC, Baker found herself listened to by the younger students. She advised them and helped to coordinate their campaigns and worked with many of the emerging youth leaders of the day such as Julian Bond and Stokely Carmichael. Her ideas of "Participatory Democracy" now found a willing audience. The concept of participatory democracy was concerned with three  ideals:
An appeal for grassroots involvement of people throughout society, while making their own decisions;

The minimization of hierarchy (leaders) and the associated emphasis on expertise and professionalism as a basis for leadership;

A call for direct action as an answer to fear isolation and intellectual detachment.
"You didn't see me on television; you didn't see news stories about me," Baker said. "The kind of role that I tried to play was to pick up pieces or put together pieces out of which I hoped organization might come."My theory is: Strong people don't need strong leaders." – Ella Baker
In 1964, she was able to use this concept to help to organize the Mississippi Freedom Democratic Party (MFDP) which acted as an alternate to the all-white  Mississippi Democratic Party. The MFDP challenged the Democratic National Party to speak out against segregation and promote the rights of Blacks to take part in the political system within the American south. The organization was successful in affecting rule changes, allowing minorities and women to be seated at the Democratic National Convention.
In addition to her work with SNCC, she also worked from 1962 – 1967 with the Southern Conference Education Fund (SCEF). This organization sought to bridge the gap between whites and Blacks by having them work together to fight against segregation in the south. The group was modeled along her idea of grassroots campaigning and outreach and advocated on behalf of enacting civil rights proposals and educating Blacks and whites about the impact of racism and segregation.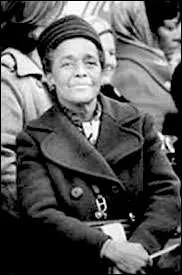 Ella returned to New York in 1967 and continued her work, collaborating with Arthur Kinoy to form the Mass Party Organizing Committee, a group which operated as a new national marxist party. In 1972 she traveled across the country in support of professor and political activist Angela Davis, The "Free Angela" campaign demanding the release of Davis who was arrested on murder charges, but more likely was being targeted based on her polarizing activism. Davis was eventually acquitted by an all-white jury after representing herself in court.
Baker later worked in support of the Puerto Rican independence movement and spoke out in protest against the system of apartheid in South Africa. Over the latter years of her life she allied with numerous of women's groups, including the Third World Women's Alliance and the Women's International League for Peace and Freedom. 
While she was often kept in the background of many of he causes she fought for, history has remembered her fondly. Her many awards and acknowledgments included:
Baker received a 

Candace Award

 from the 

National Coalition of 100 Black Women

 in 1984.

Her papers are held by the New York Public Library.

Was awarded a doctorate of letters in May 1985 from the City College of New York.
In 1994 Ella Baker was inducted into the 

National Women's Hall of Fame.

The 

Ella Baker Center for Human Rights

, a non-profit strategy and action center based in Oakland, California, was founded in 1996 and named for her.

In 2009 Ella Baker was honored on a U.S. postage stamp.

In 2014 the University of California at Santa Barbara established a visiting professorship to honor Ella Baker. 

Shana Redmond

 was chosen as the first Ella Baker Visiting Professor.
Ella Baker passed away on her birthday, December 13, 1986 in New York City at the age of 83. Always a private person, many were surprised to learn after her death that Baker had been married for more than 20 years to her college sweetheart T. J. "Bob" Roberts, the couple having divorced in 1958. It would appear that thereafter Ella Baker was married to the cause racial equality and is remembered as a Great Black Heroine. 
"Remember, we are not fighting for the freedom of the Negro alone, but for the freedom of the human spirit, a larger freedom that encompasses all mankind." – Ella Baker
https://greatblackheroes.com/wp-content/uploads/2018/11/ellabaker-featured01.jpg
300
630
Gaius Chamberlain
https://greatblackheroes.com/wp-content/uploads/2018/04/gbh-logo152x65.png
Gaius Chamberlain
2018-11-23 22:19:18
2020-12-10 21:04:58
Ella Baker