Josephine Baker is a name that is synonymous with the 1920s cultural high life. She lived in a time of immense social, political and cultural change and was at the forefront of the "jazz baby" movement in the U.S. and Europe, with her immensely colorful performances, provocative costumes and very distinctive singing voice.
However, for all we recognize in her achievements as a much loved entertainer, we forget about the other side to her life and everything she did in her capacity as a civil rights activist and campaigner during her later years.
Josephine's Early Years
She was born Freda Josephine McDonald in St. Louis, Missouri in the year 1906. Her mother was called Carrie McDonald and had been adopted by parents who were victims of the slave trade and of African descent. Josephine always identified her father as the respected vaudeville drummer Eddie Carson, but it's never really been clear if this was true or just hearsay, though Eddie never denied it. A rumor at the time was that Carrie, her mother, had become pregnant by the son of a German family she had been working for. Whilst this was always strenuously denied, the question mark over who her father was still stood.
By the time she was just eight years of age Josephine was sent to work in service, but found her experiences both frightening and hostile. She was told on more than one occasion "be sure not to kiss the baby" and she experienced bullying and abuse from at least one of her employers, who would grievously injure her for not completing her chores correctly – she was plucky enough at that young age to decide for herself that enough was enough and she left.
When she was eleven years old she experienced a serious race riot, which took place in East St. Louis, Missouri. This event and what she saw, clearly left a huge scar and must have sowed the seeds of her later journey into activism. During the riot, forty black people and eight white people were killed in a spate of violence which had erupted because white workers had felt threatened by the employment of black workers in Government factories.
It was shortly after this event that Josephine left home for good. She often slept rough and scavenged food from wherever she could find it. In a desperate attempt to try and earn money for food she took to performing street dances and it was here that she was spotted and recruited to play on the chorus line in St. Louis vaudeville.
Making Her Mark
Incredibly, by the time Josephine was fifteen years old she had made her way to New York, and was performing in Broadway Chorus lines and at the famous "Plantation Club." This early period in her career coincided with what became known as the "Harlem Renaissance," a term used to encapsulate the movement of literature, music, art and theater associated with the African-American community. This cultural clique spanned the years between 1919 and 1930 and Baker was one of the better known exponents in her own field of dance. In 1925 it is estimated that Baker was possibly the highest paid chorus dancer in vaudeville, which was no mean feat considering she was still only in her teens.
It was in 1925 that her fortunes changed again when she got the chance to tour Europe. She visited France and fell in love with it after performing at the "Theater des Champs Elysees." This was a pivotal moment in her career, for whilst there she discovered that it was very far removed from the racist experiences she'd had in her early years in St. Louis, and that the atmosphere and general mood was much more tolerant. Here she turned herself into an exotic and beautiful dancer, her performances relaxing and becoming much more exaggerated and erotic. Her most famous routine became the "Danse Sauvage," and all she chose to wear for the dance was a pair of extravagantly high heels and a belt made from faux bananas. Here is one of the only surviving filmed clips of this act:
Her Life In France
Due to the contrast between her experiences of racial abuse and intolerance in the US and her relatively free and easy existence in Europe, she chose to make France her home. During the 1930s, she reinvented herself as not just a dancer, but as a singer too and recorded many songs. The most famous of these was "J'ai Deux Amours"
She had some success as a film actress, starring in a raft of European films including the exotically titled "ZouZou" and "Princess Tam Tam." She was loved and celebrated by the popular artists and authors of the time in the US like Ernest Hemingway, F. Scott Fitzgerald and Pablo Picasso, who all admired her unique talent and ethereal and unconventional beauty (Baker wore her hair in a very short, masculine Eton crop style). She left France to tour America during the mid 1930s and while her performances were always loved by the public, she never truly received the critical acclaim she sought.
Josephine's War Years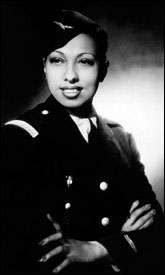 Back in France, during the Second World War, she felt she had to do something to help the war effort of her adopted home country, so she offered to act as a Resistance Spy and as an "Honorable Correspondent." This was a role that involved gathering information that she might overhear in theaters and at parties in her role as host or entertainer, and passing it on to the authorities. Of course, as she was still a dancer and entertainer, she had more cause than most for moving around the country and into different places within Europe so no-one would question her on her movements.
It was alleged that she would smuggle secret messages and codes in and out of France that were written using invisible ink on the sheet music she used for her performances. We tend to forget that this was the time long before everyone had mobile phones, computers and had to think about securing the best phone and broadband deals in order to use them. Sending information now is easy and we do it without a second thought, but back then it was difficult, and for someone in Josephine's position it was very hard indeed. She had to use her ingenuity and cunning to find the best way she could of getting notes in and out of the country without the aid of fancy technology or telecommunications. If she was caught, the punishment would have been imprisonment or worse.
During this time she also used her considerable influence to help people in France who were in danger of being persecuted by the Nazis to obtain passports and leave for sanctuary in other countries, again risking her own safety to do so.
Civil Rights Campaigning
Although she gave up her US citizenship for good in 1937, she passionately and vociferously campaigned for the Civil Rights movement in the U.S. for many years prior to and during the 1950s. In 1951, Baker made a claim of racism at the famous Stork Club in Manhattan. This was after she'd been refused service by the management. She started an argument with a newspaper journalist there called Walter Winchell and demanded to know why he hadn't used his considerable nous to come to her assistance. Winchell, instead of apologizing and offering to help, accused her of being a fascist sympathizer and a communist. This accusation was untrue, and in the event all it did was add fuel to her fire, giving her even more reason to want to fight against racism and segregation in her home country. From that day onward, she consistently refused to perform for segregated audiences in theaters and she held out, never reneging on her word. This eventually led to performances in places like Las Vegas being fully integrated and the color bar being lifted in many other places across the U.S. during the next few years.
Josephine could not become a mother herself after many fertility problems and an eventual hysterectomy in 1941 after the stillbirth of a child. She therefore decided to adopt and created what she termed a "Rainbow Tribe" of twelve children, all of different races, in an effort to show that people could all live together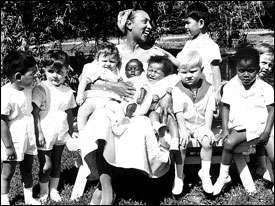 In 1963, she attended the March on Washington and spoke in favor of Martin Luther King, Jr. She was the only woman to speak there. Although there had been considerable concern about her appearance there (a few people felt that she had become out of touch), she rallied people with a simple speech which told of her impoverished upbringing, the racial abuse she'd suffered and her desire with her own family, to create a harmonious unit in which people of different colored skin could live together without intolerance, fear or prejudice:
"I have walked in the palaces of Kings and Queens and in the houses of Presidents. But I could not walk into a Hotel in America and get a cup of coffee, and that made me mad. And when I get mad, you know, I open my big mouth. And then you know, look out, 'cos when Josephine opens her big mouth they hear it all over the world. I am not a young woman now, friends. My life is behind me. There is too much fire burning inside me. Before it goes out I want you to use what is left to light the fire inside of you…"
During the following year, Baker arranged several performances at the Henry Miller Theater in New York. These were ostensibly for everyone to come and watch and she encouraged whole families to come and sit together to participate in the shows. Part of the show involved her bringing onto the stage a selection of dolls, all with different colored "skin" tones which she would use to demonstrate to the audience (and particularly impress upon the children who were watching) the multifarious races within the world and what a good thing this was. In her routine, she incorporated a song called "Dans Mon Village" which was about a place in which everyone was equal and color did not matter. It was a romantic concept, but one which she hoped would hit home.
Josephine's Final Act
She continued working throughout the rest of her life, never slowing down or letting the pace up, although her act changed from the fierce dancing routines to more sedate songs and continuing to promote good race relations. In 1975, she starred in a celebration of her fifty years as a performer at the "Bobino" in Paris. The event had been well attended and had garnered superb reviews. On the fourth night of the run, she went to bed and was found the next morning lying with the newspaper reviews of her performances surrounding her. She had suffered a stroke and died the same day aged sixty eight. A woman who had overcome so much and brought much joy to many, who had experienced the highs and lows of fame and fortune and had campaigned for a better future for her countrymen was now at peace.
Josephine Baker climbed to stardom, bypassing the discrimination in her own country to become one of the biggest stars in the world. She never forgot her hardships and struggles and worked to make sure future generations would not have to suffer through them. For millions around the world, she is a Great Black Heroine.
Henrietta Cast is a freelance writer based in London, England. She grew up in NYC and has spent most of her writing career covering history and her heroes and inspirations from the past.
Search for info about Josephine Baker
https://greatblackheroes.com/wp-content/uploads/2012/06/josephinebaker03.jpg
300
630
Henrietta Cast
https://greatblackheroes.com/wp-content/uploads/2018/04/gbh-logo152x65.png
Henrietta Cast
2012-06-23 17:43:24
2020-12-10 21:05:02
Josephine Baker