Many remember Rosa Parks simply as a woman who refused to give up her seat on a bus, but her contributions to and role in Black History can not be understated or under-appreciated.
Rosa Parks was born Rosa Louise McCauley on February 4, 1913 in Tuskegee, Alabama. Her parents were James and Lenora McCauley, James a carpenter and Lenora a schoolteacher. Rosa was in poor health as a child, suffering from chronic tonsillitis, and when her parents split up she went with her mother to Pine Level, a town near Montgomery, Alabama. She lived with her mother and brother on her grandparents farm and attended school until she was forced to drop out to take care of her grandmother, and later her mother, when they became ill. She was confronted by racism very early as she attended a segregated school and was forced to walk to it, while white students were driven to their school on a bus. Her elementary school, the Montgomery Industrial School for Girls (which was created and run by white Northerners) was burned down twice and her grandfather often had to sit on his porch with a shotgun when the Ku Klux Klan would brazenly march past their house. She viewed these incidents as simply a way of life in the South.
In 1932, at 19 years old, Rosa married Raymond Parks, a local barber and a member of the National Association for the Advancement of Colored People (NAACP). She was impressed that he stood up for himself and was not intimidated by white people. He was very involved in working to free the Scottsboro Boys, a group of young Black men falsely accused of raping two white women. Rosa worked on the matter as well while also working as a domestic worker and in a hospital  James encouraged her to finish high school and after she did, she became very involved in the Montgomery chapter of the NAACP, serving as the secretary for 14 years. During this time, she also worked briefly at Maxwell Air Force Base, which, by Federal mandate, was integrated. This was her introduction to integration and it had an enormous impact on her. In 1955, she attended the Highlander Folk School in Monteagle, Tennessee. The school prepared students for activism in workers and civil rights and she was sponsored by Clifford and Virginia Durr, a white couple for whom she had worked.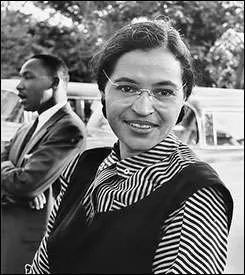 On December 1, 1955, Rosa was working as a seamstress for a local Montgomery department store. When she got off of work she boarded the number 2857 Cleveland Avenue bus around 6:00 PM. The buses, as well as most everything in Montgomery at that time, were segregated. An ordinance had been passed back in 1900 which segregated bus passengers by race. There was a white section (the first four rows) and a colored section, designated by a sign which could be move forward or backward by the bus driver, depending on how many whites were riding at that moment. In the event that enough white people were on the bus that the white section was full, the driver would move the sign back a few rows and demand that the Blacks exit those sits and either move to seats in the back of the bus, stand during the ride or simply get off of the bus in order to accommodate the white passengers. This was contrary to the official ordinance which did not require anyone to give up their seat but over the years it became an unwritten rule carried out by the drivers. Additionally, if the white section was full, Blacks were required to pay at the front of the bus, but then to exit and go around to the rear door to re-enter the bus. Black passengers had complained for years about these practices, but to no avail.
The driver of the bus that day was a man named James Blake. Rosa had had an incident with Blake 12 years earlier. In 1943 she had paid her fare and walked directly to her seat. Blake reminded her of the rules and forced her to get off of the bus and told her to re-enter the rear door. When she got off of the bus, though, he closed the door and drove off without her. Now, twelve years later, when Parks entered the bus, the white section was already filled. After a few more stops, a group of white passengers boarded, prompting Blake to move the colored sign back and ordered the Blacks to give up their seats for the White passengers. Only one white man still needed to be seated which meant if all of the Blacks moved, three seats would remain open. The other three Blacks complied with Blake's order and got up and moved, but Rosa simply moved laterally into the window sat. Blake asked her if she was was going to stand up, and she said, "No, I'm not." Blake told her "Well, if you don't stand up, I'm going to have to call the police and have you arrested," to which she responded, "You may do that." Blake called for the police and she was arrested and taken to the police station where she was booked, fingerprinted and incarcerated. Parks was charged with disorderly conduct based on violating Chapter 6, Section 11 of the Montgomery City Code, which provided for segregation. She was bailed out the next evening by Clifford Durr and Edgar Nixon, the President of the Montgomery chapter of the NAACP.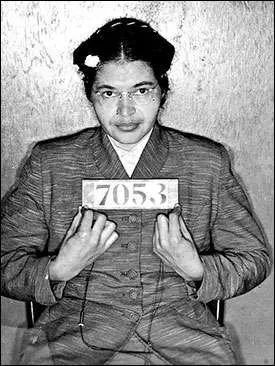 Parks said that she did not intend on getting arrested that day, nor was she too tired to stand up. "People always say that I didn't give up my seat because I was tired, but that isn't true. I was not tired physically, or no more tired than I usually was at the end of a working day. I was not old, although some people have an image of me as being old then. I was forty-two. No, the only tired I was, was tired of giving in." She was not even the first person to be arrested for violating the ordinance.  Sixteen year old Claudette Colvin was arrested on March 2, 1955 and 18 year old Mary Louise Smith was arrested on October 21, 1955, both for refusing to give up their seats (both were fined). Many believed that Parks' arrest was staged by the NAACP in order to attack the segregation law, but regardless of whether the incident was not staged or not, she was a perfect candidate for the moment. She was 42 years old, employed, happily married, quiet and well-mannered. Because she was so deeply involved with the NAACP, she knew that a challenge to segregation in Montgomery could have profound affects across the nation (Colvin had been considered as a candidate, but she was a teenager and was pregnant).
Over the weekend, several churches and organizations discussed boycotting the bus line on their day of her trial. The Women's Political Council handed out more than 35,000 handbills announcing the boycott and Black churches announced the intent to boycott the buses to their congregations (the boycott was also announced in the Montgomery Advertiser newspaper). The handbill read, in part, "We are …asking every Negro to stay off the buses Monday in protest of the arrest and trial … You can afford to stay out of school for one day. If you work, take a cab, or walk. But please, children and grown-ups, don't ride the bus at all on Monday. Please stay off the buses Monday."
Despite the fact that Rosa had not been sitting in a white section seat, but instead was seated in the colored section, she was found guilty of disorderly conduct and violated a local ordinance on Monday, December 1, 1955. She was fined $10.00 plus court costs of $4.00. She promptly appealed the conviction, challenging the legality of the ordinance and racial segregation in general.
In the meantime, the bus boycott was a huge success. Blacks made up 75% of the passengers on the city's buses and as many as 90% of Blacks chose not to ride the bus that day. Many carpooled, some took cab rides (cab drivers charged the same fare as the bus that day) and others simply walked through the rain. After the success they enjoyed that day, city leaders decided to create the Montgomery Improvement Association (MIA), led by Reverend Ralph Abernathy and Dr. Martin Luther King, a new minister in town and the pastor of the Dexter Avenue Baptist Church. Dr. King was elected President of the MIA and spoke publicly in support of Parks.
On January 30, 1956, Dr. King's home was bombed. His wife and children were inside the home but were unarmed. He was also harassed as segregationists pushed authorities to seek the indictment of the boycott's leaders in state court for violating the Alabama Anti-Boycott Act of 1921. The Anti-Boycott made it a misdemeanor to conspire to hinder any person from carrying on a lawful business. On February 21, the county grand jury  indicted King and 89 other Blacks under the Anti-Boycott Act (24 of them were ministers). Most of the leaders turned themselves in and King was found guilty in March and fined $500.00. He appealed the conviction but spent two weeks in jail. His incarceration brought the national spotlight to the boycott and King declared "I was proud of my crime. It was the crime of joining my people in a nonviolent protest against injustice."
The main reason the boycott was so successful was a carpool system that was put into place. Initially the cars used were that of private citizens but eventually the MIA purchased a fleet of station wagons, putting the ownership in the name of Black churches. Drivers were hired and drove passengers on predetermined routes. In another attempt to thwart the boycott the city of Montgomery sued in Alabama State court, seeking an injunction against the operators of the carpool system, claiming that it interfered with the bus company's exclusive franchise. The injunction was granted on November 13, 1956.
The Alabama courts allowed the case to drag slowly through a series of appeals. It is likely that the political and judicial officials hoped that the Blacks would simply grow tired of the protest and give up the fight. Quite the opposite occurred as the boycott lasted for 381 days. The bus company was forced to lay off employees, shut down routes and raise fares as it faced losses of 65% of total sales. Finally, on December 20, 1956, the city relented and abandoned its segregation of buses after the United States Supreme Court found in a 9-0 decision that segregation of buses was unconstitutional in the Browder v. Gayle case (Mary Louise Smith and Claudette Colvin were plaintiffs in the case). The company not only ended segregation on the buses, but also hired Black drivers. On December 21, 1956, Dr. King and a white friend, Reverend Glen Smiley, sat together in the first row, along with Ralph Abernathy, E.D. Nixon, and Rosa's attorney Fred Gray.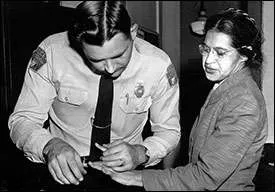 While she became an icon for her act of civil disobedience, it came with a cost. The pressure of the case contributed to both Rosa and her husband suffering from painful stomach ulcers and they both lost their jobs. The couple, along with her mother and brother and sister-in-law, left Montgomery, first for Hampton, Virginia and then to Detroit, Michigan. After years without a real job, Rosa was hired as a secretary and receptionist for newly elected Black Congressman John Conyers. She would work for him for 23 years.
In August 1977, Rosa's husband James died of throat cancer and her brother Sylvester died of cancer three months later. Her mother Lenora died two years later. Rosa was able to devote herself towards civil rights activities again, establishing the Rosa L. Parks Scholarship Foundation for college-bound high school seniors and co-founding  the Rosa and Raymond Parks Institute for Self Development. In 1992 she published her autobiography Rosa Parks: My Story and followed that with another memoir Quiet Strength three years later.
On August 30, 1994, a drug addict broke into her home and robbed her, striking her in the process. Public outrage erupted and he was sentence to eight to 15 years in prison. The incident shook her up so bad that she moved into a high security apartment building. In 1999, Rosa made an appearance on the television show Touched By an Angel, in what would be her last appearance on film. Her health began deteriorating and she began suffering dementia.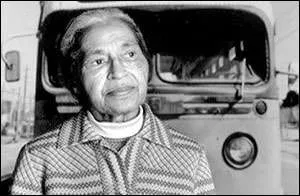 Rosa Parks died in her apartment on October 24, 2005 at the age of 92. She lay in repose in the St. Paul African Methodist Episcopal Church in Montgomery, Alabama and her body was transported to Washington, DC where she lay in honor under the rotunda of the United States Capitol. She was the first woman, the second Black and the first non-government American to ever have this honor and an estimated 50,000 people viewed her body lying in state. When her body returned to Detroit, Parks lay in repose at the Charles H. Wright Museum of African American History. Her funeral service was held on November 2, 2005 at the Greater Grace Temple Church and lasted almost seven hours. Afterwards, an honor guard from the Michigan National Guard laid the U.S. flag over the casket and carried it to a horse-drawn hearse. She was buried at the Woodlawn Cemetery in Detroit, between her husband and her mother.
[the_ad id="1437″]
The list of honors she received over the course of her lifetime was extensive. These included:
The NAACP awarded Parks its highest honor, the Spingarn Medal in 1979.
Received the Martin Luther King Jr. Award in 1980.
Inducted into Michigan Women's Hall of Fame for her achievements in civil rights in 1983.
Invited to be part of the group welcoming Nelson Mandela upon his release from prison in South Africa in 1990.
Awarded the Presidential Medal of Freedom, the highest honor given by the U.S. executive branch in 1996.
Received the Congressional Gold Medal, the highest award given by the U.S. legislative branch in 1999.  The medal bears the legend "Mother of the Modern Day Civil Rights Movement."
Named by Time Magazine as one of the 20 most influential and iconic figures of the 20th century in 1999.
Honored by President Bill Clinton in his State of the Union Address in 1999.
 On October 30, 2005 President George W. Bush issued a proclamation ordering that all flags on U.S. public areas both within the country and abroad be flown at half-staff on the day of Parks' funeral.
President George W. Bush signed Pub.L. 109–116, directing that a statue of Parks be placed in the United States Capitol's National Statuary Hall.
She was awarded two dozen honorary doctorates from universities worldwide.
Rosa Parks made a seemingly small gesture in refusing to leave her seat on the December evening, but the impact of her defiance was the catalyst for a movement that would ensure equal rights for all citizens across the United States.
Sources:

https://greatblackheroes.com/wp-content/uploads/2013/02/rosaparks01.jpg
300
630
Gaius Chamberlain
https://greatblackheroes.com/wp-content/uploads/2018/04/gbh-logo152x65.png
Gaius Chamberlain
2013-02-07 05:49:04
2020-12-10 21:05:00
Rosa Parks