More than just a celebrated athlete, Jesse Owens took his country on his shoulders and shocked the world winning four gold medal in the 1939 Berlin Olympic Games.
James Cleveland "Jesse" Owens was born on September 12, 1913 in Oakville, Alabama. He was the youngest of ten children born to Henry Cleveland Owens and his wife Mary Emma. His parents worked as sharecroppers before moving to Cleveland, Ohio in 1922 in search of better opportunities and to get away from the segregated south. He was a sickly child, suffering from both chronic bronchial congestion and several bouts of pneumonia. His family called him J.C., so when a teacher in Ohio asked his name he pronounced J.C. with such a strong southern accent that the teacher thought he said Jesse and the name stuck with him for the rest of his life.
As a youngster he helped out by finding odd jobs around town while his father and brothers worked at the local steel mill. He worked with a shoe repairman, loaded freight cars and delivered groceries to help out with expenses around the house.
Jesse attended Fairmont Junior High School and his gym teacher, Charles Reilly, saw his raw athletic talent. Because Jesse worked in the afternoons, Riley allowed him to practice before school. He would bring Jesse to his home for dinner on Sundays and taught him to be well mannered and polite. On the track, Reilly taught him to run like a racehorse and told him never to look left or right which would slow him down.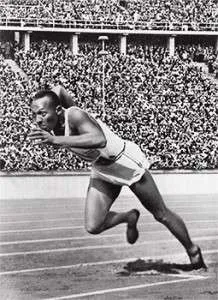 Jesse moved on to East Technical High School and began establishing a real name for himself in track and field. In high school, he ran 100 and 200 meters, the broad jump and hurdles. Amazingly, at the 1933 National High School Championship held in Chicago, Illinois, he tied the world record in the 100-yard dash (91 meters), finishing in 9.4 seconds. He also competed in the long jump and leaped an astounding 24 ' 9.5 " (7.56 meters). His success in Chicago gained a lot of interest from Universities across the nation.
Jesse decided to attend Ohio State University where he learned under the watchful eye of Larry Snyder, the Buckeyes head track coach. Snyder had unusual ways of training his track athletes including having them train to music, believing it helped them with the rhythm in their strides. Although he was attending a top notch University, not all was well for Jesse. First of all, he was not awarded a scholarship to attend Ohio State, so he was forced to work part-time. He was also not permitted to stay on campus like the white athletes. He and the other Black athletes had to live off of campus, eat at "Black-only" restaurants (or order carry-out) and could not stay with their white teammates in the hotels on the road that were booked by the school.
Owens was named captain of the Ohio State track team, the first Black to be so honored. His success at Ohio State had many thinking that he could be a favorite at the upcoming 1936 Olympic Games in Berlin, Germany, but he still had a lot to accomplish in order to make the team. He was set to compete in a Big Ten meet in Ann Arbor, Michigan on May 25, 1935, when he fell down a flight of stairs and severely injured his back. His coach wanted to hold him out of the meet, but Jesse got treatment on his back and convinced the coach to let him try to run the 100-yard dash. He not only won the race, but finished it in 9.4 seconds, tying the world record. With such a performance, his coach allowed him to compete in the other events. He would next attempt the long jump and marked the world record distance (26', 2.5″) with a handkerchief and then soared past it landing almost six inches farther. He followed that by smashing the record in the 220-yard dash in 20.3 seconds. Finally he readied himself for the 220-yard hurdles and amazed all in attendance by winning the race and setting a new world record in that event as well. In all, despite his ailing back, he broke three world records and tied one in less than 45 minutes, perhaps the most remarkable feat in amateur track and field history. In his junior year at Ohio State, Owens won all 42 events that he entered, including four in the Big Ten Championships, four in the NCAA Championships, two in the AAU Championships and three at the Olympic Trials.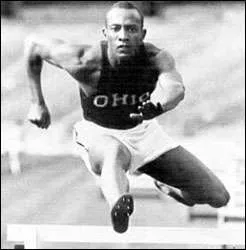 His place on the 1936 Olympic team seemed assured but not everyone was ready to concede the spot to him. Eulace Peacock was an acclaimed sprinter out of New Jersey who ran track at Temple University. A year younger the Owens, Peacock came from a family of track athletes. His older brother James ran track and played football at Temple University under the guidance the legendary Glenn "Pop" Warner and his brother Clarence ran track at Rutgers University. In high school, Eulace broke the national long jump record only to find out on the radio that Jesse had broken his record later that same day. Peacock was a pentathlete and had six reigns as the National Champion for the event. He competed on the United States track team and broke the world record for the 100-meter dash in Oslo, Norway. In Lincoln, Nebraska at the 1935 National Amateur Athletic Union Championship, he defeated both Jesse Owens and Ralph Metcalf in the 100–meter dash in the time of 10.2 seconds. He also beat Jesse in the long jump that day with a leap of  26 feet, 3 inches. In a previous head to head matchup, Owens had beaten Peacock in the 100 meters, but after his success in Nebraska he beat Owens in their next three meets.
To say that these two were rivals is an understatement. They were highly competitive but were very friendly as well. In a matchup in March of 1936, Peacock stumbled out of the starting blocks and Owens easily defeated him. When Jesse realized that his opponent faltered at the start, he insisted on giving Eulace a second chance, much to the delight of the fans. Peacock made the best of his opportunity and beat Owens, but refused the medal. Peacock was on a roll and having defeated Owens several times seemed to have the momentum going into the Olympic trials. Even Owens seemed to believe that Peacock was the better man, saying "It's going to take a special man to beat Eulace Peacock… You see, I've already reached my peak. Peacock is just now reaching his. He's a real athlete. I don't know whether I can defeat him again." For Peacock, hover, there was one hurdle he was unsure he could overcome. He had pulled his hamstring a year earlier and re-injured it several times, but at the 1936 Penn Relays he tore the muscle running in the 4 x 100 relay race. The man that many were calling the "World's Fastest Human" and who had beaten Owens in seven out of their ten races in 1935 would not be able to compete in the Olympic games, leaving that task to Owens.
For Jesse and the other Black athletes, the 1936 Olympic games were more than just about winning medals. The games were being held in Germany, under the Nazi regime of Adolf Hitler. Hitler initially did not want the games held in Germany calling the Olympics a "jewish nigger-fest," but was then convinced that the Olympics could serve as a showcase for Nordic, Aryan superiority for the world to see and strive to emulate. A good showing by Owens could help to topple this propaganda. Before he could get there, however, there were rumblings back home about the United States sending athletes to Germany where atrocities were occurring and discrimination was written into the law. While many called for a boycott, the United States insisted on maintaining diplomatic and trade relationships. When pressed by the NAACP to take a stand, Owens said "if there are minorities in Germany who are being discriminated against, the United States should withdraw from the 1936 Olympics." The United States decided to proceed with competing in the games.
Owens had more on his mind than just the Olympics. Before he went overseas he married his high school sweetheart June. The two had been together since he was 15 and they had a two year old daughter named Gloria providing him with even more inspiration for victory. He had another surprise waiting for him when he was visited in the Olympic village by Adi Dassler who ran a shoe company with his brother Rudolf. Adi convinced Jesse to use his shoes during the Olympic games making Owens the first Black athlete with a clothing sponsorship (The Dassler brothers got their money out of the deal as Adi would later form Adidas and Rudolf would create Puma sports attire).
In his opening event, Jesse won the 100-meter sprint in 10.3 second defeating his college teammate Ralph Metcalfe by one tenth of a second. The next day he competed in the long jump, but pressed himself to the point where he faulted on his first two tries in the preliminary round. One the verge of failing to move on, Owens received some advice from an unexpected source – his rival from Germany, Luz Long. Long held the European long jump record and had set an Olympic record in his preliminary jump. In a show of enormous sportsmanship in light of the racial climate surrounding the games, Long laid a towel a foot in front of the line and told Jesse to takeoff from the towel. Owens easily qualified with his next jump. In the finals the two went back and forth, each breaking the Olympic record until Jesse took off with a leap of 8.06 meters garnering him the gold medal while Long was awarded the silver. The two walked off of the track arm in arm, much to the chagrin of Hitler. Jesse would later say of Long ""It took a lot of courage for him to befriend me in front of Hitler… You can melt down all the medals and cups I have and they wouldn't be a plating on the twenty-four karat friendship that I felt for Luz Long at that moment." On August 5th, he secured his third gold medal winning the 200-meter spring in 20.7 seconds, just ahead of Mack Robinson (older brother of Jackie Robinson). Finally on August 9, 1936, Jesse won a remarkable fourth gold medal in the 4×100 meter-sprint.
The experience was humiliating for Hitler as his Aryan-superiority propaganda blew up in his face. Olympic officials, knowing of the racial policies in the country, had insisted that Hitler shake the hands of all of the Olympic athletes (many of whom were Black or Jewish) or none at all. Hitler chose the latter and left the stadium. Much has been made of his leaving, with many speculating that he did so in disgust with Jesse's triumph, while others say that he left because of impending rain showers. Albert Speer, the Nazi Minister of Armaments and War Production wrote that Hitler "was highly annoyed by the series of triumphs by the marvelous colored American runner, Jesse Owens. People whose antecedents came from the jungle were primitive, Hitler said with a shrug; their physiques were stronger than those of civilized whites and hence should be excluded from future games." However Jesse had a different experience with the Fuhrer. "Hitler had a certain time to come to the stadium and a certain time to leave. It happened he had to leave before the victory ceremony after the 100-meters. But before he left I was on my way to a broadcast and passed near his box. He waved at me and I waved back. I think it was bad taste to criticize the 'man of the hour' in another country."
For Jesse, it wasn't just the athletic experience that he enjoyed. In Germany he was able to stay in the same hotels as the white athletes and could eat in restaurants like any other person. He was mobbed in public after his performance and treated as a huge star. In fact, he felt that the ovation he received from the German crowd in the stadium was louder than any other that he had ever received. How it must have shocked him when he returned home to a ticker-tape parade in New York, but was forced to ride the freight elevator in the Waldorf-Astoria to a reception where he was being honored. He was dismayed that the President of the United States did not even acknowledge his achievement. "Hitler didn't snub me – it was FDR who snubbed me. The president didn't even send me a telegram."
As a further blow to him, the Olympic team was invited to compete in Sweden, but Jesse decided to return to the United States to cash in on his popularity. United States athletic officials quickly withdrew his amateur status, making him ineligible to compete in college or any future Olympic games. His attempts to gain further sponsorship or commercial offers failed and he found himself forced to participate in degrading sideshows. Less than a year after winning four gold medals in front of 100,000 Olympic fans he was racing a gelding in front of 3,000 people in Havana, Cuba. He later tried his hand as a sports promoter, and helped Harlem Globetrotters owner Abe Saperstein to create a Negro baseball league (The West Coast Baseball Association which lasted only two months) in which Owens was the owner of the Portland Rosebuds. Owens explained his actions. "People say that it was degrading for an Olympic champion to run against a horse, but what was I supposed to do? I had four gold medals, but you can't eat four gold medals." He ran a dry cleaning company and later worked as a gas station attendant and a disc jockey and as a last slap in his face, was prosecuted for tax evasion, much like boxer Joe Louis. He was appointed, eventually, as a United States Goodwill Ambassador by President Dwight Eisenhower and would finally find some success after opening a public relations firm.
After 35 years of smoking cigarettes, Owens developed lung cancer and died in Tucson, Arizona on March 31, 1980, survived by his wife and three daughters. He was buried in Oak Woods Cemetery in Chicago, Illinois.
As tragic as his years after Olympic success were, having been forgotten by an adoring public, history has chosen to remember him fondly. He was voted the greatest track and field star for the first half of century in a 1950 Associated Press poll, outpolling Jim Thorpe by almost three to one. In 1970, Owens was inducted to the Alabama Sports Hall of Fame and he was awarded the Presidential Medal of Freedom by President Gerald Ford in 1976. USA Track and Field created the Jesse Owens Award in 1981, which is given annually to the country's top track and field athlete. In 1984 a street near the Olympic Stadium in Berlin was renamed Jesse-Owens-Allee, and the Jesse Owens Realschule/Oberschule (a secondary school) in Berlin-Lichtenberg, was named for him. On March 28, 1990, Owens was posthumously awarded the Congressional Gold Medal by President George H. W. Bush and in 1996, Owens' hometown of Oakville, Alabama, dedicated Jesse Owens Memorial Park in his honor. Two U.S. postage stamps have been issued to honor Owens, one in 1990 and another in 1998 and in 2001, The Ohio State University dedicated Jesse Owens Memorial Stadium for track and field events. ESPN named him the sixth greatest athlete of all time. President Jimmy Carter awarded him the Living Legend Award in 1979 and described him as "A young man who possibly didn't even realize the superb nature of his own capabilities went to the Olympics and performed in a way that I don't believe has ever been equaled since…and since this superb achievement, he has continued in his own dedicated, but modest way, to inspire others to reach for greatness".
Jesse Owens was a Great Black Hero!
---
---
Sources:
Jesse Owens Profile at Wikipedia – http://en.wikipedia.org/wiki/Jesse_Owens
jesseowens.com – http://www.jesseowens.com/about/
Owens Pierced a Myth – https://espn.go.com/sportscentury/features/00016393.html
Eulace Peacock: history's greatest also-ran – http://www.telegraph.co.uk/sport/olympics/9144138/Eulace-Peacock-historys-greatest-also-ran.html
https://greatblackheroes.com/wp-content/uploads/2015/01/jesseowens01.jpg
300
630
Gaius Chamberlain
https://greatblackheroes.com/wp-content/uploads/2018/04/gbh-logo152x65.png
Gaius Chamberlain
2015-01-16 03:59:35
2019-11-26 16:48:49
Jesse Owens