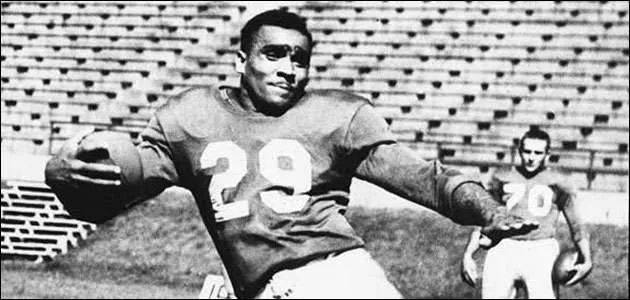 Johnny Bright was one of the greatest offensive players in college football and Canadian Football League history but he is most widely remembered for being a victim of one of the worst racially motivated dirty plays in collegiate sports and the impact that it made on the game.
Johnny D. Bright was born on June 11, 1930 in Fort Wayne, Indiana. He was the second oldest of five children and was raised by his mother in a working class neighborhood.  He had four brothers and they all played sports as youngsters. Johnny attended Central High School in Fort Wayne and lettered in basketball, football and track. He twice led his basketball team to final four appearances in the state championship and led the football team to the City title in 1945. He also competed in as many as five events during track and field meets and was able to pole vault 12 feet using a bamboo pole.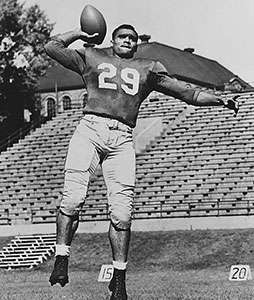 He was recruited heavily by the Michigan State University football team and initially accepted a scholarship to the school but changed his mind. He transferred to Drake University in Des Moines, Iowa and received a track and field scholarship. He had come to Drake heralded more for his track and basketball skills but the University allowed him to try out for the football as well and he would eventually letter in all three. As a sophomore he participated in the pole vault where he had a personal best of 13 feet and in the long jump where he set a personal best of 6 feet, 2 inches. Standing 6′ tall, he had a tremendous vertical leap, but after filling out to compete in football he was not able to manage all three sports and dropped track and field and basketball after his sophomore year. However, he branched out and became a great softball player for the school and also boxed. "He was a great athlete really, just a natural athlete. He could be good in any sport he wanted to participate in," Drake's longtime sports information director Paul Morrison said.
At the time that Johnny entered college, freshman athletes were ineligible to play during their first year in order to give them time to devote to their studies. Thus, Johnny did not suit up for the Drake football team until 1949. When he did, however, he lit college football on fire. In his sophomore campaign he rushed for 975 yards and passed for another 975 yards showing himself  to be a true dual threat quarterback. His 1,950 yards of total offense led the nation, the first time that had ever been accomplished by a sophomore and the team achieved a  6-2-1 record. His junior season was even better. He passed for 1,168 yards and ran for 1,232 yards. His total yardage  broke the NCCA record and he again led the team to a 6-2-1 record.
Entering his senior season, Bright was acclaimed across the country as the favorite to win the Heisman trophy, considered the top award for a college football player. He did not disappoint as he led the Bulldogs to a 5-0 record to start the season. At that point he was leading the nation in rushing with 821 yards and leading the nation in total offense with 1,349 yards as well as in scoring. Entering the game against Oklahoma A&M University (now known as Oklahoma State University) on October 20, 1951, Drake was looking to clinch the Missouri Valley Conference title. Unfortunately, the game would become infamous nationally for what is referred to as "the Johnny Bright Incident."
Upon arriving in Stillwater, Oklahoma, Bright was forbidden from staying with the team and instead was forced to stay with a local Black minister and his family. Johnny had already played at Lewis Field in Stillwater two years earlier as a sophomore without incident. Prior to this game, however, there was a lot of hushed talk on the A&M campus that Johnny Bright wouldn't last the game. Rumors swirled that the A&M coach had instructed his players to do whatever necessary to knock him out of the game. Two photographers for the Des Moines Register newspaper heard the rumors as well and travelled to the game to capture the action. Because of deadlines, they only planned to stay for the first quarter and set up with the best aerial shot they could find. It didn't take long for them to capture one of the most notorious moments in college football history.
Within the first seven minutes of the game, Johnny Bright was knocked unconscious three times by A&M defensive tackle Wilbanks Smith. Each time the blows to his face occurred after he had handed off the ball to his running back and was standing watching the play develop. The third blow was the worst as Smith hit him with a foreman directly to the face, breaking Bright's jaw. Miraculously, despite the broken jaw, Bright stayed in the game and hurled a 61 yard scoring pass to his halfback Jim Pilkington. At this point, however, the coaching staff decided to take him out of the game to prevent even further damage. This would be the first time in Bright's illustrious career that he left a game without eclipsing the 100 yard mark. Oklahoma A&M won the game by a score of 27-14.
Reporter Bob Spiegel of the Des Moines Register interviewed numerous people who confirmed hearing a coach and players encouraging the dirty play, but Smith denied that he was the one who had dealt the cheap shot that had broken Bright's jaw. Unfortunately for Smith's version of the story, Des Moines Register cameramen, John Robinson and Don Ultang, captured the incident in a sequence of six photos which showed beyond dispute that the blow happened almost seven yards away from the ball carrier. The sequence of photos would be reprinted in papers across the United States and made the cover of Life magazine. The cameramen were also awarded the 1952 Pulitzer Prize as the photos showed the depth of racial discord in the country.
Drake immediately filed a formal protest with the conference and demanded an apology from Oklahoma A&M. A&M refused to apologize and the conference decided not to punish the school. Drake soon thereafter withdraw from the conference and fellow conference member Bradley University also withdrew in a show of solidarity. Bradley returned in 1955 for non-football sports as did Drake in 1956, however neither team competed in football in the conference again.
Oklahoma A&M had been integrated several year before but a lot of the Jim Crow mentality still existed on the campus and within the school's administration. Even when presented with the photographic evidence of the plays, Oklahoma A&M's president, Oliver Willham, still refused to apologize and denied anything happened. For more than 50 years, Oklahoma A&M (now known as Oklahoma State) University refused to discuss the matter and instead issued a no comment. Years later, Robert B. Kamm, the former Drake University Dean of Men took over as President of Oklahoma State University and found the cover-up of the incident so wide and so strong that he knew he could not even bring it up for discussion.
For the rest of his life Wilbanks Smith remained unrepentant for the play and denied that there were racial overtones to the incident. Instead, he referred back to a previous game against Drake when one of the A&M players was injured by an alleged cheap shot. Smith vowed to get revenge and on the opening kickoff hit the same Drake player (who was white) with a forearm to the face. Thus, he argued, when he broke Bright's jaw, it was with the same cheap shot that he had used on a white player and thus it had nothing to do with race. Smith was the captain of the A&M squad and he and his former roommate A&M receiver George Wooden gave an explanation for the dirty plays in an interview with ocolly.com.
Wooden said "Coach Whitworth built up this story that Bright was kind of a prima donna type… When he didn't carry the ball, he didn't move out of his tracks. He just stood there. We considered that not being a team player." Smith's explanation was that he had previously tackled Bright out of bounds with a clean, legal hit the prior year. "I got up, and was actually going to help him get up, and Bright just laid there. And here come the people with the trolley, with the stretcher to carry him out. And you know he wasn't hurt because the first time that they got the ball again, here he shows up. I thought that was an insult because he was not supporting his team." He further explained that when Bright handed the ball of to his running back in the game in Stillwater and stood watching the play develop, that he (Smith) interpreted it as poor sportsmanship. "He stood back and put his hands on his hips, and I had already kind of slowed down… But for some reason, when he put his hands on his hips, I figured I would go over and reintroduce myself."
So the A&M players explanation was that Smith broke Johnny Bright's jaw because they thought he was not supporting his team despite the fact that Bright accounted for 70% of his teams yardage for the season and 70% of its scoring, despite missing almost three games. Despite their claims that race was not a factor in the incident, Smith's A&M teammate Bruce Gilmore said that heard Coach Whitworth say, 'We've got to get his black ass out of here." Bright had no illusions about what was behind the hit. "There's no way it couldn't have been racially motivated," he told the Des Moines Register.
Wilbanks Smith continued to defend himself as late as 2012, arguing that the hit was legal by the NCAA rules at the time. He claimed that by holding onto his jersey, he could legally throw a forearm shiver to another player, even a player standing far away from the play without the ball. He was presented with a copy of the 1951 NCAA rules book and directed toPage 35, Rule 9, Section 1, Article 2, which said "No player shall meet an opponent with the knee, strike any part of an opponent's person with locked hands, forearm, elbow or upper arm, or strike an opponent's head, neck or face …" Sixty years after the incident, Smith finally relented, acknowledging that "I think that is not as clear as I wanted it to be."
As a result of the incident and the national coverage that it earned, the NCAA introduced rules the next year to clarify and enforce stricter rules surrounding a personal foul. The introduction to the 1952 rules book stated "
In an effort to discourage rough play and make it more costly, ejection from the game has become mandatory in cases of flagrant personal fouls … The appeal, as well as the stronger suspension rule, resulted from the celebrated Johnny Bright and Kazmaier incidents."
The NCAA took further measures to protect player safety, mandating face masks and mouth guards for all players. Bright later reflected "What I like about the whole deal now, and what I'm smug enough to say, is that getting a broken jaw has somehow made college athletics better. It made the NCAA take a hard look and clean up some things that were bad."
Two weeks later, Bright returned for one more game with his own makeshift face mask and rushed for another 204 yards. He finished his career with more than 6,000 yards in total offense and accounted for 384 points in 25 games. Unfortunately, missing the better part of three games knocked him out of the running for the Heisman trophy and he finished in fifth place in the balloting behind Princeton University's Dick Kazmaier. He was named  a First Team College Football All-American and was awarded the Nils V. "Swede" Nelson Sportsmanship Award. He capped off his college career by playing in the post-season East-West Shrine and Hula Bowl games and he earned a Bachelor of Science degree in Education in 1952.
Fortunately, the brutal assault suffered in Stillwater did not derail his athletic endeavors. He was drafted in the first round of the 1952 National Football League draft by the Philadelphia Eagles. "I would have been their first Negro player, but there was a tremendous influx of Southern players into the NFL at that time, and I didn't know what kind of treatment I could expect," Bright said. Instead he moved to Canada and signed with the Calgary Stampeders of the Canadian Football League. In addition to having a better racial climate, he received a better contract. Despite being a pro athlete, he wasn't making the enormous sums that players receive today so he supplemented his income by teaching in the offseason.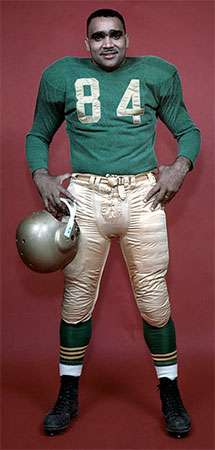 With the Stampeders he played linebacker primarily and after hurting his shoulder was traded to the Edmonton Eskimos in 1954. With the Eskimos he was able play play offense as a fullback and he led the team to the CFL Grey Cup Championship titles in 1954, 1955 and 1956. In the 1956 Grey Cup game he rushed for a Grey Cup record of 171 yards against the Montreal Alouettes. After this he was switched to offense permanently and ran for eight straight 100 yard games and finished the season with 1,679 yards. He followed that up the next year by running for 1,722 and in 1959 was named the CFL's Most Outstanding Player when he ran for 1,340 yard. He was the first Black to win the award in CFL history. Bright retired from football in 1964 at the leading rusher in CFL history with 10,909 yards having been the league rushing leader four times and sporting a career average of 5.5 yards per carry. He was the recipient of the Eddie James Memorial Trophy and was a CFL Western Conference All-Star five straight seasons from 1957 to 1961. After playing in 197 consecutive CFL games as a fullback/linebacker, his No. 24 jersey was added to the Edmonton Eskimos' Wall of Honour at the Eskimos' Commonwealth Stadium in 1983. On November 26, 1970 Bright was inducted into the Canadian Football Hall of Fame and was named the 19th best player in CFL history in 2006 by the TSN Canadian sports network.
After his playing days were over, Johnny continued teaching in Edmonton, having become a Canadian citizen in 1962. He eventually rose to the position of Principal of D.S. Mackenzie Junior High School and later at Hillcrest Junior High School.
While undergoing knee surgery to correct problems from his football days, Bright suffered a massive heart attack and died on December 14, 1983. He left behind a wife and four children and was buried at Holy Cross Cemetery in Edmonton.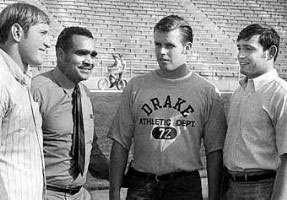 In 2005, a full 22 years after his death, Oklahoma State University President David Schmidly formally apologized to Drake University in a letter which he called the incident "an ugly mark on Oklahoma State University." The following year the football field at Drake Stadium was named after Bright. He was named Drake University's greatest football player of all time in 1969 and is the only Drake football player to have his jersey number (No. 43) retired by the school. In 2010 an elementary school was named in his honor in Edmonton. He has been inducted into the Des Moines Register's Iowa Sports Hall of Fame, the National Football Foundation's College Football Hall of Fame, the Canadian Football Hall of Fame, Alberta Sports Hall of Fame, and the Edmonton Sports Hall of Fame.
Johnny Bright was honored throughout his life, not only because of his athletic accomplishments, but also because of his service to the community. He was able to move on beyond the ugly incident which bears his name and helped to repair many of the wounds that were left behind.
[big-sep]
[big-sep]
Sources:
Johhny Bright at Wikipedia – http://en.wikipedia.org/wiki/Johnny_Bright
The Drake Heritage Collection – http://www.lib.drake.edu/heritage/bright/story/
Johnny Bright – The National Sentinel – http://www.hoopszone.net/Drake/Players/bright-johnny.htm
Johnny Bright – America's Loss – http://www.coachwyatt.com/johnnybright.html
What We Learned – http://www.ocolly.com/wilbanks/
The "Johnny Bright Incident" – http://figah.us/Bright__Johnny.html
Johnny Bright, Drake University, 1970 – http://www.desmoinesregister.com/apps/pbcs.dll/article?AID=/19700324/SPORTS11/50623029
https://greatblackheroes.com/wp-content/uploads/2015/01/johnnybright01.jpg
300
630
Gaius Chamberlain
https://greatblackheroes.com/wp-content/uploads/2018/04/gbh-logo152x65.png
Gaius Chamberlain
2015-01-14 20:31:02
2019-02-11 17:00:03
Johnny Bright