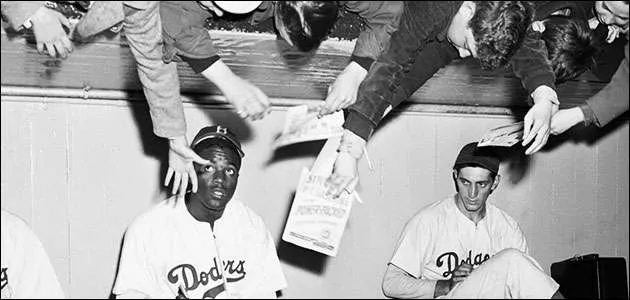 Jackie Robinson is known as the man who broke the color line in baseball but his accomplishments on and off the field left a legacy that few have come close to matching.
Jack Roosevelt "Jackie" Robinson was born on January 31, 1919 in in Cairo, Georgia, the son of sharecroppers Jerry and Mallie Robinson. He was the youngest of five children and his middle name was given in honor of President Theodore Roosevelt. Jerry Robinson left the family in 1920 and his mother moved Jackie and his siblings to Pasadena, California. The family moved into a fairly affluent community, but despite Mallie working several jobs, the family was relative poor. As such, the children were often excluded from local recreational activities and Jackie ended up running with a local gang.
Jackie's older brother Mack was an exceptional athlete, starring on the track team at Pasadena City College where he established junior college records in the 100 and 200 meter dash and the long jump. He qualified for the 1936 Olympic team and won a silver medal in the 200 meter race, finishing just behind the great Jesse Owens. Mack and Frank (another brother) encouraged Jackie to focus on athletics and Jackie would ultimately letter in four sports at Muir Tech, a local high school, in baseball, basketball, football and track and field. He also competed in tennis and was the Junior Boys champion in the 1936 Pacific Coast Negro Tennis Tournament. He also was named to the 1936 Pomona baseball tournament all-star team, alongside Ted Williams and Bob Lemon, both of whom who become Baseball Hall of Famers.
Jackie would follow in Mack's footsteps, enrolling in Pasadena Junior College (formerly Pasadena City College).  He competed on the football, baseball, track and basketball teams and was named regional Most Valuable Players in baseball. Just as important, he was honored for outstanding service, scholarship and citizenship. On a down note, he suffered a serious ankle injury, one that would plague him for years.
Beyond his athletic and academic accomplishments, Robinson also displayed another trait that would define his life – a willingness to stand up to perceived racism. On one occasion, when a friend was detained by the police, Robinson protested and was arrested, receiving a two-year suspended sentence.
After his brother Frank was killed in a motorcycle accident, Jackie decided to stay close to home and enrolled at UCLA where he became the first athlete in the history of the school to letter in four sports. In basketball, he twice led the conference in scoring and starred on the football team alongside black teammates Ray Bartlett, Woody Strode and Kenny Washington (Washington and Strode would become two of the first Black players in the National Football League and Strode would later become one of the early Black movie stars). In 1939 he averaged 12.6 per carry (led the nation), 25.9 per catch, returned four punts for touchdowns and intercepted four passes, all while serving as the third option behind Strode and Washington.  In track he was the NCAA champion in the broad jump (25 feet, 6.5 inches) and considered a likely candidate for the 1940 Olympic team. however, in one of the great ironies in history, Jackie was only a mediocre baseball player at UCLA. After going 4 for 4 with two stolen bases in his first game, he finished the season batting only .097 (Washington was the star of the baseball team where he batted .454 as a senior). He was invited to play in the annual Chicago College All-Star game in 1941 and he scored on a 46 yard touchdown catch against the NFL's Chicago Bears.
In his Senior spring semester, Jackie felt he needed to drop out of school to financially help his family and did so against the wishes of his mother and girlfriend, Rachel Isum, a nursing student. He signed on as an athletic director for the National Youth Association, but when it closed down he traveled to Hawaii and played football for the Hawaii Bears semi-pro team and then returned to Los Angeles to play for the the L.A. Bulldogs of the Pacific Coast Football league. Unfortunately, the attack on Pearl Harbor on December 7, 1941 brought his football career to an end.
Jackie was drafted into the United States Army and was assigned to Fort Riley, Kansas.  He qualified for Officer Candidate School and applied but was denied entry. Joe Louis, the great Black boxing champion who was also serving at Fort Riley, spoke out on Jackie's behalf and he was accepted to the school and would receive a commission as a second lieutenant in January 1943 (Robinson and Louis would remain friends for years thereafter).
While his life seemed to be on an upswing (he was now engaged to Rachel), his military career came to a sudden roadblock in July 1944. Jackie wanted to serve along with his battalion overseas but he was on limited service due to an ankle injury suffered in college. In order to serve he would have had to sign a waiver and would have to undergo a medical examination and get a doctor to clear him. After taking the medical exam, he went to the officers club while waiting to go back to the hospital. There he met the wife of one of his fellow Black officers, Lieutenant Gordon Jones. Since the hospital was on the same route she was taking to go home, she decided to ride with him on the bus. Mrs. Jones was Black, but she was light-skinned. When they sat down next to each other on the bus, the driver thought Jackie was sitting with a white woman and ordered Jackie to move to the back of the bus. Jackie refused, stating that the U.S. Army had officially announced and end to racial segregation on military bases and thus he was within his rights to stay where he was. The driver backed down but went to get his dispatcher when they stopped. An argument ensued with Robinson and the driver cursing at one another. Jackie was taken by military police to the police headquarters. There, more arguments and insults occurred between Jackie and the military police. He was given a hearing but it was almost a kangaroo court. The decision was made to court-martial him, but his commanding officer, Colonel Paul Bates, refused to act on the matter, believing that Robinson was a fine soldier. Jackie was subsequently transferred to a new battalion and his new commanding officer immediately signed the documents to court martial him. He was charged with disturbing the peace, insubordination, conduct unbecoming of an officer, drunkenness, refusing to  obey the orders of a superior officer and insulting a civilian. Because of Jackie's sports celebrity, the military knew that the case could draw major notoriety and thus before the case could reach trial, all of the charges related to the bus were dropped. However, he was still charged with what occurred at the military police station. Unfortunately for Jackie, because the other charges were dropped, he was not able to discuss what led to him being brought to the police station in order to put things into context. This left him looking as if he had engaged in the arguments and insults for no reason. Jackie was represented by Captain William Klein who was able to show that Jackie had been subjected to a relentless torrent of racial insults as well as inconsistencies on the part of the witnesses against him. After Klein laid waste to the case against him, Jackie was acquitted of all charges by an all-white panel in August 1944. The experienced jaded him to the military and he decided not to pursue service overseas and was able to receive an honorable discharge from the Army in November 1944 after serving as an athletic coach at Camp Breckinridge, Kentucky.
Robinson next received an offer from an old friend, Reverend Kevin Downs, to become the athletic director for Sam Houston College in Austin, Texas. He accepted the position and also served as the basketball coach (his team would compete against Marques Haynes, who would later become a star with the Harlem Globetrotters). A year earlier a friend suggested that Jackie contact the Kansas City Monarchs, a baseball team in the Negro Leagues, about playing for them.  In 1945, the Monarchs sent him a contract offer for $400.00 per month and he accepted. While he played well during his first season, he struggled with the free-styling nature of the Negro League play, preferring the structured manner in which he had always engaged. He finished the season with a .387 bating average, with 13 stolen bases and five home runs in 47 games and made the All Star game as a shortstop. His performance did not go unnoticed.
In April 1945, the Boston Red Sox hosted Robinson, Marvin Williams and Sam Jethroe for a tryout. Calling it a tryout is simply being generous. It was staged in response to calls from Boston Record columnist Dave Egan and the Boston City Councilman Isadore Muchnick for the Red Sox and the Boston Braves to integrate. When the Red Sox claimed that no Black players had ever requested a tryout, Black sportswriter Wendell Smith arranged for the three ballplayers to get their chance. During the tryout, a voice cried out from the distance (believed to be that of Red Sox General Manager Eddie Collins) saying "Get those n!ggers off the field." All three were disheartened at not getting signed.
A few months later, Jackie was contacted by Branch Rickey, the General Manager and President of the Brooklyn Dodgers. He met with Robinson on April 28, 1945 in New York, presumably about playing for the Brown Bombers, an alleged new team that would play in Brooklyn when the Dodgers were out of town. Unbeknown to Robinson, Rickey had traveled to California to do a background check on Jackie. Robinson was stunned when he sat down in Rickey's office and found out that Rickey, in fact, was interested in signing him to play for the Brooklyn Dodgers. He was impressed that Jackie had a college education, was an officer in the military, was moral and disciplined but also very aggressive.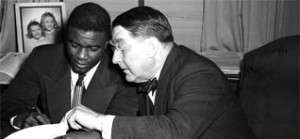 Rickey explained to Jackie that he had been specifically selected because of the traits mentioned above. However, most importantly, Rickey believed that Jackie had the strength of character needed to handle being the first Black player in modern baseball history. He would be subjected to some of the worst treatment, by fans and ballplayers alike. The abuse would create a pressure-filled atmosphere most everyday for his first season with the club. He would be goaded into responding to taunts and to physical threats. Ricky had one condition for him making the big league team – he couldn't fight back.
Robinson had always shown his willingness, if not desire, to stand up and fight racism. Now he was being asked to quietly turn the other cheek. Rickey explained that everything was riding on him, and his ability to refrain from getting drawn into a fight would determine whether the "Noble Experiment" was successful. Jackie asked him "Are you looking for a Negro who is afraid to fight back?" Rickey replied that he needed a Negro player who "had guts enough not to fight back." Jackie agreed and signed a contract for $600.00/month. Jackie returned home to tell Rachel the news and the two were married in February 1946 (their friend, Rev. Karl Downs, officiated over their wedding).
Jackie was assigned to the Montreal Royals of the International League (the Dodgers triple A minor league affiliate) for the 1946 season. Spring training for the Royals was held in Florida and he quickly faced problems with hotels and restaurants refusing to serve him and teams threatening to cancel games if he were to play. Finally, the International League season opened with Jackie at shortstop for the Royals. He struggled early in the field, prompting the team to move him to second base. He quickly began improving and would end up leading the International League in batting with a .349 average, a .985 fielding percentage and was named the league's Most Valuable Player.
Despite his great success with Montreal, not everyone was happy that he would debut in the Major Leagues in 1947, including a number of Black players from the Negro Leagues. While Jackie had been a very good player in the Negro Leagues, there were a number of players who were much better than him and more well-known than him, including Satchel Paige and Josh Gibson. While their talent was indeed greater, Robinson's promise not to fight back was the major element in the decision to promote him to the big leagues and he would be challenged almost immediately.
Before the season started, a number of the Brooklyn Dodger ballplayers threatened to sit out the games rather than play with Robinson. The mutiny was resolved when manager Leo Durocher told the players "I do not care if the guy is yellow or black, or if he has stripes like a f*ckin' zebra. I'm the manager of this team, and I say he plays. What's more, I say he can make us all rich. And if any of you cannot use the money, I will see that you are all traded."
In addition to Dodger management being determined that Robinson would have a fair opportunity, Major League Baseball (through National League President Ford Frick and Commissioner Happy Chandler) made it clear that any other players around the league who thought about striking would be suspended.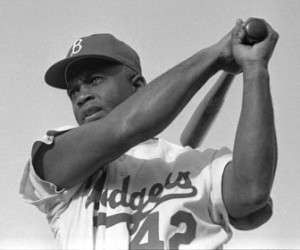 On the afternoon of April 15, 1947, Jackie Robinson started at first base for the Brooklyn Dodgers at Ebbets Field. He went hitless in his debut. His presence on the field encouraged  countless Black fans to become Brooklyn Dodgers fans overnight. Many of his teammates came around, including some of those who had threatened to strike. Most noteworthy of his teammates was Pee Wee Reese, who, as a southerner, may have been expected to hold racist views, but he stood beside Robinson, often with his arm around him. On the other hand, rival ball clubs launched torrent after torrent of racial slurs and insults at him. The abuse by the Philadelphia Phillies was so bad that Commissioner Chandler threatened to penalize Phillies manager Ben Chapman and his team if the abuse continued (Chapman had even ordered his pitchers to hit Robinson with a  pitch if the count reached 3-0 rather than walk him). On one occasion, Chapman harangued Robinson from the dugout with such barbs as " Hey, n!gger, why don't you go back to the cotton fields where you belong?"and "They're waiting for you int he jungles, black boy," and "Hey, snowflake, which one of those white boys' wives are you dating tonight?" The  behavior of the Phillies had an unintended effect however, with Branch Rickey declaring that Phillies manager Ben Chapman "did more than anybody to unite the Dodgers. When he poured out that string of unconscionable abuse, he solidified and united thirty men."
Despite the turmoil surrounding his appearances at the parks, Jackie began playing well and would end the season named Rookie of the Year, batting .297, with 175 hits and 29 steals (which led the league). To fully understand his rookie success, you have to consider that he was only moderately successful in baseball at U.C.L.A., was not even among the top ten players in the Negro Leagues, was subjected to brutal mental, emotional and physical abuse (he was spiked in the leg by Enos Slaughter, receiving a seven inch gash) and carried the pressure of knowing that in addition to not being able to retaliate, he knew that he could not fail — doing so might set back the advancement of Blacks in the sport for years.
The next season was successful for Robinson as well. He moved over to play second base and hit .296 with 22 stolen bases. The stress that he felt was lightened as more and more Blacks were signed by teams throughout the Major Leagues (Larry Doby debuted for the Cleveland Indians on July 5, 1947 and Roy Campanella would join Jackie on the Dodgers on April 20, 1948).
The next year, 1949, would be a banner year for Robinson. It was the final year of his promise not to fight back, but much of the taunting and mistreatment has diminished. Able to focus more on the game he proceeded to hit .342, stole 37 bases and garnered 124 runs batted in and 122 runs scored. For his efforts he was named The National League Most Valuable Player and was named the starting second baseman in the annual All Star game.
Jackie had another banner year in 1950 and starred in a movie version of his life story, "The Jackie Robinson Story." The next season saw him lead the Dodgers to battle for the National League pennant. On the last day of the season he hit a home run to win the game and force a one game playoff against the New York Giants. The Giants won in one of the most famous games in history when Bobby Thompson hit a home run (the "Shot Heard 'Round the World) off of Ralph Brancha. In replays of the moment, Jackie is seen on the field watching to make sure that Thompson touched second base.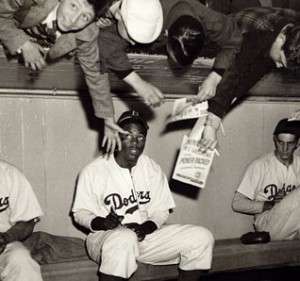 While he enjoyed a great deal of personal success, the Dodgers were unable to win a World Series during his first seven seasons. In 1955, despite having a down year, the Dodgers won their first World Series, defeating the New York Yankees. After the 1956 season, he was traded to the rival New York Giants, but chose instead to retire and take a position as an executive with the Chock Full o' Nuts company.
Jackie Robinson was elected to the Baseball Hall of Fame in 1962 and in 1965 became the first Black analyst on a Major League broadcast, working with ABC on the Major League Baseball Game of the Week. He also served as the General Manager of a minor league football team, ironically named the Brooklyn Dodgers of the Continental Football League.
Away from sports, Jackie was a pioneer and leader as well. In addition to his work for Chock Full 'o Nuts, Jackie served on committees for the NAACP, helped found and served as the first Chairman of the Board of Freedom National Bank in Harlem and started his own construction company to build low-income housing.
After his playing career came to an end, Jackie's health began to decline and he was hampered by diabetes, eventually suffering blindness. He passed away in Stamford, Connecticut on October 24, 1972.
His number 42 was retired by the Dodgers in 1972 and in 1997, Major League baseball retired the number 42 across all American and National League teams. In 1987, both American and National League Rookie of the Year awards were named after him. These were just a few of the honors bestowed upon him.
Among other things, several baseball fields and stadiums were name in his honor (including one in Pasadena, adjacent to the Rose Bowl), the national High School Player of the Year award is called the Aflac "Jackie Robinson Award" and the U.S. Postal Service has issued stamps honoring him three times.
Jackie Robinson's accomplishments over the years, both on and off the field, served as inspirations to a generation of Black people who needed a hero. His breaking of the color line helped to break color lines in other areas across the United States. His dignity and poise under fire was balanced against his intense desire to win and has allowed him to exist as one of history's Great Black Heroes.
Listen to our Jackie Robinson Podcast:
Search for more info about Jackie Robinson
https://greatblackheroes.com/wp-content/uploads/2011/12/jackierobinson25.jpg
300
630
Gaius Chamberlain
https://greatblackheroes.com/wp-content/uploads/2018/04/gbh-logo152x65.png
Gaius Chamberlain
2011-12-08 04:06:41
2020-12-10 21:05:03
Jackie Robinson