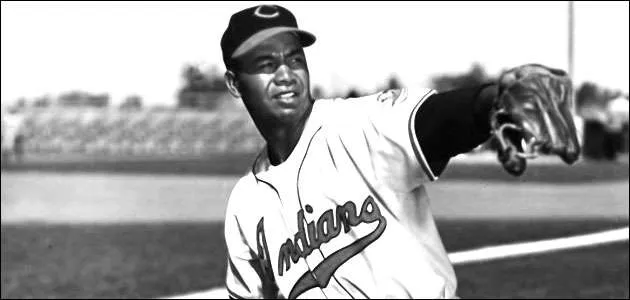 Larry Doby is forever viewed as number two, the second Black player and the second Black manager in modern Major League Baseball, but this should not obscure his Hall of Fame career nor the struggles he endured.
Lawrence Eugene "Larry" Doby was born on December 13, 1923, in Camden, South Carolina, the son of David  Doby, a professional horse groom and his wife Etta. David had been a semi-pro baseball player but his travels with the horses kept him away from home, contributing to his divorce from Etta. As she looked for work, she traveled north, leaving young Larry with family members. When it was time for Larry to attend high school, he moved north to live with his mother in Patterson, New Jersey. He was a star athlete at Eastside High School, earning eleven letters and gaining all-state honors in  football, basketball and baseball. He caught the eye of Henry Moore, an umpire with the Negro Leagues. Moore recommended him for a tryout to the Newark Eagles owner Abe Manley.
Doby's tryout was successful and he joined the Eagles using the name Larry Walker (in order to protect his amateur status). In his first season he hit .427 while playing second base. In 1942 he opted to attend college, first at Long Island University and then at Virginia Union, but in 1943 he was drafted into the U.S. Navy where he served in the South Pacific. He returned from his military service and rejoined the Newark Eagles in 1946 where he batted .360 and helped the team win the  Negro League World Series title over the Kansas City Monarchs. He had planned on becoming a teacher and a coach in New Jersey but when Jackie Robinson was signed by the Brooklyn Dodgers, Doby decided to concentrate on making it to the Major Leagues.
Doby began the 1947 season with the Eagles again and was batting .414 with 14 home runs when his contract was purchased by Bill Veeck, the owner of the Cleveland Indians of the American League. For years Veeck had wanted to add Black players to his teams but was prevented from doing so by other Major League owners. After Robinson debuted on opening day in 1947, Veeck made his move, purchasing Doby's contract on July 5, 1947 and debuting him as a pinch hitter just a few hours later against the Chicago White Sox, where he struck out in his only at bat. The signing of Doby relieved some of the pressure from Robinson's shoulders.  "I no longer have the feeling that if I don't make good, it will kill the chances of other Negro players," Robinson said. Larry appeared in only 29 games during the 1946 season, batting .156 in 32 at bats. He finished out the year by signing with the Patterson Panthers (Crescents) of the American Basketball League, the first Black player in the league where he averaged 15 points (he actually debuted for the team in January 1948).
In 1948 Doby moved to center field and batted .301 with 14 home runs and 65 runs batted in. He helped to lead the Indians to the World Series title over the Boston Red Sox, obviously the first Black player on a World Series champion. He played for another eleven seasons, spending time with the Indians, White Sox and Detroit Tigers. He was a seven time all-star, led the American League in home runs twice, led the league in runs, on base percentage and slugging percentage in 1952, and RBIs in 1954. He retired from the Major Leagues with a .283 and 253 home runs.
In 1962 Doby joined Don Newcombe and signed with the Chunichi Dragons of the Japanese Central (the first Black former major league players to sign in Japan). He would later sign on as the manager of the Cleveland Indians in 1978, the second Black to hold the position and later worked for Major League Baseball in an executive position.
His success in Major League Baseball was confirmed when he was elected to the Baseball Hall of Fame in 1998. While he was honored for his  achievements on the field, it is often forgotten what he had to endure. While most fans of baseball are aware of what Jackie Robinson had to endure early in his career, many forget that Doby suffered through much the same in the American League. Robinson, though, received most of the attention from the fans and media for what he went through, a fact that bothered Doby.
"I think anybody in his right senses, particularly if they grew up in that time, would know there was no difference as far as the treatment was concerned." – Larry Doby
When first introduced to his Cleveland Indians teammates, many refused to shake his hand. He was cursed by fans, spat upon by players, denied entry to hotels and restaurants and told not to fight back, just like Robinson. Yet, he was denied many of the tributes and honors that Robinson enjoyed. Doby's number 14 was retired by the Cleveland Indians while Robinson's number 42 was retired by every Major League baseball team. That many seemingly ignored what he went through caused Doby to bristle.
"The only difference [was] that Jackie Robinson got all of the publicity. You didn't hear much about what I was going through because the media didn't want to repeat the same story. I couldn't react to (prejudicial) situations from a physical standpoint. My reaction was to hit the ball as far as I could." – Larry Doby
Doby died on June 18, 2003, in Montclair, New Jersey. The United States Postal Service honored Doby with a commemorative stamp in 2012. History should honor him as a
Great Black Hero
.
---
---
Search for info about Larry Doby
https://greatblackheroes.com/wp-content/uploads/2012/01/larrydoby03.jpg
300
630
Gaius Chamberlain
https://greatblackheroes.com/wp-content/uploads/2018/04/gbh-logo152x65.png
Gaius Chamberlain
2012-01-11 14:27:51
2019-11-27 01:54:26
Larry Doby