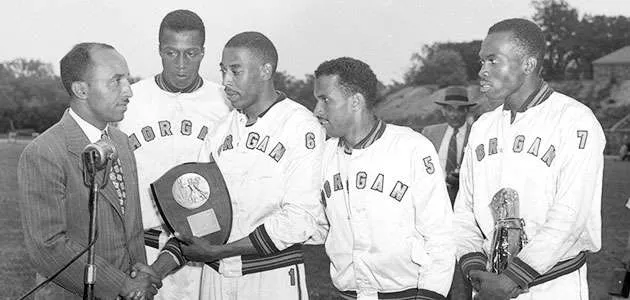 Sam Lacy was a pioneer in the field of sports reporting, giving a voice to the hopes, thoughts and dreams of Black athletes and fans across the United States.
Samuel Harold "Sam" Lacy was born on October 23, 1903, the son of Samuel Erskine Lacy, a legal researcher and Rose Lacy, a full-blooded Shinnecock Native American. His family moved to Washington, D.C. when Sam was young and his father was an avid fan of the Washington Senators baseball team (the Senators played just five blocks from the Lacy's home). Sam was very precocious and would often run errands for the players and shagged fly balls for them during batting practice.
Unfortunately, Sam saw early on, and up close, how pervasive racism was in the south when his father was spat upon by one of the Senators players during a parade for the team. "Back then, there was always a parade of players to the ballpark on Opening Day,"Sam would later recall. "Fans like my father would line up for hours to watch their heroes pass by. And so there he was, age 79, out there cheering with the rest of them, calling all the players by name, just happy to be there. And then it happened. One of the white players—I won't say which one—just gave him this nasty look and, as he passed by, spat right in his face. Right in that nice old man's face. That hurt my father terribly. And you know, as big a fan as he had been, he never went to another game as long as he lived, which was seven more years."
Sam, however, worked for the stadium in which they played (Griffith Stadium), selling popcorn and peanuts in the Black seating section of the segregated park. He also worked in other areas of sports, including serving as a caddie for golfers. During the 1921 U.S. Open which was held at Columbia Country Club in Chevy Chase, Maryland (where he worked), Sam caddied for "Long" Jim Barnes, a British golfer who would go on to win the tournament. Barnes rewarded Lacy with a $200.00 tip.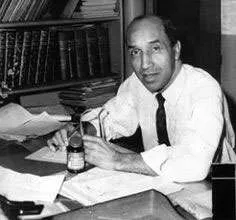 His love of sports carried over to high school where he played baseball, football and basketball at Armstrong Technical High School. He later attended Howard University, from which he graduated in 1923 with a degree in education. While in school he gained a part-time position with the Washington Tribune, a popular Black newspaper.
After college he went on to coach various youth teams while also playing semi-pro baseball for the LeDroit Tigers (who billed him as an Algonquin Indian) as a pitcher. He also continued working at the Tribune, and bolstered his income as a sports commentator with local D.C. radio stations WINX and WOL. He began working full-time for the Tribune in 1926 and being gainfully employed decided to marry his girlfriend Alberta Robinson in 1927. The couple would eventually have two children, a son, Samuel and a daughter, Michaelyn.
At this time in his life, he decided to give baseball another shot and in 1929 quit his job with the Tribune and moved up to Connecticut and joined another semi-pro baseball team. Things did not work out the way he had hoped and he rejoined his family a year later, returning to the Tribune and was named sports editor in 1933. He covered a number of high profile events including Jesse Owens' performance in the 1936 Berlin Olympics and Joe Louis' victory over Max Schmeling.
  Sam's career and family life was going very well for him and he could have coasted on the success he was enjoying but he looked at racial injustice in the sports world and saw almost no one speaking out against it. He therefore began a campaign to try to get Major League Baseball to integrate. He met with Clark Griffith, the owner of the Senators ball club, and talked to him about integrating the Senators, especially with players from the hometown Homestead Grays (the Grays, a Negro League team, played at Griffith Park when the Senators were not using the ballpark). Griffith was not receptive to the idea, arguing that the Southern-born players on the team would refuse to play with Black ballplayers and that there would be "clashes on the field" with other teams. Griffith also argued that integrating the Major Leagues would prove harmful to the Negro Leagues, thus presenting a potential loss of revenue for him if the Grays did not rent the stadium from him. Griffith said that integration might put "400 coloured guys out of work." Lacy argued in his column "when Abraham Lincoln signed the Emancipation Proclamation, he put 400,000 black people out of jobs," and added "the Negro Leagues were an institution, but they were the very thing we wanted to get rid of because they were a symbol of segregation." Griffith's refusal frustrated Lacy but it also lit a fire under him and he became more and more determined.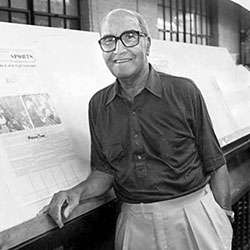 One of the biggest obstacles in the way of the integration of baseball was MLB Commissioner Kenesaw Mountain Landis. Landis was a former federal judge and was considered by many a devout racist who enforced the unwritten rule of "white-only" baseball. Landis denied that he was preventing Black participation, saying "Negroes are not barred from organized baseball by the commissioner and never have been in the 21 years I have served. There is no rule in organized baseball prohibiting their participation and never has been to my knowledge." Lacy continued pushing and Landis finally agreed to a meeting between Lacy and the baseball owners. When the meeting occurred, however it was not Lacy who met with the owners, but rather prominent actor and singer Paul Robeson. Robeson was allowed to make a presentation but the owners did not ask him any questions and the matter was basically dropped.
In 1937, Lacy wrote a controversial column about Syracuse University football player Wilmeth Sidat-Singh. Sidat-Singh was referred to in the press as a Hindu who descended from ancestors in India. Because he was supposedly Indian, he was allowed to play in areas of the country that banned participation for Black players. Prior to a game against the University of Maryland, Lacy revealed in his column that Sidat-Singh was born to Black parents and that his widowed mother had remarried an Indian doctor who adopted Wilmeth. After the revelation, Maryland refused to play against him and Sidat-Singh was forced to sit out the game (Syracuse lost 13-0). Lacy received a great deal of criticism for outing Sidat-Singh but he argued that racial progress could only be brought about with full honesty.
Sam moved to Chicago in 1940 where he worked for three years for the Chicago Defender, another Black newspaper serving the midwest. He continued his quest for baseball integration but moved back to the east coast in 1943, landing at the Afro-American newspaper in Baltimore. He became sports editor for the paper and again pushed the baseball owners to consider integration. This time, he was granted an audience with the owners and suggested making the Negro Leagues a minor league system which could feed talented players to the Major League Baseball teams. The owners agreed to convene a committee to discuss this idea. Lacy was included on the committee as were Brooklyn Dodgers General Manager Branch Rickey (representing the National League), New York Yankees General Manager Larry MacPhail (representing the American League) and and Philadelphia magistrate Joseph H. Rainey. When MacPhail refused to attend, the meeting never took place.
Judge Landis died in November 1944, opening the door, perhaps, for baseball to integrate. His replacement as the Commissioner of Major League Baseball was A.B. (Happy) Chandler, the former Governor and  U.S. Senator from Kentucky. Chandler stated for the record "I don't believe in barring Negroes from baseball just because they are Negroes."
Lacy and fellow writer Wendell Smith continued to press on and they both agreed that Jackie Robinson would be the best person to break the racial barrier, based on his experience playing with whites at UCLA, his military service, his noteworthy character and the fact that he was engaged to be married. "Jackie was not the best player in the Negro leagues," Lacy said, "but he was the most suitable." He continued, "With us, the first man to break down the bars must be suited in every sense of the word. We can't afford to have any misfits pioneering for us, and for obvious reasons. Unwilling as they are to employ Negro players, they will be quick to draw the old cry 'We gave  'em a chance and look what we got.'" Branch Rickey agreed and Lacy and Smith were asked to travel with Robinson as he prepared to make his debut. Robinson first played for the Dodgers minor league affiliate, the Montreal Royals of the International League. He was the league's Most Valuable Player and he would debut for the Brooklyn Dodgers on opening day, April 15, 1947. Despite a great torrent of racism, Jackie was successful, being named Major League Baseball Rookie of the Year and would be named league MVP in 1949.
It is notable that Lacy travelled with Robinson during his first year and that he covered him so intently. On one occasion in New Orleans, Lacy was told he would not be permitted to sit in the press box because he was Black. He grabbed a chair and climbed on top of the press box and wrote his notes from there. Soon, a number of outraged white reporters from New York climbed up and joined him in protest, a testament to their regard for him. On other occasions,  a cross was burned on the lawn of the boardinghouse where they stayed in Macon, Georgia and in Sanford, Florida, Robinson and the Black sportwriters were denied entrance to the ballpark (Jackie found a loose board in the wall, allowing them to sneak in). Finally, when Lacy was denied access to press boxes during that first year Rickey allowed him to report from the Dodger dugout.
As hard as Lacy had to work to get a Black player an opportunity to play, if Jackie had failed, it may have stunted the opportunities for more Black players to make their way up to the big leagues. After Jackie's success, a flood of Black players would pour in over the next ten years. For Lacy, that success gave him an opportunity to get back to just covering sports.
It was not always easy for Sam, however. Despite the fact that he helped to get baseball integrated, it did not always carry over to his own pursuits. During Robinson's rookie season in 1947, Lacy was banned from the press box at Cincinnati's Crosley Field by Tom Swope, the chairman of the Cincinnati chapter of the Baseball Writers' Association of America. Later, during the 1947 World Series between the Dodgers and the Yankees, Sam was denied access to cover the game even though he had the proper credentials. "Milton Richman of the United Press came by then and jumped all over this guy, telling him that my pass was just as good as his," Lacy remembered. "The guy finally relented." It helped greatly that Sam had a great deal of support from many of his white colleagues and  in 1948 became the first black member of the Baseball Writers' Association of America.
Sam and his wife Alberta divorced in 1952 and he married Barbara Robinson a year later. He was very busy as he was assigned to cover most of the major events of the day, including Olympic games, baseball and football championships and boxing title matches. Still, he was not content just to have helped to break the color barrier in baseball. He continued pressing for Black players to receive equal pay, for Blacks to be included in the Baseball Hall of Fame, for Blacks to be a part of television broadcasts as well as in management positions in sports. He also pressed for the Black ballplayers to be afforded the same accommodations as the white ballplayers. Sam recalled "… now, I ask you, what sense did it make to have such high-priced talent living apart from the rest of the team?  I pointed out to Chub Feeney (then the New York Giants general manager) that he had guys like Willie Mays and Monte Irvin and Hank Thompson holed up in some little hotel while the rest of the players, people who might never even wear a major league uniform, were staying at the famous Palace. Chub just looked at me and said, 'Sam, you're right.' He got on the phone to (owner) Horace Stoneham, and that was the end of that."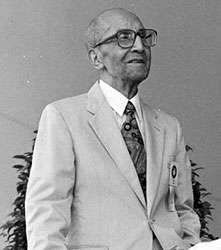 Lacy was hired by Baltimore television station WBAL and served as a sports commentator from 1968 to 1976. In his position over the years, he became good friends with many of the Black athletes he covered and championed, but that never dissuaded him from holding their feet to the fire when he thought it appropriate. Of note, in 1948, a year after Jackie Robinson broke the color barrier and was named Rookie of the Year, Lacy criticized him for coming into training camp fifteen pounds overweight.
He co-authored his autobiography Fighting for Fairness: The Life Story of Hall of Fame Sportswriter Sam Lacy along with Moses Newson in 1999 and wrote his final column at the age of 99, just a few days before his death. He died on May 8, 2003 in Washington, D.C. of heart and kidney failure and was buried eight days later at Lincoln Memorial Cemetery in nearby Suitland, Maryland.
Among the awards and accolades Sam received were:
Became the first Black member of the Baseball Writers Association of America.
Became the first Black journalist to be enshrined in the Maryland Media Hall of Fame.
Was inducted into the Black Athletes Hall of Fame in Las Vegas.
Received the Lifetime Achievement Award from the National Association of Black Journalists in 1991.
Selected for the Society of Professional Journalists Hall of Fame by the Washington chapter in 1994.
Honored with the A.J. Liebling Award by the Boxing Writers Association of America in 1995.
Received an honorary doctorate from Loyola University Maryland in 1997.
Honored by the Smithsonian Institute with a lecture series in 1997.
Received the J. G. Taylor Spink Award for outstanding baseball writing from the Baseball Writers Association of America in 1997.
Was inducted into the writers and broadcasters wing of the Baseball Hall of Fame, and Lacy was formally enshrined on July 26, 1998.
Lacy received the Frederick Douglass Award from the University System of Maryland in 1998.
 Had a scholarship program established in his name by the United Negro College Fund in 1998.
Received the Red Smith Award from the Associated Press in 1998.
Honored by the Sports Task Force wing of the National Association of Black Journalists which instituted the Sam Lacy Pioneer Award in 2003.
Served on the President's Council on Physical Fitness
Served on the Baseball Hall of Fame's selection committee for the Negro leagues.
Honored by the University of Maryland's Philip Merrill College of Journalism which created of The Sam Lacy-Wendell Smith Award to be presented annually  to a sports journalist or broadcaster who has made significant contributions to racial and gender equality in sports.
These awards stand as a tribute to a man who helped to change the world of sports, which led in hand to a change in the way society looked at its fellow man and he was a Great Black Hero.
https://greatblackheroes.com/wp-content/uploads/2013/12/samlacy01.jpg
300
630
Gaius Chamberlain
https://greatblackheroes.com/wp-content/uploads/2018/04/gbh-logo152x65.png
Gaius Chamberlain
2013-12-23 21:29:18
2019-02-11 17:11:55
Sam Lacy