Joe Louis, as much as anyone from his era, carried the hopes and dreams of the Black race on his shoulders and became the first Black hero for the whole United States.
Joseph Louis Barrow was born on May 13, 1914 in rural Chambers County, Alabama. He was the son of Munroe Barrow and Lillie (Reese) Barrow and had seven siblings. The grandson of slaves, Joe was a quiet child and struggled with a speech impediment in his early years. His father was committed to a mental institution when he was two years old and his mother remarried four years later. Joe grew up with very little connection with his father and when the Ku Klux Klan made threats to his family, they moved out of Alabama and moved to Detroit, Michigan in 1926 where some of the family worked for the Ford Motor Company. The family lived in the Black Bottom neighborhood and Joe attended the Bronson Vocational School where he learned the craft of cabinet-making.
Detroit offered a number of opportunities for a young man that Alabama did not. These included opportunities to engage in gang activities and criminal ventures or positive options such as music or sports. His mother chose music for him, convincing him to take violin lessons. Joe also gravitated to a local recreational center where he began boxing (in order to hide this from his mother he was alleged to have carried his boxing gloves inside of his violin case).
He made his amateur debut when he was when he was 17 in the light-heavyweight class. He boxed under the name Joe Louis, in part to hide his pugilistic endeavors from his mother. His first fight ended in a loss to a future Olympic boxer Johnny Miller but he improved as a fighter to the point where he was considered the best boxer in the Brewster Street recreation center. He competed in the Detroit Golden Gloves boxing tournament in 1933, defeating Joe Biskey for the novice division championship in the light heavyweight classification. He lost in the Chicago Golden Gloves tournament of Champions, but came back the next year to win the Chicago tournament. Despite struggling with a hand injury, he won the National Amateur Athletic Union tournament held in St. Louis, Missouri. Improving with every fight, he finished his amateur career with a record of 50 wins (43 by knockout) and four losses.
His performance as an amateur led to a great deal of interest in him as boxing in Detroit was big. Boxing as a whole was struggling under the weight of criminal activity which controlled the sport. As well, in the years after Jack Dempsey retired, there was a lull in the sport, with lesser talent finding its way to the top, but unable to impress or connect with the general public.
Although a number of well-known promoters were interested in signing him, Louis signed on with a Black, Detroit-based bookmaker named John Roxborough as his manager. Roxborough had recounted the many tales of white promoters not taking care of Black fighters over the years. "[Roxborough] told me about the fate of most black fighters, ones with white managers, who wound up burned-out and broke before they reached their prime," Joe explained.  "The white managers were not interested in the men they were handling but in the money they could make from them. They didn't take the proper time to see that their fighters had a proper training, that they lived comfortably, or ate well, or had some pocket change."
Roxborough brought on Julian Black to be Joe's promoter and Jack "Chappy" Blackburn to serve as his trainer. Black promoted a number of heavyweight boxers whom Louis could face (Louis had moved up to the Heavyweight division which was more lucrative). Because both Black and Blackburn worked out of Chicago, Louis moved there to train and most of his early fights took place there.
His first professional fight was against  against Jack Kracken on the Fourth of July, 1934 in the Bacon Casino in Chicago. Joe knocked him out in the first round and took home $59.00. In all, Louis fought twelve times in 1934, winning all of his matches with ten of them coming via knockout. The same year, Joe met a woman named Marva Trotter who was a secretary for the Chicago Defender newspaper and the two began dating steadily. Also during this period, he met a man who would serve as his lawyer and adviser, Truman Gibson.
Joe was gaining a great deal of experience during this time and was racking up wins against legitimate heavyweight fighters, but because of the politics involved in boxing, he was not moving in the the direction of a title fight. White America had no appetite for another Black Heavyweight Champion in light of the previous reign of Jack Johnson. Johnson, the sports first Black Heavyweight Champion was a defiant (some would say arrogant) man, refusing to cow tow to the prevailing opinions of the day of the proper role and manner of Black people. He laughed in the face of those who expected him to "know his place" and took no steps to hide his romantic relationships with white women, a huge taboo at that time. Perhaps even worse, in the eyes of the white public, was that Johnson obliterated all of his white opponents and mocked the white press and fans who derided him. As such, a lot of work behind the scenes would have to take place in order for Joe to get a title shot.
First, Roxborough and Black created a media campaign featuring Joe as an All-American, clean cut, clean-living and modest fighter in a sea of scoundrels. He was never photographed with white women, never gloating over a fallen opponent and never engaged in any shady dealings. As such, he was not threat to white sensibilities of the day.
At the same time, he was undergoing changes within his management team. In 1935, in order to gain the connections necessary for a title shot, Roxborough and Black came to an agreement with promoter Mike Jacobs, who was arguably the most powerful man in boxing during the era. The three year exclusive deal promised Louis a title shot. While Roxborouh had warned Louis about being managed by whites, Joe should have been more worried about those managing him at that moment. Just after Louis turned 21, Black signed him to a ten year contract, wherein Black would receive 25% of his boxing earnings and 50% of all radio and movie receipts. Roxborough meanwhile signed on again to receive 25% of his boxing earnings for an indefinite period of time. The two, therefore would receive half of Joe's earning for at least ten years. This was only the beginning of financial exploitation of the young fighter.
He would fight 13 matches in 1935, the most important of which was against former champion Primo Carnera on June 25th.  At the time, Italy, under Fascist dictator Benito Mussolini, was engaged in a territorial dispute  with Ethiopia. Thus, many looked at the boxing match as an international affair. Louis knocked out the 6′ 6″, 265 lbs. Italian in the sixth round, making hm  a minor hero for his Black fans in the United States. His image also began to undergo a change in the press as he was labeled with heroic nicknames, the most famous of which was "the Brown Bomber." Thus, resistance to a Black champion began to diminish, and fans, Black and white, began to get excited about the young boxer. In the words of  New York Times columnist Edward Van Ness, "Louis … is a boon to boxing. Just as Dempsey led the sport out of the doldrums … so is Louis leading the boxing game out of a slump." The date of September 24, 1935 was a huge one for Louis. He faced Max Baer, a former champion and still formidable foe, and scored a knockout in the fourth round. Unbeknownst to many, he had also married his girlfriend Marva Trotter earlier in the day and left the ring to go and enjoy his wedding night. By the end of 1935, Louis had won all 13 of his matches, was ranked the number one contender for the title belt and was named the Associated Press Athlete of the Year.
Louis now had his sights on a title shot and prepared for a tuneup fight against former champion Max Scmeling. Scmeling was 30 years old and most figured him no match against Louis who was now 27-0 professionally. Joe did not appear overly concerned either as he spent his time training in Lakewood, New Jersey where he relaxed playing golf. Schmelling, instead, trained like it was his last chance in the sport, studying Louis intently. He and his trainers noticed that Joe would get lazy and drop his left hand after a jab and they set out to exploit it. Max was successful as he knocked Louis down for the first time in his career with a counter-punch in the forth round and then knocked the younger fight out in the 12th round in front of a sold out Yankee Stadium on  June 19, 1938. Noted Black author and poet Langston Hughes described the aftermath of the match as such:
"I walked down Seventh Avenue and saw grown men weeping like children, and women sitting in the curbs with their head in their hands. All across the country that night when the news came that Joe was knocked out, people cried. – "Langston Hughes
After defeating Louis, Schmeling expected a title match against champion James "Cinderella Man" Braddock, but Braddock's manager Joe Gould and Mike Jacobs had been planning a match between Braddock and Louis for months. In Gould's mind, he had Louis over a barrel because if he gave Schmeling the title shot and he defeated Braddock, there was a good chance that the Nazi government might forbid Schmeling from giving Louis a title shot. Thus, out of a sense of desperation. Jacobs acquiesced to a demand that 10% of Louis' earnings over the next 10 years would be passed on to Gould (amounting to more than $150,000.00 of Louis future earnings). Per the agreement, they announced a match between Braddock and Louis for June 22, 1937 in Chicago, Illinois. In one last match before the showdown with Braddock, Louis knocked out former champion Jack Sharkey in the third round.
When the title match finally came about, both men were ready. Braddock struck first, surprising the younger challenger with a first round knockdown. Louis came back though and wore the champion down, finally knocking Braddock out in the eighth round. His victory was seen as a victory for Blacks from coast to coast.
"Each time Joe Louis won a fight in those depression years, even before he became champion, thousands of Black Americans on relief or W.P.A., and poor, would throng out into the streets all across the land to march and cheer and yell and cry because of Joe's one-man triumphs. No one else in the United States has ever had such an effect on Negro emotions – or on mine. I marched and cheered and yelled and cried, too." – Langston Hughes
In his first title defense, Louis won a hard fought victory over Tommy Farr and then enjoyed wins over Nathan Mann and Harry Thomas. He was now able to focus solely on his rematch against Max Schmeling. Schmeling had become a national hero in Germany after his victory over Louis and Nazi government officials hailed him as an example of Aryan superiority. The United States press painted Schmeling himself as a Nazi and Louis as a defender of American ideals. Their rematch was one of the most famous and most important in history. Few would know when the bell rang that the match would be over in just over two minutes as Louis landed punches non-stop, completely incapacitating Schmeing with a devastating body blow. Schmeling was knocked down three times before the fight was stopped. He was only able to throw two punches and was completely overwhelmed by Louis.
"What my father did was enable white America to think of him as an American, not as a black… By winning, he became white America's first black hero." – Joe Louis, Jr.
After the Schmeling match, from January 1939 to May 1941, Louis fought 13 title defenses, an inconceivable pace by today's standard. Because of his domination of these matches and the pace at which he fought, many derided these victories as having occurred over a series of outmatched fighters whom critics labeled "the Bum of the Month Club." Despite the name, most of the people he defeated during that time were top-ten ranked opponents. These included World light-heavyweight champion John Henry Lewis, New England Heavyweight Champion Al McCoy, second ranked "Two Ton" Tony Galento, third ranked Bob Pastor, third ranked Arturo Godoy, sixth ranked Abe Simon and eighth ranked Buddy Baer (brother of Max Baer), listed by  Ring Magazine's as one of the of 100 greatest punchers of all time).
On on June 18, 1941, Louis took on Billy Conn in front of a crowd of 54,487 fans at the Polo Grounds in New York. Conn, the lightweight champion weighed in at around 174 lbs. (although some insisted he was only 167) whereas Louis weighed about 200. Conn, who relinquished his light-heavyweight title in order to go after the heavyweight belt, refused to gain weight for the match, instead intending to employ a "hit and run" strategy.
"I made a mistake going into that fight. I knew Conn was kinda small and I didn't want them to say in the papers that I beat up on some little guy, so the day before the fight I did a little roadwork to break a sweat and drank as little water as possible so I could weigh in under 200 pounds. Chappie was as mad as hell. But Conn was a clever fighter, he was like a mosquito, he'd sting and move." – Joe Louis
Conn's strategy worked brilliantly as he commanded the fight over the first 12 rounds. Beginning in the eighth round, Louis appeared to be dehydrated and by the twelfth round he was exhausted. Conn, ahead on two scorecards needed only to stay away from Louis to gain the win but instead decided to go for the knockout, against the advice of his corner. This allowed Louis to turn the tables and Conn was knocked out in the 13th round. Many considered it to be one of the greatest fights of all time and the masses cried for a rematch, but before they could meet again, World War II intervened.
Louis enlisted as a private in the United States Army at Camp Upton, Long Island. With newsreels filming, he later declared that the United States would be victorious in the war, saying "We'll win, 'cause we're on God's side." This comment made him very popular across the country and he became more of a national hero than just a Black sports hero. Joe fought a number of charity matches to benefit the war effort but the Internal Revenue Service considered this taxable income, even though he did not receive any of the money. This would be the beginning of the IRS pursuing him.
Louis was assigned to a segregated cavalry unit based in Fort Riley, Kansas where he would come to meet a young soldier named Jackie Robinson. Robinson, along with a number of other Blacks, wanted to apply to the Officer Candidate School but were being delayed from doing so. Louis used his contacts and his prestige to facilitate their applications being processed. Robinson received his commission and would, of course, go on to break the color barrier in Major League Baseball. Robinson and Louis would become lifelong friends.
Louis did not see combat during the war, instead serving in the Special Services Division as an inspiration for the troops and often engaging boxing exhibitions. Despite being used as a recruitment and propaganda tool, he suffered racism much like the other Blacks serving. Once while riding on a military bus, Louis and middleweight boxing great Sugar Ray Robinson were both ordered to move to the back of the bus. Louis loudly refused and then argued their way out of trouble. Nonetheless, he was promoted to the rank of Sergeant and ultimately awarded the Legion of Merit and he was released from military service on October 1, 1945.
Following his service in the Army, he returned to the ring. He faced Billy Conn in a rematch but the fight drew a disappointing 40,000 in Yankee Stadium. The fight was all Louis as a tentative Conn had seen his skills deteriorate during the war. Louis scored a knockout in the eighth round and, despite the low attendance, enjoyed his biggest payday (although much of his  purse went to his managers, his ex-wife and the State of New York).
Following a mismatch victory over Tami Mauriello, Louis searched for another opponent who could draw. He thus met Jersey Joe Walcott on December 5, 1947. Walcott, a veteran fighter who would later capture the Heavyweight Champion, was a defensive specialist. Walcott was the aggressor in the match and knocked Louis to the canvas twice in the first four rounds but Louis was named the victor in a controversial split decision. As most viewers believed that Walcott should have won the fight and because Louis' skills had clearly diminished, many thought Louis would retire. Joe, however, was determined to retire after one more victory and thus met Walcott again in a rematch on June 25, 1948. In front of 42,000 fans in Yankee Stadium, Louis was knocked down in the third round but came back and delivered an eleventh round knockout of Walcott.
For Louis, the writing was on the wall and he officially announced his retirement from the sport of boxing on March 1, 1949. Unfortunately, the IRS finished its audit of Louis' past tax returns and declared that including interest and penalties that he owed more than $500,000.00 to the government. He thus needed to find a way to earn money and after firing Jacobs and Roxborough (hiring Marshall Miles instead), he reached a deal with the IRS to come out of retirement, with all of his earning going directly to the IRS.
He signed on to fight the new Heavyweight Champion, Ezzard Charles on September 27, 1950. Louis had not fought in over two years and he was no match for Charles. The new champion beat him thoroughly throughout the match winning by a decision. In addition to losing the match, the crowd of only  22,357 spectators meant that his share of the purse was a mere $100,458.00. As such, Joe needed to continue boxing.
After a few smaller fights, the International Boxing Club guaranteed Louis $300,000.00 to match up against the young and talented up and comer Rocky Marciano. Marciano was reluctant to fight the boxer he admired so much. At the same time, he understood the financial situation Joe was in and agreed to the match. On October 26, 1951 in Madison Square Garden, Louis entered the fight as a 6-to-5 favorite despite the fact that no one believed he could actually survive against Marciano. In the end, it wasn't even close as Louis took a savage beating, knocked out in the 8th round. Afterwards, a distraught Marciano try to comfort Louis, his childhood idol, who responded by telling Marciano that the best man had won. His lost prompted him to retire from the sport for good.
Louis career earnings came to about $4.8 million but most of it went to his managers and promoters, leaving him with around $800,000.00. Even after coming out of retirement to pay the IRS, he was still found to have owed more than $1 million (while he was fighting during his comeback he was paying an incremental rate of 90% and thus could not possibly keep up with the interest and penalties he was found to have owed).  Because of the mismanagement by Mike Jacobs, a number of poor investments and the questionable actions by the IRS, Louis found himself in a financial mess. He thus was forced to do almost anything to make money including performing as a professional wrestler and serving as a greeter at Caesar's Palace in Las Vegas, Nevada. Many came to his aid, including Harlem gangster Frank Lucas who was so disgusted by the IRS he personally paid off a $50,000.00 tax lien against Joe. As well, he received financial support from an unexpected source – former foe Max Schmeling  who provided money to Louis for years (the two had become close friends after their second fight). Eventually the IRS relented and reached settlement terms with Louis.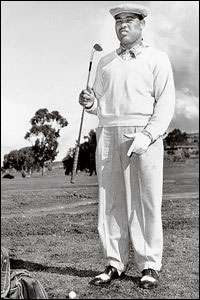 Without the financial pressures strangling him, Joe set out to spend most of his days playing golf. When he was invited to play in the San Diego Open under a sponsor's exemption, he became the first Black to play in a PGA event. In doing so, he helped to move the PGA towards removing a by-law that was in place which restricted PGA events to whites (the PGA would posthumously grant him an honorary membership).
Joe Louis passed away on April 12, 1981 in Desert Springs, Nevada. He was survived by his third wife, Martha Jefferson and three children. He was buried in Arlington National Cemetery with full military honors on April 21, 1981. His funeral was paid in part by Max Schmeling who also served as a pall bearer.
He is remembered by many as the greatest boxer in history and has received tributes from almost every corner, including stadiums and sports teams named after him, sculptures and statues designed in his image, a postage stamp issued in his honor and was posthumously approved for the Congressional Gold Medal in 1982. In breaking down racial barriers and dominating the sport of boxing so thoroughly, Joe Louis earned the title of American hero.
"Joe Louis is a credit to his race—the human race." – Jimmy Cannon
Search for more info about Joe Louis
https://greatblackheroes.com/wp-content/uploads/2012/01/joelouis04.jpg
300
630
Gaius Chamberlain
https://greatblackheroes.com/wp-content/uploads/2018/04/gbh-logo152x65.png
Gaius Chamberlain
2012-01-14 14:25:10
2020-12-10 21:05:02
Joe Louis