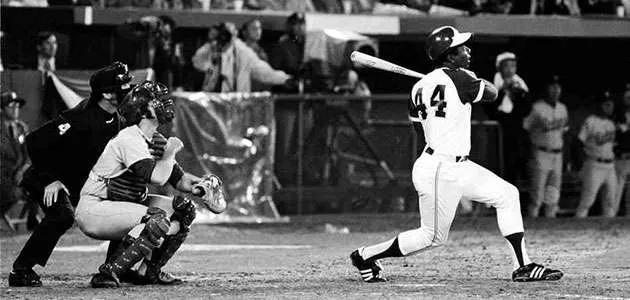 Hank Aaron is acknowledged as one of the greatest hitters to every play in Major League Baseball and owner many of the most revered records in the game, but he is best known as the man who broke baseball's greatest record – Babe Ruth's 714 home runs.
Henry Louis "Hank" Aaron (born February 5, 1934) in Mobile, Alabama, the son of Herbert and Estella Aaron. He was one of eight children, including his brother Tommy who would also  become a major league baseball player. Although he was born in a poor section of town called "Down the Bay," he grew up in a middle-class section called Toulminville where he and his family picked cotton on a farm.
Hank enjoyed playing baseball although his family lacked the finances to buy any baseball equipment so Hank improvised by hitting bottle caps with a stick. He finally got a chance to use real equipment when he played outfield and third base for Central High School, a segregated school, where he led his team to the Mobile Negro  High School championship two years in a row. A natural athlete, he also excelled in football, so much so that he was offered football scholarships by several schools. Baseball was his love, however, and he decided to pursue it as a career.
Aaron had a unique batting style as he hit cross-handed. He was a right-handed hitter but held the bat with his left hand above his right hand. Nonetheless, he was able to hit for power and was invited by the Brooklyn Dodgers to try out for the club in 1949. The Dodgers were the first team to integrate the Major Leagues when they inserted Jackie Robinson into the lineup on opening day in 1947 and the team was aggressive with pursuing new talent. Though they recognized his talent, the Dodgers did not sign him as they had other talent that was Major League ready. Hank returned to Mobile to finish high school, this time at a private school, Josephine Allen Institute. He continued his pursuit of baseball as a profession, signing with the Mobile Black Bears during his junior year. The Black Bears were a small independent Negro League team managed by Ed Scott they and paid him only $10.00 per game.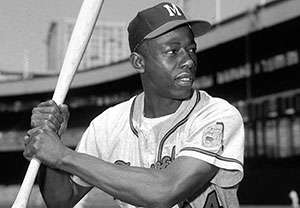 Aaron's career moved forward on November 20, 1951 when he was signed to a contract by the Indianapolis Clowns of the Negro American League. He was paid $200.00 per month and played shortstop and batted in the cleanup position. The Clowns were a legitimate team under manager Buster Haywood, but they also employed a level of showmanship to their games, earning the team the nickname "the Harlem Globetrotters of baseball." Standing 6' tall and weighing 180 lbs., Aaron played very well for the Clowns, helping to lead them to the Negro League World Series championship in 1952. He batted .366, with 5 home runs, 33 runs batted in, 41 hits, and 9 stolen bases in 26 official Negro League games and his play caught the attention of two Major League teams, the New York Giants and the Boston Braves. Aaron considered both teams, but chose the Braves when they offered him $50.00 per month more than the Giants. The Clowns, therefore, sold his contract to the Braves for $10,000.00 and Aaron was signed by Braves' scout Dewey Griggs on June 14, 1952. His time with the Clowns was memorable for him, not only for the success he enjoyed that led him to the Major Leagues, but also for the continued racism that he faced.  Years later he would recount in his autobiography having played a game in Washington, D.C. and eating at a restaurant afterwards. "I can still envision sitting with the Clowns in a restaurant behind Griffith Stadium and hearing them break all the plates in the kitchen after we were finished  eating. What a horrible sound. Even as a kid, the irony of it hit me. Here we were in the capital in the land of freedom and equality, and they had to destroy the plates that had touched the forks that had been in the mouths of Black men. If dogs had eaten off those plates, they'd have washed them."
He was assigned to the Eau Claire Bears of the Braves Class C farm team. He found success immediately and was named to the Class C All-Star game. More importantly, the hitting coach of the Bears convinced him to change his cross-handed grip to an orthodox grip. The switch elevated his game and he enjoyed a sensational season, batting .336, with nine home runs, 61 rbi's, and 89 runs scored in only 87 games, resulting in him being selected unanimously as the league Rookie of the Year.
While he was enjoying success on the field, he struggled off of it with bouts of homesickness and having to deal with racism as an 18 year old. He got a lot of support from his older teammates as well as from his family in Mobile and pressed on when he was promoted to the Class A Jacksonville Braves.
The Jacksonville Braves played in the Southern Atlantic League and once again Hank played very well, helping to lead the team to a league championship in 1953. His numbers were spectacular as he led the league in batting (.362), runs scored (115), hits (208), doubles (36), total bases (338) and rbi's (125). Not surprisingly, he was named the league Most Valuable Player. His success did not come easy as he still had to endure the racial discrimination that was rampant in the south.  He was one of only five Black players to ever play in the league, and was forced to eat and sleep away from his teammates on the road and in parts of Jacksonville. As segregation was the law of the land in the south, he was forced to endure these hardships and maintain his high standards of play, a difficult task for a 19 year old. On a personal note, Hank began dating a young lady named Barbara Lucas during this time, as she attended one of his games. The couple did not waste any time and got married on October 6, 1953.
Despite his success and recent nuptials, Hank did not have a lot of time to celebrate or rest on his laurels as he was sent to Puerto Rico that fall to play under former Major League catcher Mickey Owen. Owen, famous for his error which cost the Brooklyn Dodgers the World Series in 1941, helped Hank with various fundamental matters, including tweaking his batting stance. This change allowed Aaron to spray the ball all over the field instead of just pulling the ball to left field like many power hitters. Owen also switched Hank to the outfield, a position he had never tried. The Braves Major League club needed a hard hitting outfielder and they were about to call Hank up.
The Boston Braves had moved to Milwaukee in 1953 and during spring training in 1954 Braves outfielder Bobby Thompson broke his ankle, opening a spot for Aaron. Hank was brought up and inserted into the lineup playing left field. In his first exhibition game, Hank hit a home run and the Braves officially signed him to a Major League contract. He made his debut on April 13, 1954 and smashed his first home run on April 23 off of the St. Louis Cardinals Vic Raschi. For the season Hank batted .280 and hit 13 home runs but was sidelined with an ankle injury in September. While his numbers were very good for a rookie, they were not indicative of the career that would follow.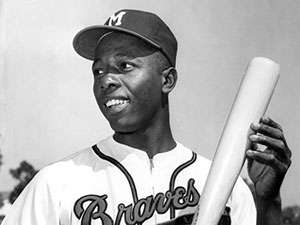 In his second season, Aaron played so well that he was named to the National League all-star game for the first time. He boosted his batting average up to .314, knocking in 27 homers and 106 RBI.  In 1956  he batted .328, with 26 homers, 200 hits  and 92 runs batted in. His batting average was the highest in the league, earning him  the league batting title and he was named the National League Player of the Year by The Sporting News magazine. The next year was even better as he batted .322 in 1957, with 118 runs scored, 198 hits, 44 home runs, 369 total bases  and 132 runs batted in. For his efforts, he was named the National Most Valuable player, the only time in his career that he won the award. He finished the year by hitting a game ending home run to clinch the pennant on September 23rd and led the team to the World Series which they won in seven games over the New York Yankees.
Aaron followed his MVP year in 1958 by bating .326, hitting 30 home runs and batting in 95 runs and his performance in the outfield earned him a Gold Glove award. He had improved his all around game, not only leading his team with monster offensive number but also as a defensive star. He had another spectacular year in 1963 as he led the National League in home runs (44) and rbi's (130) while finishing third in batting with a .319 average. He also stole 31 bases which landed him at 3rd in the league and he finished third in the MVP balloting. Following the season, the Braves moved to Atlanta.
Aaron was a very steady player, post great offensive numbers each season and his home runs, hits and rbi's continued to compile into milestones numbers. On July 14, 1968, he hit his 500th home run against San Francisco Giants left-hander Mike McCormick. He was the second fastest player to reach the magic number of 500, and only the eighth player at the time to do so.  On April 27, 1971 he hit home run number 600 and hit 47 home runs for the season, the highest of this career. He also led the league in several categories including slugging percentage at .669. He was only the third player to reach the 600 mark and set the National League record for most seasons with 40 home runs (seven).
In 1972, Aaron started to make heads turn as he passed Willie Mays on the all-time home run list, hitting his 661st home run on August 6, 1972. He also knocked in the 2,000th run of his career and surpassed Stan Musial's record for total bases at 6,135. He finished the season with 673 total home runs and left many fans scratching their heads wondering if he could possibly break the most hallowed sports record of all, Babe Ruth's 714 home runs. In 1973, Hank hit another 40 home runs leaving him a tantalizing 1 home run away from tying Ruth at 714, setting the stage for one of the biggest sports moments the next year.
While many fans across the United States were excited about his home run chase and he was receiving thousands of pieces of mail each week, much of it was negative. Many of the letters were racist in nature, decrying his attempt to break Ruth's records because Ruth was white and Aaron was Black. Sadly, some of it even descended into the boundaries of death threats against him if he broke the record. Incredibly the threats were not only limited to Aaron and his family, but also to his teammates and reporters covering his chase. Sports Illustrated magazine pointedly opined "Is this to be the year in which Aaron, at the age of thirty-nine, takes a moon walk above one of the most hallowed individual records in American sport? Or will it be remembered as the season in which Aaron, the most dignified of athletes, was besieged with hate mail and trapped by the cobwebs and goblins that lurk in baseball's attic?"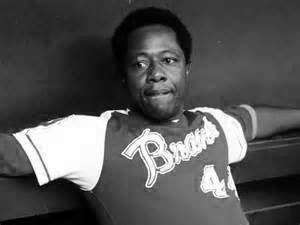 On his first at-bat during the 1974 season, Aaron tied Babe Ruth's record of 714 home runs on the road in Cincinnati and returned home to Atlanta with the whole country watching to see him break the record. On April 8, 1974, a record Braves crowd turned out to a nationally televised audience as the Braves faced the Los Angeles Dodgers. In his second at bat Aaron hit a pitch by Al Downing and the ball soared  into left field and dropped over the wall for a record 715th home run.
Breaking Ruth's record was not simply a sports milestone, it was a societal milestone. The racial animosity that he faced in the form of death threats were symptomatic of the way that millions of Blacks had lived for years under Jim Crow laws in the south where just ten years before, anything a Black person did that might offend a white person could end in a death sentence. For Aaron, with the pressure burdening him like a yoke upon his neck, to break the record in front of a worldwide audience, the moment became a symbol of moving beyond the past. As Dodgers play-by-play broadcasters stated "What a marvelous moment for baseball. What a marvelous moment for Atlanta and the state of Georgia. What a marvelous moment for the country and the world. A black man is getting a standing ovation in the deep south for breaking a record of an all-time baseball idol. And it is a great moment for all of us, and particularly for Henry Aaron. … And for the first time in a long time, that poker face in Aaron shows the tremendous strain and relief of what it must have been like to live with for the past several months."
Aaron would hit 18 more home runs during the 1974 season and his numbers began to decline. When he decided not to retire at the end of the season, Atlanta decided to trade him to the Milwaukee Brewers, returning him to the town in which he had started his Major League career. On May 1, 1975, Aaron broke another milestone, this time besting Ruth record of 2,213 runs batted in. Finally, on July 20, 1976, Aaron hit his final home run off of California Angels pitcher Dick Drago in front of a home crowd in Milwaukee's County Stadium. It was the 755th of his career and would stand as the record for another 31 years. His legacy assured, Aaron could have retired to an easy life of golf and traveling but he had other things in mind.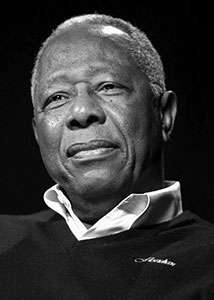 He rejoined the Atlanta Braves as an executive in 1976 and rose to the position of vice president and director of player development a few years later making him one of the few minority executives within Major League Baseball. He continued over the years in positions with the Braves and their parent company Turner Broadcasting and with Major League Baseball to foster minority growth within the sport. He opened a number of automobile dealerships within the Atlanta area and released his autobiography, I Had a Hammer  in 1990.
Aaron was honored with an endless array of awards and tributes including Major League Baseball creating the Hank Aaron Award, given annually to the best overall hitter in each league and President George W. Bush presenting him with the Presidential Medal of Freedom in 2002.
Hammering Hank Aaron was elected the the National Baseball Hall of Fame on August 1, 1982, receiving votes on 97.8 % of the ballots, the second highest percentage ever. That he was deserving based on his numbers is beyond dispute, ranking at or near the top in several categories and is still the all time leader in runs batted in and total bases. His role as an ambassador for the game of baseball had allowed him to transcend his role of a sports icon to being a representative of the Black community with a significant voice to work for changes in sports and within society in general. He was so feared as a batter that pitchers often referred to him as "Bad Henry" but the world known him as a great man and a Great Black Hero.
---
---
---
https://greatblackheroes.com/wp-content/uploads/2013/12/hankaaron001.jpg
300
630
Gaius Chamberlain
https://greatblackheroes.com/wp-content/uploads/2018/04/gbh-logo152x65.png
Gaius Chamberlain
2013-12-29 18:48:45
2019-11-26 17:40:01
Hank Aaron