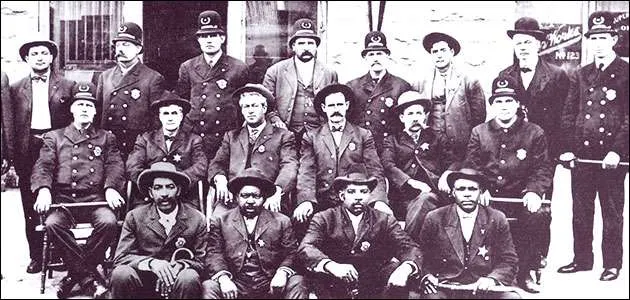 Bass Reeves is a legend of the west, one of the first Black lawmen in the region and one of the first Black heroes of the era.
Bass Reeves is surrounded by so much legend that it is hard to determine what is fact and what is fiction. What is certain is that he was one of, if not the first, Black lawman to serve west of the Mississippi River.
Bass Reeves was born a slave in 1838 in Crawford County, Arkansas. His owner was named William S. Reeves and was a prominent politician in the region as well as a farmer. Bass worked as a water boy in the cotton fields of the Reeves farm and was regaled with stories of adventure featuring Black heroes. The Reeves family moved near Paris, Texas  in 1846. During the Civil War Bass was a servant for George Reeves, the son of William. George was a Colonel in the Confederate Army who organized the 11th Calvary regiment.  Bass claimed to have fought in several battles during the conflict but because of a dispute with George (supposedly over a card game which led to fisticuffs), Bass allegedly escaped and fled into the Indian Territory (which we now know as Oklahoma) as a fugitive slave. There he associated with Native Americans from the Creek and Seminole tribes. During this time, he developed an understanding and appreciation of their languages and their customs. The fact that he mastered these languages was remarkable considering that he was illiterate. This would prove very fortuitous in the coming years. Some believe that during this time Reeves may have served in the Union's first Indian Home Guard regiment under an Indian name. Reeves eventually moved to Arkansas where he acquired property near Van Buren. He met a young woman named Nellie Jennie and the two married and settled into their farm where they raised five boys and five girls.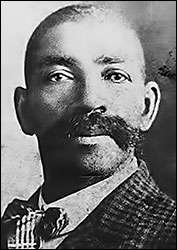 Refining his skills as an outdoorsman, Bass became an expert sharpshooter. Because he was ambidextrous, he was alleged to have incredible accuracy shooting with either hand. In addition to earning a living as a farmer, rancher and a horse breeder, he also served as a guide into the Indian Territory for Deputy U.S. Marshals for the Van Buren Federal court searching for outlaws.
In 1875, the legendary "Hanging Judge" Isaac C. Parker was appointed a federal judge of the Indian Territory. Parker appointed James Fagan as U.S. Marshal and instructed him to hire 200 deputy marshals. Knowing of Bass Reeves reputation with a pistol, his ability to speak several Indian languages and his ability to interact with them, as well as his knowledge of the territory, Fagan named Reeves a Deputy Marshal, the first Black to hold the title. Deputies in the territory were authorized to arrest only Black and white criminals who were not members of a tribe, as the Native Americans had their own laws and law enforcement procedures.
It is important to understand how dangerous the Indian Territory was. It was approximately 74,000 square miles and it's where outlaws went to hide with little fear that anyone would try to track them down in such a vast wasteland. When marshals did pursue criminals there, they often died in the attempt. In fact more than 100 marshals were killed in the territory before Oklahoma gained statehood. When one considers that in the entire history of the U.S. Marshals service only 200 have been killed in action, the danger that Bass Reeves faced was immense.
Reeves was a good fit for the position, standing 6′, 2″ and weighing around 200 lbs. with broad shoulders and large hands. For more than 30 years Reeves served as a Deputy Marshal, often sent to arrest the most dangerous criminals of the time. He liked to carry two .45 caliber six-shooters which he wore with their handles facing forward (he believed that this would allow him to pull them out faster, employing a cross-handed draw). In addition to his expertise with both pistols and and his Winchester rifle, he was also a master of disguise, a trait which allowed him to observe outlaws without being recognized. One fascinating story recounted in the "Stuff You Missed in History Class" podcast has Reeves dressing up as a tramp and walking 28 miles to the home of the mother of two outlaws he was pursuing. He told the woman he was running from the law and needed some food and rest. As she fed him, she encouraged him to wait for her sons so they could ride off together to escape the posse pursuing them. She allowed him to sleep over and in the middle of the night he handcuffed the sons to their beds and left the next morning, walking the two outlaws 28 miles back to his camp. The mother was alleged to have followed for three miles cursing him. On another occasion, he left his horse, dressed up like an old farmer and rode in a cart pulled by old oxen. He approached a house where the outlaws he was looking for were staying. He pretended that the cart had gotten caught up on a stump and when the six outlaws came out of the house to investigate, he pulled out his .45s and arrested all six of them.
Perhaps the most important weapon in his arsenal was his calm demeanor in the face of danger, as he was seen as completely fearless. One story relates that he once approached three men, the notorious Brunter brothers, who were wanted and they had the drop on him. When they forced him off of his horse, they asked what he doing out there. He said "Well, I've come to arrest you." He then calmly asked them what the date was. When one of them asked why, Bass said he needed to write down the date on which he was arresting them for his records and approached them to show them the warrants. The men laughed and looked at the warrants and when the leader of the group reminded him that he was the one about to die, Reeves reached out and grabbed the barrel of the man's gun, holding onto while the man fired three times.  While he was avoiding the bullets from the leader's gun, he pulled one of his own .45s, shot the second man and then hit the third over the head with the gun, killing him.
"If Reeves were fictional, he would be a combination of Sherlock Holmes, Superman, and the Lone Ranger." – Historian Art Burton
Although he arrested more than 3,000 felons, he was never harmed by gunfire (although his hat and gun belt were shot off). He did claim, however, to having shot to death 14 criminals in self-defense. On one occasion he claimed to have brought in nineteen horse thieves he captured near Fort Sill, Oklahoma. One famous outlaw, the notorious Belle Starr allegedly turned herself in at Fort Smith, Arkansas when she heard that Reeves had the warrant for her arrest. He also captured Seminole outlaw Greenleaf, wanted for the murder of seven people and alluding capture for more than eighteen years.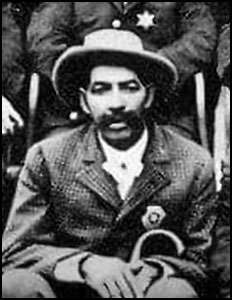 He retired from his position in 1907 when Oklahoma gained statehood. He then became an officer with the Muskogee Police Department. He served in this position for another three years before his health began to fail.
Although his years of service have become legendary (many believe he was the model for the character of the "Lone Ranger"), they were not without controversy. In one instance, he was accused of murdering a posse cook named William Leach and was forced to stand trial before Judge Parker. Reeves claimed that while he was cleaning his gun, it misfired, striking Leach accidentally. Represented by his friend, former United States Attorney General W.H.H. Clayton, he was acquitted in 1887. As well, Reeves was once tasked to track down his own son, Bennie, who was accused of killing his wife and was now in hiding. All of the other marshals declined to take on the job of tracking him down but Bass' sense of duty prompted him to say "Give me the writ." He tracked down his son and returned him to custody a few weeks later. Bennie was convicted and sent to the federal prison in Leavenworth, Kansas. He also arrested the minister who baptized him.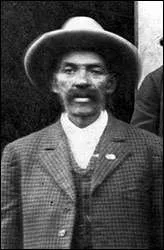 Bass Reeves died of Bright's disease on January 12, 1910. For his service he has received several tributes in recent years. He was the first African-American inducted into the Great Westerners Hall of the National Cowboy Hall of Fame in Oklahoma City in 1992 and was inducted into the Oklahoma Law Enforcement Hall of Fame on December 5, 2010. On November 9, 2011, the U.S. Route 62 bridge crossing the Arkansas River between Muskogee and Fort Gibson, Oklahoma, was named the Bass Reeves Memorial Bridge by the Oklahoma State Legislature. On May 26, 2012, a large, bronze statue designed by sculptor Harold Holden which depicted Reeves riding on a horse was dedicated in Fort Smith's Pendergraft Park. The statue cost more than $300,000 and was paid for by donations to the Bass Reeves Legacy Initiative.
Bass Reeves lived the life reserved for legends and he is truly a Great Black Hero.
Profile of Bass Reeves
Sources:
Search for info about Bass Reeves
https://greatblackheroes.com/wp-content/uploads/2013/01/bassreeves04.jpg
300
630
Gaius Chamberlain
https://greatblackheroes.com/wp-content/uploads/2018/04/gbh-logo152x65.png
Gaius Chamberlain
2013-01-03 21:55:35
2020-12-10 21:05:01
Bass Reeves