SPECIAL NOTE: The US Mint Announces a Special Bessie Coleman Commemorative Quarter
Bessie Coleman was a pioneer and innovator in the field of aviation, both as an African-American and as a woman. Overcoming the obstacles placed in her path by the society of her day, she set an example for all of those following in her path.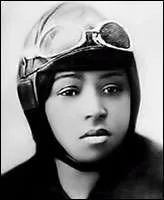 Elizabeth "Bessie" Coleman was born on January 26, 1892 in Atlanta, Texas, the daughter of George and Susan Coleman. George, one-quarter African-American and three-quarters Choctaw and Cherokee Indian, worked as a sharecropper and he and African-American Susan had 13 children. In 1894, the family moved to Waxahachie, Texas where Bessie began attending school at six years of age. She was forced to traverse the long four mile walk every day to a one room, segregated school, but she enjoyed learning. She was an avid reader and was very good in mathematics and spent evenings reading to her brothers and sisters about African-American heroes.
In 1901, George Coleman, having tired of the racial inequalities he faced in Texas, left the family and moved to Indian Territory (now called Oklahoma) in search of better opportunities. Susan and the children did not accompany him, instead continuing to toil and save money as a cook and housekeeper in Waxahachie. Upon turning 18, Bessie used her saving to enroll in Oklahoma Colored Agricultural and Normal University (now called Langston University) in Langston, Oklahoma. Unfortunately, her money ran out after one term and she was forced to return home.
Five years later, Bessie moved to Chicago to live with her brother Walter. She found a job as a manicurist at the White Sox Barber Shop on Chicago's South Side. Here she became enraptured with the tales of returning World War I pilots (including her brother John), recounting their daring adventures flying and fighting during the war. She became fascinated with the thought of flying and eagerly peppered the pilots with question after question. She decided to pursue her interest but was not allowed to enroll in any flight schools because she was Black and a woman. Even more disheartening, she was unable to convince any Black pilots to train her. She had a chance to discuss her dilemma with Robert Abbott, the founder and publisher of the Chicago Defender newspaper and he encouraged her to go to Europe to seek training. Along with a banker named Jesse Binga, founder of the Binga State Bank, the Chicago Defender helped to sponsor her endeavors.
Coleman ended up in Paris, France in November 1920, having studied French at the Berlitz School in Chicago. She enrolled in a ten-month course at the Ecole d'Aviation des Freres Caudon at Le Crotoy in the Somme, completing it in only seven months. She learned to fly in a Nieuport Type 82 biplane, even learning to perform tricks such as "tail spins, banking and looping the loop." On June 15, 1921, Coleman became not only the first Black American woman to earn an international aviation license from the Fédération Aéronautique Internationale, but also the first Black American to earn an aviation pilot's license (she earned a pilot's license before Amelia Earhart). After training for an additional three months with a French pilot, Bessie returned to the United States in September 1921, arriving in New York where she became a media sensation.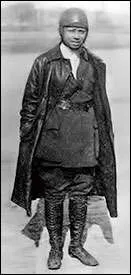 Although she had gained notoriety and fanfare upon her return to the United States, she was still unable to find someone willing to provide her with further training. Because commercial air travel was years away, she decided to pursue further training as a barnstorming stunt flier. Since she had not been taught to do any stunt flying previously,  she returned to France for further training in February 1922. She completed an advanced aviation course in six months and then traveled to Germany, Holland and the Netherlands to visit airplane manufacturers. In the Netherlands she met with Anthony Fokker, the aviation pioneer and an aircraft manufacturer, most famous for the fighter aircraft he produced in Germany during the First World War. She was subsequently able to receive advanced training from one of the Fokker Corporations chief pilots in Germany. With a portfolio of completed courses and advanced training, Bessie returned to the United States brimming with confidence and determined to make a career as a stunt pilot, entertaining fans of barnstorming air shows. She explained "The sky is the only place there is no prejudice. Up there, everyone is equal, everyone is free."
On September 3, 1922, Bessie gave her first performance at an air show at Curtiss Field, outside of New York City, along with eight other American flying aces. The show was sponsored by Robert Abbott and the Chicago Defender and "Queen Bess" was proclaimed "the world's greatest woman flyer." She found immediate success and was a popular draw amongst both Black and white fans. Flying primarily in Curtiss JN-4 "Jenny" biplanes she returned to Chicago to put on a great performance, complete with daredevil stunts in front of a large crowd at the Checkerboard Airdrome (now known as Chicago Midway Airport). She performed figure eights, loops, and near-ground dips and was dressed in a military-style uniform to lend credence to her role as an aviation expert.
Her fame broadened and Hollywood beckoned as she was offered a role in a feature-length film titled "Shadow and Sunshine," to be financed by the African American Seminole Film Producing Company. She was disenchanted, however, when she was to be cast in a demeaning role as an ignorant country girl who moves to the big city, so she broke her contract and left Hollywood. She was soon thereafter approached by an advertising executive from the Coast Tire and Rubber Company who wanted lessons in flying. She reached an agreement with him to drop advertising leaflets for him in return for him buying her a plane. He bought her a used JN-4 but on its first flight on February 4, 1923, it stalled, fell 300 feet and crashed, leaving her with a broken leg and three broken ribs. She told friends "as soon as I can walk, I'm going to fly."
Having recovered, Bessie went on a tour of Texas, lecturing and flying in towns such as San Antonio, Houston, Dallas and her hometown of Waxahachie. When she found out that Blacks in Waxahachie were forced to used a different entrance than white patrons, she put her foot down and demanded that Blacks and whites would enter then same. The promoters complied.
In April 1926, Coleman traveled to Jacksonville, Florida in another JN-4 that she had  recently purchased. Although her friends and family were concerned that the plane wasn't safe, on April 30, 1926, she went up in it with her mechanic and publicity agent William Wills at the controls. Bessie has been planning a parachute  jump the next day and was not wearing a  seat belt in order to survey the terrain as Wills flew. Halfway through the flight Will put the plane into a dive but was unable to pull out of it as the plane began to spin. Bessie was thrown from the plane at about 500 feet and died instantly upon impact with the ground. Will also died when the plane  crash into the ground and burst into flames. It was later determined that a service wrench had been left inside the engine and jammed the gearbox, causing the plane to go out of control.
Her funeral in Jacksonville, Florida was attended by 5,000 mourners including a number of Black dignitaries. Thousands more attended a service for her in Orlando, Florida and on May 5, 1926, approximately 10,000 people paid tribute to her at her funeral. She was buried at the Lincoln Cemetery.
Soon after her death tributes rolled in, not only from the press, but also from the aviation world. A number of Bessie Coleman Aero Clubs popped up all over the United States. In September 1931, a number of the clubs came together to hold the first all-Black Air Show which attracted more than 15,000 attendees.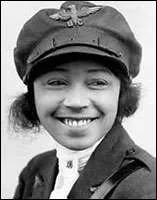 Coleman's impact would be long and enduring. Lieutenant William J. Powell (founder of the Bessie Coleman Aero Club) wrote in the book Black Wings "Because of Bessie Coleman we have overcome that which was worse than racial barriers. We have overcome the barriers within ourselves and dared to dream." Mae Jemison, the first Black woman to travel into space wrote in the book, Queen Bess: Daredevil Aviator (1993): "I point to Bessie Coleman and say without hesitation that here is a woman, a being, who exemplifies and serves as a model to all humanity: the very definition of strength, dignity, courage, integrity, and beauty. It looks like a good day for flying."
Among the tributes to her, a conference room at the Federal Aviation Administration in Washington, DC is named after her. Chicago Mayor Richard M. Daley renamed Old Mannheim Road at O'Hare International Airport "Bessie Coleman Drive in 1990 and in 1992 designated May 2nd to be "Bessie Coleman Day in Chicago. In 1995 she was honored with a U.S. postage stamp in her image. She has been inducted into the First Flight Society shrine and the Texas Aviation Hall of Fame and had a park in Chicago as well as a street in Germany named after her. Finally, she was honored by the National Women's History Project in 1999.
While her life was cut short at 34, her impact has been immense, not only upon women interested in aviation but upon the entire aviation industry. Her courage in chasing her dream and breaking down barriers in her way have made her a Great Black Heroine to generations of children around the world.
[line-sep]
A Fantastic Comprehensive Tribute to Bessie Coleman
---
---
Sources:
Search for info about Bessie Coleman