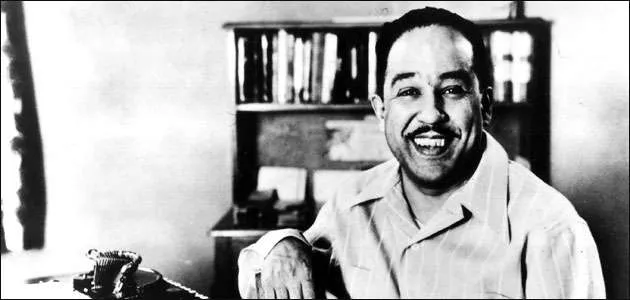 Langston Hughes was one of the most celebrated and respected writers/poets of the Harlem Renaissance and was a fore bearer of great authors of the Black Experience.
James Mercer Langston Hughes was born on February 1, 1902 in Joplin, Missouri, the son of Caroline Mercer Langston and James Nathaniel Hughes. His father divorced his mother and eventually made his way to Mexico in order to escape the racism prevalent in the United States. Langston went to live with his grandmother Mary Patterson Langston, in Lawrence, Kansas. She filled him with racial pride based on stories from her past and he lived with her until her death. Eventually he moved in with his mother (she had remarried) in Cleveland, Ohio. In elementary school he was named class poet and in high school he continued his writing, serving as the editor of the yearbook and was a writer for the school newspaper. He also wrote poetry, short stories and a play.
Hughes had a very difficult relationship with his father. His father did not have a positive view of Black people in the United States, whereas Langston was strongly pro-Black. Despite their issues, he went to go and live with his father for a while, both before and after, his graduation. He moved to Mexico in 1920 and stayed with him until he left to study at Columbia University. He asked his father to pay for him to attend Columbia, where he wanted to become a writer. His father, instead, wanted him to become an engineer and study abroad. They reached a compromise where he agreed to study engineering at Columbia, where he enjoyed a successful first year. However, socially, Langston was very unhappy with the racism he encountered. He left the University to travel abroad, eventually working in 1923 as a crewman on a ship, the U.S.S. Malone, which cruised from Europe to West Africa. After living in Paris for a while, he moved back to the United States to live with his mother in November 1924.
After hopping from job to job, he obtained a prestigious position in 1925 as a personal assistant to Carter G. Woodson, a historian who founded the Association for the Study of African American Life and History (and was also the creator of Black History Week/Month). Despite the prestige of his position, he found that it cut into the time devoted to his writing so he quit and took on various menial jobs. One of these was as a busboy at Wardman Park Hotel at which he met Vachel Lindsay, who became a fan of his poetry and helped to publicize his work. In 1926, he enrolled in Lincoln University, a Historically Black College in Oxford, Pennsylvania.  His tuition was paid for by Amy Spingarn, the wife of the National Association for the Advancement of Colored People President Joel Elias Spingarn. There he was a classmate of Thurgood Marshall who would go on to become one of the most influential lawyers in the country and the first Black U.S. Supreme Court Justice. After graduating from Lincoln, Langston began traveling, including trips to the Caribbean Islands and the Soviet Union. On one of his trips to the Soviet Union, he was among a group of Blacks who wanted to make a movie to demonstrate the difficulties faced by Blacks in the United States. The movie was not made, but it afforded him the opportunity to meet with various influential people within the communist sphere of influence. He admired many of the goals and tenets of communism compared to the life that Blacks were subjected to in the United States and admired many of the actions taken by communist organizations such as the fight to free the Scottsboro boys.  As such, many of his writings on the subject were published in the Communist Party USA newspaper. In later years, Hughes would deny that he was a communist, especially after he was called before Joseph McCarthy's Senate Permanent Subcommittee on Investigations in 1953. He distanced himself from some of his own radical writing and denied being a communist, despite having joined American Peace Mobilization in 1940 (the group sought to keep the United States out of World War II) and denied that in 1938 he signed a statement in support of Joseph Stalin's purges. His reasoning behind  advocating the United States staying out of the war was that Blacks were treated poorly in the United States, often suffering under Jim Crow laws, and thus, it made no sense for Blacks to risk their lives to support such a system. He later relented on this matter.
 Hughes had been active in his writing throughout the years, especially with his poetry. In 1921 he wrote "The Negro Speaks of Rivers" which was first published in The Crisis, the official magazine of the NAACP. He later published it in a book of poetry called The Weary Blues in 1926. He moved to Harlem, New York after graduation and was a part of the Harlem Renaissance movement, interacting with some of the major Black minds of the day. He joined Zora Neale Hurston, Wallace Thurman, Countee Cullen, Richard Bruce Nugent, and Aaron Douglas in publishing a magazine called Fire!! Devoted to Younger Negro Artists.
Hughes was very focused on the plight of the poor and clashed publicly with major Black figures such as W. E. B. Du Bois, Jessie Redmon Fauset, and Alain LeRoy Locke, believing that they were more interested in taking on sophisticated airs in order to assimilate into society. He wasn't as concerned about assimilating into white or even middle-class society as much as he was interested in uplifting fellow Blacks and inspiring them to believe that "Black is Beautiful." He confronted racism, stereotypes and self-hatred in his writings. He tried to unite in spirit Blacks in the United States with their Black brethren around the world and this would influence and free many writers following him.
Langston wrote in a style dubbed "jazz poetry." It flowed in a manner that is akin to the improvisational stylings of jazz-like rhythms. Because jazz music was so meaningful and prevalent during the Harlem Renaissance, many writers began writing poetry that was similar to jazz songs and referencing jazz musicians and subjects, injecting syncopated rhythms and repetitive phrases of blues and jazz music into their writing.
In 1930 he wrote his first novel entitled  "Not Without Laughter." The book met with critical acclaim, awarded  the Harmon Gold Medal for literature. Four years later he published his first collection of short stories, "The Ways of White Folks." The collection, while well-regarded, seemed very pessimistic about race relations in America. As he achieved more acclaim for his writing, he was awarded a Guggenheim Fellowship in 1935 (an annual grant awarded to those "who have demonstrated exceptional capacity for productive scholarship or exceptional creative ability in the arts"). He finished the year by co-writing a screenplay for the movie "Way Down South."
While he often rejected requests to teach, he did so on occasion, including teaching at Atlanta University in 1947 and at the University of Chicago Laboratory Schools in 1949. While he was not interested in teaching in a formal setting, he enjoyed influencing the minds of younger writers. He was revered by many of the them as he introduced them to influential people and set an example in his approach to addressing racial issues. One of these included Alice Walker, author of "The Color Purple," whom he was credited with discovering. He did, however, encounter some young writers with whom he came into conflict. During the Black Power movement of the 1960s, his writings were seen as outdated. He, conversely, quibbled with their approach (including, famously, James Baldwin).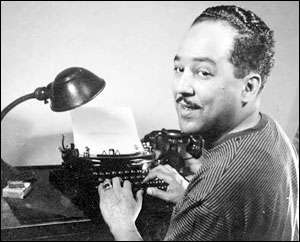 Langston Hughes died on May 22, 1967, in New York City from complications from surgery. Throughout his life and after his death he was regarded with great esteem and received many accolades. He was awarded an honorary Litt.D. by Lincoln University in 1943, the Spingarn Medal by the NAACP in 1960, an honorary doctorate by Howard University in 1963 and had a postage stamp issued in his image by the United States Postal Service in 2002.
Langston Hughes and His Poetry – Library of Congress
Search for info about Langston Hughes
https://greatblackheroes.com/wp-content/uploads/2012/01/langstonhughes03.jpg
300
630
Gaius Chamberlain
https://greatblackheroes.com/wp-content/uploads/2018/04/gbh-logo152x65.png
Gaius Chamberlain
2012-01-10 22:48:57
2020-12-10 21:05:03
Langston Hughes