Oprah Winfrey has lived the American Dream, overcoming hardship and adversity to become one of the largest media figures in the world.
Orpah Gail Winfrey  was born on January 29, 1954 in Kosciusko, Mississippi. She was named after a biblical character in the Old Testament named Oprah from the Book of Ruth. A clerical error in the hospital listed her as Orpah, but many people struggled to pronounce it and finally the name Oprah stuck. Her mother, Vernita Lee, worked as a housemaid. She took her last name from Vernon Winfrey, a city councilman who was serving in the armed formed forces at the time of her birth (although a Mississippi farmer  named Noah Robinson, Sr. later claimed to be her biological father). After her birth, her mother moved north and left Oprah in the care of her maternal grandmother, Hattie Mae Lee. Hattie taught Oprah to read at age three and brought her to the local church in which she was very active. The family was poor but made due with the resources available. Hattie even designed dresses for Oprah made from potato sacks. When she turned six years old, Oprah moved to Milwaukee, Wisconsin to live with her mother. Vernita gave birth to another daughter, Patricia, and she worked as a maid, leaving her with little time to give Oprah the attention she had been receiving before (she also gave birth later to another daughter, also named Patricia, whom she gave up for adoption and a son named Jeffrey. Both the first Patricia and Jeffrey would die, in 2003 and 1989 respectively). Because she was struggling to raise the kids, Vernita sent Oprah to live with Vernon in 1962, so Oprah began a new life in Nashville, Tennessee.
During her childhood, Oprah was sexually molested by several family members beginning when she was nine years old. She did not receive support from her family through these hardships. It would lead her to run away from home when she was 13. She became pregnant a year later, but the baby boy passed away. She returned to Milwaukee and attended Lincoln High School before transferring to the more prestigious Nicolet High School. She was teased by her more affluent classmates and often stole money from her mother to try to imitate the lifestyles of these classmates. Angered and frustrated, her mother sent her back to Nashville to live with Vernon, who, though strict, was fair and encouraging. He helped her focus on her education and soon she was excelling in the classroom, becoming an honor student. She was voted most popular girl in her high school and won a full scholarship to Tennessee State University, in no small part to placing second nationally in a dramatic interpretation competition. She studied communications in college and gained enough confidence to enter the Miss Black Tennessee competition, which she won.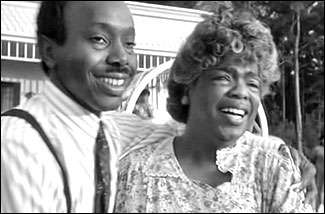 She now began to attract a great deal of attention and was hired by radio station WVOL as a news reader and then moved on to WLAC-TV where she served as a news anchor. Ambitious, she was not content to enjoy where she was, instead moving to Baltimore, Maryland where  co-anchored the six-o'clock news for WJZ. She also participated in a local talk show for the station called People are Talking. In a true sense, people were talking — about her, and soon she was on the move again, this time to Chicago, Illinois where she would become the host of WLS-TV's AM Chicago, a morning talk show. Within three months, she pulled the show from the bottom of the ratings to the top, overcoming the Phil Donahue juggernaut in Chicago.
As she enjoyed her local success, she was drawn into the national spotlight when she was cast in the role of Sofia in Steven Spielberg's production of "The Color Purple." Incredibly, she was nominated for an Academy Award for Best Supporting Actress for her performance. Now in the public eye, it was time for her to make a move nationally.
Encouraged by media critic Roger Ebert, she signed a syndicated deal with King World to create what would become known as The Oprah Winfrey Show. The show went national on September8, 1986 and it soon surpassed Donahue's show. The shows were considered tabloid talk shows, presenting sensational, scandal ridden topics and soon there were no shortage of competitors. Among others, shows hosted by Jerry Springer, Jenny Jones, Maury Povich, Montel Williams, Ricki Lake, Sally Jessy Raphael, and Geraldo Rivera hit the airwaves, each trying to outdo the other in outlandishness. With so much competition, each seeming to pull themselves and their competitors into a cesspool, something had to break. In 1996, Phil Donahue bowed out, no longer able to compete with the sleaze. Oprah also had a moment of clarity and realized that she needed to move in a different direction, less she get pulled down into the quagmire. In the mid-1990's she decided to tackle less-scandalous, but more important topics that affected real people's lives. She decided to create a show that helped to provide therapy, not only to the guests appearing on that particular show, but also to those in the audience at home. Rather than focus on the guest and ridicule them for their poor judgment or poor choices, Winfrey instead shined a light on the topic, creating a community, both in the studio and at home, to tackle the issues, collectively. She also connected with her audience members, rewarding them for their loyalty by giving away prizes, such as giving away a brand new car to all of her audience members on September 13, 2004.
[big-sep]
Oprah's Ultimate Car Giveaway
[big-sep]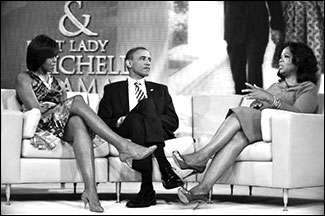 Her approach caused her to shake off her competitors to become the Queen of Television and she began forging into other areas of media. She created and co-starred in a television miniseries called the Women of Brewster Place and adapted the Toni Morrison novel Beloved into a feature motion picture. Her success was not, however, without it's obstacles. While the Women of Brewster Place was critically acclaimed, its spin-off television series was quickly cancelled. Beloved failed at the box office spectacularly, leading Oprah to suffer a bout of depression leading to a 30 pound weight gain. Also, on an episode of her show, Oprah touched on the topic of Mad Cow disease and one of her guests made statement against feeding processed livestock to cattle, a practice which many in England believed contributed to the disease. Members of the cattle industry in Texas sued Winfrey based on a 1995 Texas law under which people can be held liable if they make false and disparaging statements about perishable food products.  The lawsuit seemed nonsensical on its face, but it placed Winfrey in significant emotional turmoil as well as in potential financial jeopardy. Oprah hired Phil McGraw to help prepare her for the trial and after the judge dismissed the case against her in 1998, she publicly thanked McGraw. She soon began inviting him onto her show as a relation and life strategy expert and in 2002 Oprah's Harpo Studios began producing a new show for him called the Dr. Phil Show. Oprah began inviting a number of guests on to advise audience members and guests. One of these was Mehmet Cengiz Oz whom she referred to as Dr. Oz. In 2009, Harpo Studios began producing the Dr. Oz show.
Oprah also became the go to person for the biggest celebrity interviews, both on her show as well as standalone interviews. As her media star grew ever brighter, so did her financial standing. From 2006-2009 she was the only Black female billionaire and in 2012 was worth $2.7 billion. With her success she has expanded her media holdings, becoming a co-founder of the Oxygen network in 1998 and on January 1, 2011, the Oprah Winfrey Network was launched, a co-production between Harpo Studios and the Discovery Channel. She also published 
O, The Oprah Magazine
 from 2004 to 2008 (which Fortune Magazine named the most successful start-up ever in the industry), and later a magazine called
O at Home
. In addition she has created an online empire at oprah.com and a Sirius-XM channel and she doesn't seem to be slowing down, filming more content for the OWN network. She also fills her time doing charity work and has given away more the $400 million as of 2012.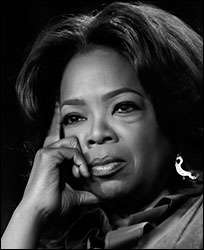 In addition to her vast media empire, Oprah has enjoyed a personal relationship with long-time boyfriend Steadman Graham. Their relationship has long been the subject of discussion amongst her fans wondering if they would marry. She has long said that her best friend is Gayle King, a talk show host, who helps to run Oprah's empire.
Oprah Winfrey did not have a lot in her early life but she was guided towards education and believed in herself and she has used her career to influence others to follow a positive path in life.
---
Sources:
Search for info about Oprah Winfrey
https://greatblackheroes.com/wp-content/uploads/2013/01/oprahwinfrey01.jpg
300
630
Gaius Chamberlain
https://greatblackheroes.com/wp-content/uploads/2018/04/gbh-logo152x65.png
Gaius Chamberlain
2013-01-21 20:35:28
2019-11-26 18:01:19
Oprah Winfrey