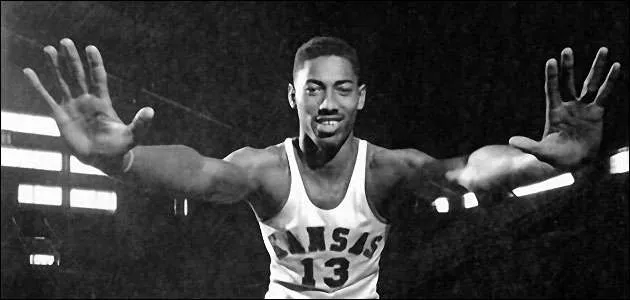 Wilt Chamberlain is universally recognized as one of the greatest basketball players in history, but he may well be the most under-rated player in history. While this may sound absurd, if one truly looks at the career, accomplishments and achievements of Wilt and balances them against the criticism and restrictions aimed at him, he stood (literally) head and shoulders above every other player in basketball history. Beyond that, he was one of the greatest all-around athletes in history, achieving Hall of Fame status in two different sports.
Wilton Norman "Wilt" Chamberlain was born on August 21st, 1936 in Philadelphia, Pennsylvania, one of nine children born to Olivia Ruth Johnson and William Chamberlain. His mother worked as a domestic worker and his father as a welder and handyman. Although a sickly child who almost died from pneumonia, Wilt would grow into a huge athletic body that enabled him to dominate in all of the sports in which he participated. Nicknamed 'Wilt the Stilt', his gargantuan physique lent him a supreme natural advantage on the basketball courts on which he cemented his name in NBA folklore.
Chamberlain first gained recognition at Overbrook High School in Philadelphia where he played basketball and participated in track and field. Initially he disdained basketball as "a game for sissies."  Instead he was drawn to track and field where he dominated, running the 440 yard dash in 49.0 seconds and the 880 yards in 1:58.3. He high-jumped 6 feet, 6 inches, threw the shot put 53 feet, 4 inches, and broad-jumped 22 feet. Eventually, however, basketball came calling as it was the king of sports in Philadelphia. Wilt was a dominant performer for his school's varsity team, capitalizing on a 6 foot 11 inch frame in order to out-play his rivals and distinguish himself as one of the most promising young basketball talents in the world. Showing that fitness improves performance, he became an athletic behemoth in his quest for glory. In his second season at Overbrook, he led his team to the city title and in his third and final season, he scored 74, 78 and 90 points in three consecutive and once again led his team to the city title. During the summers he worked as a bellhop at Kutsher's Hotel and Country Club in the Catskill Mountains of New York State. He often entertained resort customers by handing their luggage to them through the second floor windows while he stood on the ground outside.
Humble Beginnings for the Self-Proclaimed Goliath
Indeed, his performances at Overbrook High School, where he scored over 2,200 points in total, showed such promise that a host of top-drawer college basketball teams supplicated their interest in him (he was recruited by more than 200 schools). Chamberlain, wanting a change from his surroundings, opted to enroll at the University of Kansas. He was surprised to find Lawrence, Kansas still a segregated town, but he ignored signs and went and ate wherever he wanted, his star power eclipsing the rules normally laid out for Blacks. He debuted for the Jayhawks freshman team in an exhibition against the varsity squad that was expected to win the conference. Wilt scored 42 point and registered 29 rebounds and four blocked shots, leading the freshman team to a ten point upset victory. The next year, he debuted for the varsity team against Northwestern University, scoring 52 points and grabbing 31 rebounds in a resounding victory. He was the mainstay of a team that would go all the way to the NCAA Title game. Kansas was ranked number two in the nation and matched up against number one North Carolina. The game was decided after three overtimes with North Carolina edging Kansas 54-53. Despite his team losing, Chamberlain was selected as 'Most Outstanding Player' of the tournament in merit of a series of remarkable performances.
He also participated in track and field at Kansas, winning the Big 8 high jump championship. Unfortunately, in basketball,  the opposing teams often ganged up on Wilt, hitting him with hard fouls on every play. He realized that he would eventually be provoked to the point of retaliating against white players in a segregated environment. As such, after his junior year, he decided to leave school early. Due to NBA-enforced age restrictions, Chamberlain was unable to participate in professional basketball for a year after leaving Kansas University. He chose, instead, to join the Harlem Globetrotters in 1958 for a transitory stint until he could step up to a professional NBA league. He teamed with Harlem greats Goose Tatum and Meadowlark Lemon and was able to travel the world, entertaining fans with the Globetrotters unique style of play, but he was just one of the great members of the team and wasn't pressured to dominate and score on every play. He would later describe his time with the Globetrotters as his most enjoyable of his career.
Wilt was drafted by the Philadelphia Warriors of the National Basketball Association in 1959, making his professional debut against the Knicks in New York City, scoring an impressive 43 points and 28 rebounds. In an unprecedentedly successful debut season in which he averaged 37 points and 27 rebounds, the young talent was bestowed with a number of prestigious awards, including NBA Most Valuable Player and NBA Rookie of the Year (a feat accomplished only one other time, by Hall of Famer Wes Unseld). He was also the league's top paid player (although he took an almost 40% pay cut from his Globetrotters salary).
Despite his success, he shocked Warriors fans and management by contemplating retirement after his rookie year. He was again plagued by the beating that he took and the danger of his retaliating. Tommy Heinsohn, one of his contemporaries from the Boston Celtics and a man who was responsible for some of those beatings said "[h]alf the fouls against him were hard fouls … he took the most brutal pounding of any player ever." He also had to fight against the stigma of being a freak of nature, jeered by fans and critiqued by the press, leading his coach Alex Hannum to later say "Nobody loves Goliath." This notion would unfairly plague Chamberlain's career and his legacy. After playing during the summer, Wilt was coaxed back to the Warriors, with a new contract worth $65,000.00 (in comparison, the team was purchased by Eddie Gottlieb eight years earlier for only $25,000.00). It was also during this season that the renowned basketball player cultivated a notoriously fierce rivalry with Celtics' star defender, Bill Russell, with whom he vehemently competed against on the court, but was friendly with outside of the game (in fact, the two often spent time together during the holidays).
During his second season, he again achieved great success  averaging 38 points per game and grabbing an astounding 2,149 rebounds. His highest mark in a game was an incredible 55 rebounds against Bill Russell and the Boston Celtics. Unfortunately, his huge numbers did not translate to playoff wins as the Warriors were sent packing for the second year in a row.
The Centurion of the Basketball World
It was in 1962 that the colossal Philadelphia Warriors star enjoyed arguably the finest, most celebrated season in the history of professional basketball. He achieved the milestone for which he is most known, his 100 point game in a 169-147 victory against the New York Knicks on March 2, 1962. Renowned the world over as one of the greatest achievements in the history of basketball, Chamberlain will forever be associated with this extraordinary feat. However, he also set a number of other famous league records during that historic game, including shooting the most successful free throws (28), which was a particularly striking one as he was one of the worst foul shooters in NBA history. Although an ungodly point total, it was not dissimilar of his scoring for the season as he became the only person in NBA history to score more than 4000 points in a season (4,029) and averaged a shocking 50.4 points per game. Consider that the second highest numbers (Michael Jordan scored 3,041 and averaged 37.1 in 1987) were not even remotely closely, Wilt, literally and figuratively, towered above everyone in the league. As well, he worked harder than anyone in the league, averaging 48.5 minutes per game (when there are only 48 minutes in a regulation game). In fact, he would have played every single minute of his team's games that year, but he was ejected for technical fouls in one game, thus missing eight minutes. To repeat, he only missed eight minutes for the entire season. For the third year in a row, he was selected for the All-NBA first team, but again, his team was bounced from the playoffs by the Celtics in seven games.
Moving on Chamberlain remained with the Philadelphia Warriors when they changed grounds to San Francisco in 1962, and averaged 44.8 points and 24.3 rebounds per game that year, but returned to his hometown three years later to join the Philadelphia 76ers. There he secured an NBA Championship win in 1967 over the Warriors with whom he made his name. His coach, Alex Hannum, convinced him to play more of a defensive role, and though his scoring statistics diminished, he helped his team in other areas (including two playoff games in which he achieved an unofficial quadruple double, 24 points, 32 rebounds, 13 assists and 12 blocks against the Celtics and 10 points, 38 rebounds, 10 assists, 10 blocks against the Warriors.
In 1968, Wilt was traded to the Los Angeles Lakers where he teamed up with future Hall of Famers Jerry West and Elgin Baylor. The 1969 playoffs were a particularly disappointing time for Chamberlain and the Lakers were defeated by the Celtics in seven games. In the final game, Wilt was injured with six minutes left and came to the bench. His coach Butch Van Breda Kolff refused to put him back in the game and the Celtics won by two points. Wilt received a great deal of criticism including from Bill Russell who called him a malingerer, saying "Any injury short of a broken leg or a broken back is not enough." This was a particularly bitter slight to Wilt, who considered Russell one of his best friends. This caused the two not to speak for more than 20 years. Years later Russell apologized and the warm feelings between the two were evident at Chamberlain's funeral when Russell said "Today, I am unspeakably injured."
In 1972, after the retirement of Baylor, Wilt was named the captain of the Lakers. While his points per game dipped noticeably, he concentrated on the defensive side of the ball and helped lead the team to a record 33 straight wins and the teams first NBA Championship over the New York Knicks while playing with a broken hand. He was named the MVP for the finals. The next season included another trip to the finals despite numerous serious injuries on the team, including to Jerry West. The New York Knicks defeated the Lakers in five games, despite Wilt scoring 23 points and grabbing 21 rebounds, including a dunk shot with one second to go. This would be the last points Chamberlain would score in the NBA.
Wilt signed a contract with the San Diego Conquistadors of the American Basketball Association to serve as the player-coach in 1973, but the Lakers sued to prevent him from playing, saying they had an option on his contract. Thus, after the season, Wilt retired from professional basketball.
Retirement for Wilt was never boring as he ventured into various business and investment deals. He became heavily involved in the sport of volleyball, becoming a board member and President of the International Volleyball Association. He played in the league's All Star game in order to assure television coverage and was named the game's Most Valuable Player. He would later be enshrined in the Volleyball Hall of Fame, one of the few sportsman to ever be named to two Halls of Fame.
He would later become involved in film production and would act in various commercials. The pinnacle of his acting career occurred in his role as the lead villain in Arnold Schwarzenegger's Conan the Barbarian movie.
Chamberlain remained active and in great physical health during his retirement and was offered contracts by the Cleveland Cavaliers and the New Jersey Nets in his forties and fifties. Diagnosed with an irregular heartbeat in 1992, he began taking medication for the ailment. He died on October 12, 1999 due to congestive heart failure.
Wilt Chamberlain lived big, on and off the court. He was known as brash and egotistical by some and particularly sensitive by others. He was a night owl who loved hanging out at clubs in New York City, so much that he actually lived in the city and commuted to Philadelphia while playing for the Sixers (he also owned a club in the Harlem called Big Wilt's Smalls Paradise). He had a fondness for the ladies and made the audacious claim that he had slept with more than 20,000 women during his lifetime.
Big numbers would always define his life, but for many the paltry two championships would define his career. This was unfair in light of the teams he played on and against. Particularly against the Celtics, he faced a superior team, even while he statistically dominated Russell. He tried to explain that he and Russell played different roles and that Russell was allowed to concentrate primarily on defense while "I've got to hit forty points or so, or this team is in trouble. I must score—understand? After that I play defense and get the ball off the boards. I try to do them all, best I can, but scoring comes first."
It is also important to note that the league implemented various rules to limit Wilt's dominance (as it had earlier against George Mikan). The league widened the lane to prevent Wilt from being so close to the basket, changed the inbounding rule to prevent players from lobbing the ball over the backboard to him and  changed the free throw rules to prevent him from jumping from the foul line to dunk a free throw. Despite this, Wilt dominated on the floor like nobody, before or since.
Many try to diminish his achievements by saying that all he did was dunk, but most of Wilt's scoring was from his wide repertoire of skillful shots, including his finger rolls from more than six feet out. Another attempt at downgrading his dominance is the myth that he was a giant playing against small players. First of all, Wilt was not the tallest player in the league at the time. That honor would go to Swede Halbrook, the 7'3″ center for the Syracuse Nationals. Second Wilt played amongst the best group of rebounders in history. Of the top 10 (NBA only) rebounders (rebounds per game), eight of them played during Wilt's playing days (Chamberlain, Russell, Bob Pettit, Jerry Lucas, Nate Thurmond, Wes Unseld and Elgin Baylor). Also consider that Dennis Rodman is considered by many the best recent rebounder and he averaged 13.12 rebounds per game in his career, while Wilt averaged 22.89 and Russell 22.45, almost 10 more per game. Also, of the 25 greatest single rebound totals, 23 of them are held by Chamberlain and Russell with Chamberlain's 55 being the most (while playing against Russell).
The noted author Frank Deford said that Chamberlain was caught in a no-win situation: "If you win, everybody says, 'Well, look at him, he's that big.' If you lose, everybody says, 'How could he lose, a guy that size?'
Wilt's Career Highlights:
Career PPG: 30.1
Career RPG: 22.9
Career APG: 4.4
Seven scoring titles
11 rebounding titles
Eight win-share titles
Only center in NBA history to lead the league in assists (702 in 1967-68)
Averaged 50.4 PPG in 1961-62
Averaged 48.5 MPG in 1961-62
Four-time MVP
Two-time NBA All-Defensive First Team
Only player in NBA history to record a 100-point game
Never fouled out in his career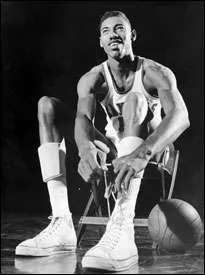 Wilt Chamberlain's statistical records are virtually unparalleled by any basketball player. His points per game average of 30.1 has only been tied by Michael Jordan, and he remains the record holder for highest number of points scored in a single game.The universally acclaimed NBA legend, who was added to the Basketball Hall of Fame in 1978  will live long in the archives of NBA history as one of the greatest sportsmen of all time and was truly a Great Black Hero.
Search for more info about Wilt Chamberlain
https://greatblackheroes.com/wp-content/uploads/2012/01/wiltchamberlain011.jpg
300
630
Gaius Chamberlain
https://greatblackheroes.com/wp-content/uploads/2018/04/gbh-logo152x65.png
Gaius Chamberlain
2012-01-01 04:43:45
2020-12-10 21:05:03
Wilt Chamberlain