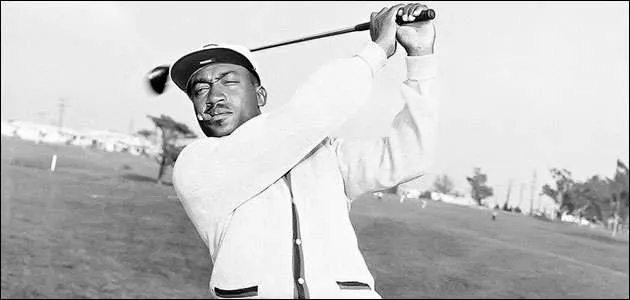 Charlie Sifford was a pioneer in the world of golf, helping to dismantle the "Caucasian-only clause" and opened the game of golf to generations of Black golfers.
Charlie Luther Sifford was born on June 2, 1922 in Charlotte, North Carolina, the son of a factory worker. As a youth, he worked as a caddie at the Carolina Country Club in Charlotte. He earned 60 cents per day and gave 50 cents to his mother to help out with household expenses (he used the remaining dime to purchase cigars, his trademark over his career). While working as a caddie, he was given tips and guidance by a local white pro named Clayton Heafner. As a teenager, he became so adept at his golf game that on Mondays, when caddies were allowed to play the course, he was able to break par. Despite his talent and success, not everyone was pleased to see a young Black kid navigating the golf course. At the age of 17 he moved to Philadelphia, Pennsylvania where he began to play against the area's top Black golfers. "A drunk began calling me names and saying things about my mother," he remembered. "I picked up a Coca-Cola bottle and hit him upside the head. That's when I left North Carolina. I took a freight [train] to Philly with another caddie, Walter Fergus. No plans. Just get out of town."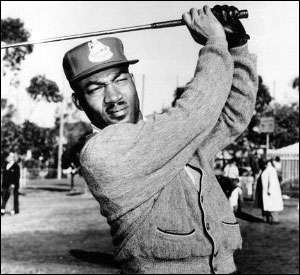 When he returned from serving in the segregated Army in the Battle of Okinawa during World War II, he decided to make a career of golf. He met Baseball Hall of Famer Jackie Robinson in 1947, very soon after Jackie had broken the Major League Baseball color line. When he related to Robinson his dream of playing at the highest level of golf, Jackie cautioned him not to be a quitter. He warned him of the hostility he would face, intruding on the sacred grounds of a white man's sport. "Above all," Robinson warned him, "you can't be going after these people who call you names with a golf club. If you do that, you'll ruin it for all of the black players to come."
In 1948, Sifford sought to compete as a professional, but with the existing social norms, he was not allowed to play against white competition and was instead relegated to competing against other Blacks. Standing 5 feet 8 inches and weighing 185 pounds, he excelled in the Black-only tournaments, winning the United Golf Association's National Negro Open six times. The UGA was created by a group of Black professional golfers and Sifford was its most prolific champion, winning the Open five years in a row.
Sifford was not the first Black golfer to seek an opportunity to compete against white players. Players like Ted Rhodes and Bill Spiller led the fight for years against the Professional Golfers' Association's (PGA) "Caucasian-only clause" which denied them the opportunity to participate in the PGA tournaments, golf's highest professional level. In 1952, Sifford was able to play in the Phoenix Open in an all-Black foursome that included legendary former boxing champion Joe Louis. Unfortunately, when the four men reached the first hole, they found it filled with excrement.
In his 1992 autobiography, "Just Let Me Play," Sifford relates a story which demonstrates just how significant the barriers were that Black golfers faced. On December 7, 1955, Dr. George Simkins, Phillip Cooke, Leonidas Wolfe, Samuel Murray, Joseph Sturdivant and Elijah Herring paid the 75 cent fee to play nine holes of golf at the Gillespie Park public course in Greensboro, North Carolina. Five of them were arrested and charged with trespassing on private property even though the course was owned by the City of Greensboro. The case went all the way up to the United States Supreme Court which ruled against the golfers. When lower courts ultimately ruled that a public course had to be open to all golfers, the City of Greensboro leased the course to a private company which invoked rules restricting Blacks from playing. Across the country, numerous other cities followed suit in order to keep Blacks off of their courses.
In 1957, Charlie competed in the Long Beach Open, a tournament that sported many of the top PGA stars. Surprising everybody, Sifford won the tournament by one stroke in a playoff and received a winner's check for $11.500.00. While the Long Beach Open was not an official PGA tournament, it was PGA-sanctioned event. Sifford, thus demonstrated that he could not only compete at the highest level, but also that he could win. This put pressure on the PGA, eliminating the facade that Blacks were not on par with white players and forced the PGA to admit that their Caucasian rule was purely racist in nature. Sifford had come to meet Stanley Mosk, the state attorney general for the state of California. Mosk demanded the PGA to explain why Sifford, a resident of the state was being barred from competing in tournaments within in the state or from becoming a PGA member for any reason other than racial bias. Due to Mosk's pressure (including the threat to bar PGA tournaments from taking place at public courses in California), the PGA named Charlie an approved PGA tournament player in 1960. In November of 1961, the PGA would officially drop its "Caucasian-only clause" and Sifford was a granted a full PGA membership.
In 1959 Charlie competed for the first time in the US Open at the Winged Foot Golf Club in Mamaroneck, New York. He finished in 32nd place out of 147 competitors. In October 1960 he competed in the Orange County Open in Costa Mesa, California and finished in second place behind veteran Billy Casper. He then won the Almaden Open at the Almaden Country Club in San Jose, California in 1960, one year before it became an official PGA Tour event.
In 1961, having finally been admitted as a member of the PGA tour, Sifford would now face the top players in the sport, including Ben Hogan, Arnold Palmer, Gary Player, Sam Snead and Jack Nicklaus. He was invited to play in the Greater Greensboro Open in North Carolina and held the lead at the end of the first round, but after receiving a death threat, having to deal with hecklers and finding several of the holes guarded by police officers, he fell off of the pace and finished in fourth place.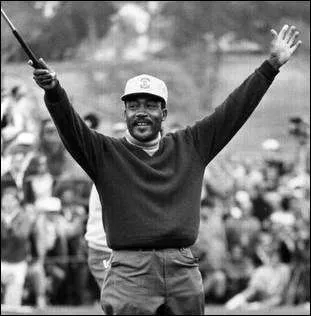 In 1963 Sifford led the field at the Puerto Rican Open, shooting 277 over four rounds and beating newcomer Chi Chi Rodriguez for the $10,00.00 prize. His growing success as a golfer helped open the door to other Black golfers including Pete Brown who won the 1964 Waco Turner tournament in Oklahoma, thus becoming the first Black to win an official PGA Tour event.
In 1967 Charlie shot a final round 64 to win the Greater Hartford Open tournament at the Wethersfield Country Club in Wethersfield, Connecticut and received a large ovation from the gallery of fans. Fighting back tears, he was able to say "If you try hard enough, anything can happen." As the winner of the tournament, he received a check for $20,000.00.
In 1969, he won the Los Angeles Open after shooting an amazing 28 on the back nine during his opening round. After 72 holes he was tied with Harold Henning for the lead and defeated him in a playoff to get his second official PGA Tour win. As told by Los Angeles Times columnist Jim Murray, writing about Sifford ahead of the '69 Los Angeles Open that he won:
"Golf was not a game for ghettos. Neither did it leave any time for carrying picket signs, joining demonstrations or running for office. Charlie birdied, not talked, his way through society prejudice. He broke barriers by breaking par. His weapon was a nine-iron, not a microphone."
Despite being denied entry into tournaments over the years, especially during his prime, Sifford finished his first nine years on the tour in the top 60 in overall earnings. The years of being denied opportunities and facing immense racism took its toll, however. Charlie sought professional counseling to cope with his situation and listened to relaxation tapes to take his mind off of the stressors of his career. Though this helped, he said ""Nothing's going to help 30 years taken out of your life."
On November 28, 1971 Sifford won the satelite Sea Pines Open Tournament in Hilton Head, South Carolina, finishing 10 under par. He won $6,000.00 for his three-stroke victory over Paul Muran. He competed in the 1972 US Open and finished in 21st place, his best finish in a major tournament.
In later years Sifford competed on the PGA Seniors Championship, a tournament for players over the age of fifty. He won the event in 1975 and five years later as an original member of the Senior Tour he won at the 1980 SunTree Classic.
Sifford was inducted into the World Golf Hall of Fame in 2004, the first African-American so honored. He was presented for induction by his friend and fellow Hall of Famer Gary Player. Player said of Sifford "We honor a man not just for what he accomplished on the course, but for the course he chose in life."
On June 22, 2006 was presented an honorary degree as a Doctor of Laws from the University of Saint Andrews in Scotland. A year later he was presented with the Golf Course Superintendents Association of America highest honor, the Old Tom Morris Award. On May 3, 2011, Charlotte's old Revolution Park Golf Course, which for years was off limits to Black players was renamed after him.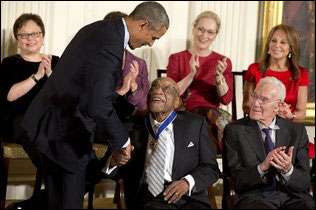 Finally, in 2014, Charlie Sifford was awarded with the Presidential Medal of Freedom. Awarded by President Barack Obama, it is the highest award presented to a civilian. "We give thanks to the trailblazers who built the arc of freedom towards justice," the president said at the time. "On the tour, Charlie was sometimes banned from clubhouse restaurants. Folks threatened him, shouted slurs from the gallery," President Barack Obama said at the ceremony. "And because golf can be a solitary sport, Charlie didn't have teammates to lean on. But he did have his lovely wife, Rose. And he had plenty of guts and grit and that trademark cigar. And Charlie won on the Tour twice, both after age 45. But it was never just about the wins. As Charlie says, 'I wasn't just trying to do this for me, I was trying to do it for the world.' "
Lee Elder, who in 1975 became the first black player to compete in the Masters Tournament, told the New York Times in 1992, "Without Charlie Sifford, there would have been no one to fight the system for the blacks that followed." Elder added "It took a special person to take the things that he took: the tournaments that barred him, the black cats in his bed, the hotels where he couldn't stay, the country club grills where he couldn't eat. Charlie was tough and hard." "When you look at it, and what he accomplished and how he stayed in there," Lee Trevino said of Sifford, "you have to put him in the Jackie Robinson category. At Sifford's induction into the World Golf Hall of Fame, Tiger Woods stated ""We owe everything to (Sifford) and others like him."
When considering Sifford's achievements, it is often important to consider that he began competing on the PGA at the age of 38, well past his prime. Despite his obstacles he amassed over $1 million over his career.
Sifford never considered himself a pioneer, but just a golfer. The PGA now recognizes his contributions to the sport and has created the Charlie Sifford Exemption, which offers an exemption to the Northern Trust Open to any player representing the advancement of diversity in golf.
In a 2006 article in Gold Digest he related that "Hell, I knew I'd never get rich and famous. All the discrimination, the not being able to play where I deserved and wanted to play — in the end I didn't give a damn. I was made for a tough life, because I'm a tough man. And in the end I won; I got a lot of black people playing golf. That's good enough. If I had to do it over again, exactly the same way, I would."
Charlie Sifford died on February 3, 2015 in Cleveland, Ohio at the age of 92, a few weeks after suffering a minor stroke. He left behind a legacy of perseverance and success and opened the door for minorities across the world.
---
---
Sources:
https://greatblackheroes.com/wp-content/uploads/2015/11/charliesifford01.jpg
300
630
Gaius Chamberlain
https://greatblackheroes.com/wp-content/uploads/2018/04/gbh-logo152x65.png
Gaius Chamberlain
2016-01-13 06:59:40
2019-11-26 15:45:52
Charlie Sifford